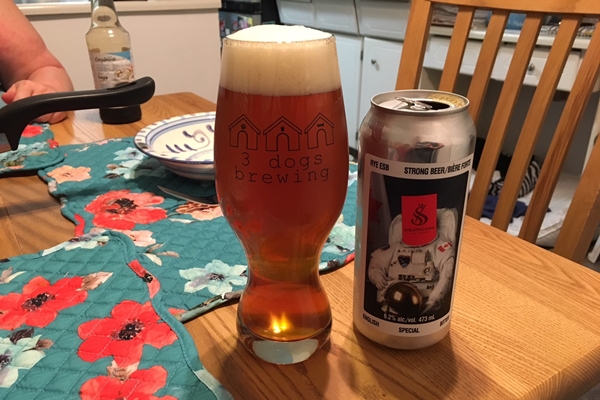 B.C. Beer Reviews is back to take a look at the first ever entry from Strathcona Beer Company, their Rye English special bitter. Strathcona has established themselves as a consistent brewery for good beer. To take on an age-old style of an English special bitter and adding the spice of rye to it is an interesting take, so it will be a fun one to take a look at.
B.C. Beer Reviews with Nic Hendrickson: Strathcona Beer Company – Rye ESB
Strathcona Beer Company is a bit of a hidden gem. They are certainly one of the breweries in Vancouver that deserve their fair share of praise. From brewing solid imperial India Pale Ales to this rye English special bitter, they are known for making solid beers across the board.
Let's take a look at this one.
Colour
There is a deep brown, almost copper, colour to this beer. It is the same colour in both the pour and when the glass is full.
Nose/Aroma
The first thing that jumps out at you is the spicy notes of the rye. It hits you right as you start pouring and is pleasantly strong on the nose. The spicy characteristic that rye is known for imparting is very noticeable in the nose/aroma of this beer.
As is the case with this style, the malt backbone is rather strong in the nose/aroma. It adds a nice sweet malty note that counteracts the spicy rye notes very nicely.
There is a very noticeable hop character in the background, but it is hard to place what hop it might be. There are somewhat citrusy notes to this beer here and there, so a North American hop is a safe bet for a guess.
Tasting Notes
The tasting notes match up perfectly with the nose/aroma. There are really no surprises from this beer when going from the first sniff to the first sip.
The base of this beer is a very well-done English style bitter that is very obviously malt-forward, which is a characteristic of the style.
Behind the sweet notes of the malts is the spicy note of the rye that was used in the malt/grain bill for this beer. It is not too strong, but rather a nice compliment. The rye and malt/grain bill switch places between the nose/aroma and the tasting notes of this beer.
There is a very light, but noticeable bitterness on the back end of your palate from this beer. It adds a nice note of complexity to this beer that a typical ESB would normally lack.
Other Notes
The branding/labeling is sharp and sticks with the odd hipster style of Vancouver and East Hastings. There is a photo of an astronaut with the Strathcona Beer Company logo in place of his head. You certainly won't see a similar logo anytime soon.
This beer pours a significant head to it. The retention of that head is equally as impressive. It sticks around as long as you can hold off from taking your first sip of this beer.
The carbonation level is moderate. There is enough to add a bit of a crisp bite to go along with the spicy bite of the rye in this beer in conjunction with the hops used as well. A nice and smooth, crisp finish to this beer.
The mouthfeel is smooth, but certainly not creamy at all. It has a nice body to it that goes down smooth.
Final Grade
The rye in this beer was a nice addition. The crisp finish, combined with the rye and the hoppy notes, makes for a relatively crisp beer. This is certainly a very interesting, and very tasty, take on an age-old English style of beer.
Overall, this is not your run-of-the-mill English special bitter. Definitely worth trying.
Grade: 8.2/10
Want to see a beer featured in B.C. Beer Reviews? Comment below with your suggestion.
You can also see all of the photos featured in B.C. Beer Reviews, and some that do not get used, by following me on Instagram: nhendy5. You can also see much more concise reviews up to 24 hours in advance by adding me on Untappd: RedArmyNic.
Main photo by Nic Hendrickson, Lastword Inc., all rights reserved