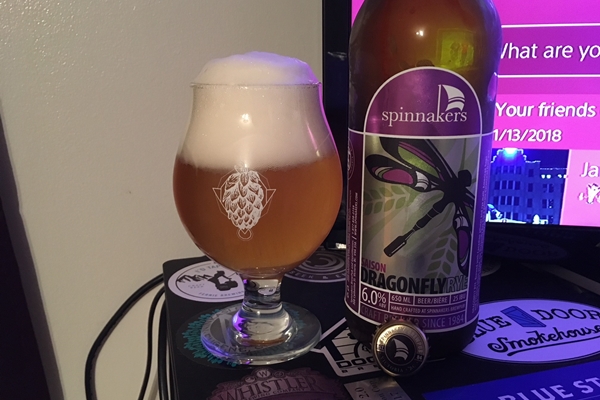 B.C. Beer Reviews is back to take a look at a beer from one of the innovators of craft beer in British Columbia. Spinnakers BrewPub has been making beer since 1984, well before most of the brewmasters in the province were likely even born. It is because of this headstart that they have been able to perfect recipes and build a solid reputation within the industry.
B.C. Beer Reviews with Nic Hendrickson: Spinnakers BrewPub – Dragonfly Rye Saison
Coming from one of the first craft brewers in B.C., the Dragonfly Rye Saison is an interesting take on an old style. Adding the rye notes to an otherwise very floral beer makes for an interesting combination of flavours and aromas.
Let's take a look at this one.
Colour
This beer pours a very clear golden colour from the bottle. When the glass is full it is a bright golden colour that sticks with the characteristics of the style. Very bright colour in both the pour and when the glass is full.
Nose/Aroma
The predominant scent in the nose/aroma of this beer is a bouquet of floral notes. It smells like you are walking through a field of wildflowers. Hard to place what exactly you get from it, but this is spot on with the saison style. Very powerful.
Behind that is a light scent of a typical farmhouse ale/saison. Not exactly funky, but a bit of that farmhouse hay scent of the style comes through. Still overpowered by the floral bouquet at play in this one.
There is a bit of a spicy note at the end of the nose/aroma in this beer. This is very likely a product of the rye and the hops used in the brewing process. It is very noticeable, but still very much a background note to the floral bouquet and the slight funky/farmhouse notes.
Tasting Notes
Very strong floral bitterness notes hit you right off the bat. It is bitter in a floral sense, but not at all what you would expect from a hop bitterness. This is much like in the nose/aroma, and it is by far the most dominant tasting note of this beer.
The spicy rye notes are present throughout each sip and drinking this beer. Goes hand in hand with the bitter floral notes that dominate this beer. It adds another dimension to this beer that keeps it from being a bit of a one-trick pony, for lack of a better term.
Overall, this is a very spicy and somewhat bitter beer from the floral notes. The Floral notes and the spicy rye notes play well together in this one. They are certainly the strongest notes at play here, and that is not a bad thing but is not what you would expect going into this one.
Other Notes
The branding/labeling is glossy and eye-catching. The border of the label is a glossy deep purple coloured border with a dragonfly in the middle of it. The dragonfly has a beer bottle for the end of its tail, suitable for the labeling. Decent labeling/branding for this beer.
Even with a meticulous pour, this beer pours a massive head. There was really no way around it. This aided in the floral and rye notes popping out at you when pouring the beer and approaching the glass for your first drink.
The carbonation level of this beer is significant as well. Very high level of carbonation throughout, making the otherwise spicy and floral notes in this beer have even more of a kick to them at the tail end. The crisp bite follows suit with the rest of the beer.
Another note of significance in this one was the amount of lacing in the glass. For a style not well-known for its use of hops, there was a decent amount of lacing. This is not generally associated with this style.
Final Grade
If you like your beer with a spicy kick or like the floral and farmhouse notes of a saison, this is a beer for you. The carbonation level being high adds another kick at the tail end, and it matches up well with what this beer is trying to accomplish.
Grade: 7.7/10
Want to see a beer featured in B.C. Beer Reviews? Comment below with your suggestion.
You can also see all of the photos featured in B.C. Beer Reviews, and some that do not make it into these articles, by following me on Instagram: nhendy5. And for much more concise versions of these reviews up to 24 hours in advance, add me on Untappd: RedArmyNic.
Main photo by Nic Hendrickson, Lastword Inc., all rights reserved