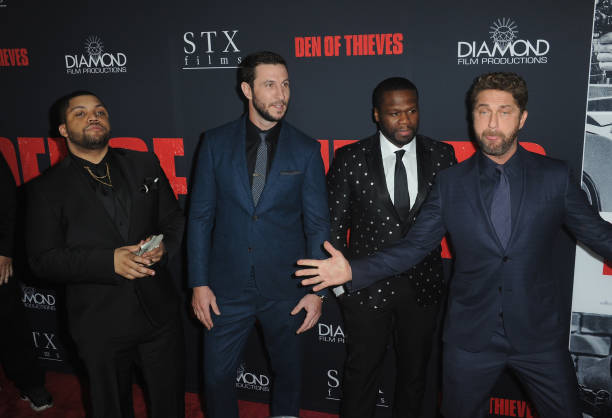 The Los Angeles crime drama has long been a hallmark of American cinema. The genre has had its ebbs and flows over the years, with the '90s constituting its Golden Age thanks to the release of classics such as Reservoir Dogs (1992), The Usual Suspects (1995), Heat (1995), and L.A. Confidential (1997). Every year a handful of movies come out with a new take on L.A. crime, but very few can hold their own against their standout predecessors. Enter: Den of Thieves, the latest of these films, helmed by first-time director Christian Gudegast and starring Gerard Butler, 50 Cent, Pablo Schreiber, and O'Shea Jackson Jr.
Just the Hits: DEN OF THIEVES Review
Ignore the Critics
Before we talk about the movie itself, there's one thing that needs to be made abundantly clear: the critics are way off the mark on this one. As of this writing, Den of Thieves has a 43% approval rating from critics on Rotten Tomatoes—which stands in stark contrast to its 82% audience score. When you Google the movie, the critics' score is the only one that comes up, but don't let that deter you—this movie an adrenaline-soaked thrill ride from start to finish. It's not trying to redefine its genre, but instead takes inspiration from the great L.A. crime dramas from the '90s to give audiences in 2018 a movie that lacks poetry but provides plenty of fun for the price of admission.
Setting the Scene
The Crew
Den of Thieves begins by rolling out some text detailing the sheer number of bank robberies that occur in Los Angeles—broken down by months, days, hours, and minutes. It then declares Los Angeles the "bank robbery capital of the world." It's an impressive assertion with some impressive figures backing it up, and it helps immediately immerse audiences in the world Den of Thieves is trying to build.
After viewers have been educated on the need for L.A. to beef up its bank security, we're treated to a taste of heists to come as a crew of masked, assault-rifle wielding assailants take on an armored truck outside a donut shop. The robbers are clearly trained, organized, and well-equipped for the task at hand—they've even brought something to drill through the bulletproof windshield of the truck when the driver refuses to let them in. But, as good as they are, one of the security guards responsible for the truck goes for his gun, shots are fired, and the robbers aren't able to make their escape before the LAPD arrives.
A firefight ensues, there are casualties on both sides, but the attackers are able to escape and get the stolen truck to their base of operations. When they arrive, the leader of the group, Pablo Schreiber (The Wire, Orange is the New Black)'s Merrimen stoically remarks, "Now we're cop-killers." And the truck they killed those cops for? It doesn't even have any money in it.
The Cops
Next we're introduced to the man who's going to be working to bring them down—Gerard Butler (300, Law Abiding Citizen)'s Nick "Big Nick" O'Brien, the leader of an elite division of the L.A. Sheriff's Department known as "The Regulators." We find out pretty quickly that Big Nick doesn't play well with others and isn't the most popular guy in L.A. law enforcement. But he's good at his job, which renders all other shortcomings obsolete—or at least forgivable—in the eyes of contemporary American cinema. The fact his wife wants to leave him is understandable—he's the kind of guy you'd want to have a drink with, but you wouldn't introduce him to your sister.
He swears that his bad behavior is just "street theater" to help him maintain a reputation, but that never quite gels with what we see. The character has a lot of Training Day (2001)'s Detective Alonzo Harris (Denzel Washington) in him, but stops short of being detestably corrupt. It's obvious that he bends the rules and dips his hand in the cookie jar, but his endgame is relatively moral—he wants to bring down the cop-killing bank robbers. He plans to shoot them instead of bringing them in the traditional way ("Less paperwork," he remarks at one point), but he isn't gunning for anyone who hasn't earned his wrath.
That's, more or less, the groundwork the film lays in its first 15 minutes, and the plot progresses from there. Without getting into spoilers, it can be said that there are more firefights, Ocean's 11-level plotting, and some surprisingly effective character moments strewn throughout the film's remaining 125 minutes.
Schreibers and Butlers and Baby Ice Cubes, Oh My!
The Leads
Schreiber and Butler are ostensibly the film's leads and they both do great work here. Merrimen is tightly wound and in control of every situation, and it makes you pray Pablo Schreiber gets the opportunity to do more work at this level going forward. However, the standout of the movie is, oddly enough, Gerard Butler, who gives his best performance in a decade. It's clear that he's having the time of his life chewing through Big Nick's scenes, whether they involve threatening his soon-to-be-ex-wife's new boyfriend at a dinner party or trading banter with Merrimen's crew. He swaggers through the movie, biceps bulging and covered in tattoos, a delightfully unlikable antihero—he's both the comic relief and a source of tension in every scene he's in and Butler plays up both beautifully.
Supporting Cast
The main supporting players are two of the other members of Merrimen's crew—Levi (50 Cent) and Donnie (O'Shea Jackson Jr.). 50 Cent holds his own opposite Schreiber as Merrimen's second-in-command, but the sound editing on the film doesn't do him any favors and his lines are sometimes hard to make out. This is only Jackson's third credited performance after Straight Outta Compton (2015), where he played his father, Ice Cube, as a young man, and Ingrid Goes West (2017), but he's clearly the film's rising star. He plays every scene he's in to perfection, down to the movie's closing moments, no matter what's asked of him. If he isn't playing the lead in his own films within the next five years it's because Hollywood is a creative wasteland that doesn't believe the average American audience deserves nice things.
Aside from 50 Cent and Jackson, none of the other performances in Den of Thieves are standouts, but they're all competent. No one is acting beyond their abilities, so no one is dragging down the movie from scene to scene, which is all you can really ask for in this type of genre fare.
A Den of Thieves Built on the Shoulders of Giants
You might be asking yourself why a movie audiences have so clearly taken a liking to has been so poorly received by critics. In large part, its because Den of Thieves is not trying to reinvent the wheel. The movie, as mentioned earlier, takes inspiration from the great crime dramas of the '90s and what critics haven't responded to is how openly it combines elements from several of the classics to make an argument for its own existence.
The soundtrack, from the movie's establishing shots, is obviously influenced by the soundtrack from Heat. There are storytelling beats that shamelessly mirror those of The Usual Suspects. And the list goes on.
There's even an interview that writer/director Gudegast and Gerard Butler did with CinemaBlend where they basically name-dropped half of the greatest crime dramas of the last 40 years as inspiration for Den of Thieves—and if you watch the movie, you'll see that they weren't exaggerating.
In that interview Gudegast does say that his intent was to take Den of Thieves further than, say, Heat because, in his words, "Heat is an incredible film, but the world of Heat doesn't exist. It's very stylized. [Den of Thieves] is the real world of Heat." Don't let that fool you—this is not the hyper-realistic answer to Michael Mann's 1995 masterpiece. However, even if Gudegast hasn't made it over the (insanely) high bar he set for himself, that he attempted to do so shows throughout the movie, and Den of Thieves is better for trying to reach that mark. The same can be said for the impact of the other films Gudegast mentioned as inspiration: The Usual Suspects, Jackie Brown (1997), To Live and Die in L.A. (1985), etc.
Further Viewing
What that all boils down to is this: Den of Thieves isn't Sgt. Pepper's Lonely Hearts Club Band—it's a Greatest Hits compilation that pulls together some of the most iconic cinematography, coolest firefights, and most entertaining story beats of its genre. What's great about that is you're able to find the things you like in the movie and then go find the deep cut of those things in one of the classics. This article has mentioned several of these older films, so it seems appropriate to recap some of those here so you know where to go when the credits roll.
First and foremost, no Los Angeles crime film has ever topped Heat, so that's an obvious place to start if you like what you see in Den of Thieves—the soundtrack, firefights, and some of Big Nick's story beats were clearly pulled from this movie. The Usual Suspects, a movie about a group of criminals being directed by an unknown mastermind, has several parallels with Den of Thieves; if you like the twists in the narrative as the movie progresses, you should definitely check this one out.
Training Day already came up in a previous section, but it bears repeating: if you're into movies about "bad" cops, Denzel Washington's Alonzo Harris wrote the book on being bad with a badge. You can also check out L.A. Confidential and To Live and Die in L.A. for other examples of how that trope plays out in the classics. If you're into the brotherly bond between the criminals, watch David Ayer's End of Watch (2012) to see that sort of relationship on the other side of the law.
Some other really great entries in the L.A. crime genre include: Quentin Tarantino's Reservoir Dogs and Jackie Brown, as well as Nightcrawler (2015), Chinatown (1974), and Sunset Boulevard (1950). These are all brilliant movies that helped shape or expand the genre that Den of Thieves belongs to. Fandango has also compiled a list of 15 of the best L.A. crime films, including these and some others, that's well worth a look.
Closing Remarks
All in all, Den of Thieves has a lot going for it. It wears its inspiration on its sleeve, but that's a bonus, not a bad thing, for most moviegoers. It runs a little long at roughly 140 minutes, but you never feel it. Gerard Butler, Pablo Schreiber, O'Shea Jackson Jr., and 50 Cent are front-and-center for most of the movie, and their work helps elevate this to something that doesn't tread new ground, but successfully honors and recreates aspects of what came before.
Den of Thieves combines the best parts from some of the best crime dramas from the last 40 years into something that's exciting and entertaining. January movie releases are typically dead on arrival, but that's far from true for this cops-and-robbers drama, and everyone should give it the opportunity to win them over. You've seen street cinema like this before, but that doesn't mean it isn't worth revisiting.
Main Image: