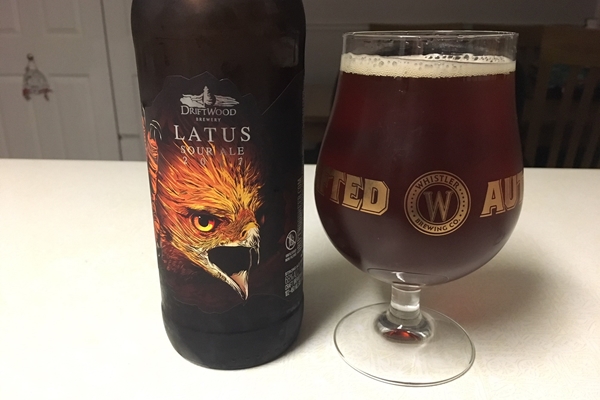 B.C. Beer Reviews is back with another entry from Driftwood Brewery, this time being their 2017 edition of Latus, an American Wild Ale. Driftwood makes plenty of traditional styled sour beers, and Latus is no exception to that.
B.C. Beer Reviews with Nic Hendrickson: Driftwood Brewery – Latus (2017)
Driftwood Brewery is well-known for quality beers, with ones like Fat Tug and their Sartori Harvest IPA being the most notable. Despite Latus not being the one that receives the most hype, it is still an interesting beer worth paying attention to.
The 2017 edition of their Latus American Wild Ale is what we are going to look at today. This is a beer worth picking up two of, one for initial tasting and one for aging. Whether or not aging makes a significant difference is up to your palate.
Let's take a look at Latus.
Colour
This beer is a deep red colour. It absolutely hits the nail on the head with what the label states it is, a Flanders Red Ale. Spot on with the style.
Nose/Aroma
The first note you get is the funky notes generally associated with this style and the Brettanomyces that are used in it. The Brett definitely plays a big role in the nose/aroma of this beer.
You also get a strong note of tartness from this beer, letting you know what to expect from the taste. There is a strong scent of cherries to go along with the tartness, which is a common characteristic of this style.
Other than the tartness, cherries and the funky Brettanomyces notes, there is not much else to note from this nose/aroma. Sometimes it is better to keep it simple and stick to the style, and this beer does that exactly.
Tasting Notes
The first note you get on your palate is the cherries. There is a significant, yet clean, cherry taste present throughout each drink of this beer. The tartness of the cherries adds another layer of complexity to the tasting notes. Very tasty in this regard.
The funky and Brettanomyces notes you get in the nose/aroma follow into the tasting notes as well. The Brett is quite strong, unsurprisingly, and finishes with a funky taste on the back end of your palate. It is strong like Brett always seems to be, but does not overpower the other notes in this one.
The funky notes in this beer are complimented perfectly by the cherries used in the brewing process. Overall, this is a very tasty beer for those of you who do not despite the funk of Brettanomyces.
It should also be noted that this beer would be fantastic for aging. Good luck letting it sit for long enough though, as this is a tasty and refreshing beer for traditional sour beer lovers.
Other Notes
As always, beautiful branding/labeling from Driftwood Brewery on this one. A bright and vibrant logo features a bird of prey on the front of the bottle. This is a good way to show how distinguished and strong this traditionally soured beer is.
There was very little head to this beer when poured from the bottle. This is an interesting note when taking into account that Brettanomyces are present, which are well-known for producing a massive head in beers. It does not make a significant difference to the strength of the aroma present.
The level of carbonation in this one is perfect. It is light, but not at all nonexistent. Adds a nice level of crispness to the finish on the back end of your palate. Goes well with the tartness and the funky notes.
Final Grade
While categorized as an American Wild Ale in many respects, this hits the Flanders Red Ale style perfectly. The tartness is strong, but not overpowering. The cherries play their part throughout, and the funky Brett notes do not dominate this beer.
Finding a balance in this style can prove to be difficult, but Driftwood Brewery has found the right recipe to balance out the notes at play.
Grade: 8.4/10
Want to see a beer featured in B.C. Beer Reviews? Comment below with your suggestion.
You can also see all of the photos featured in B.C. Beer Reviews, and even some that do not make it into these articles, by following me on Instagram: nhendy5. And if you want to see more concise versions of these reviews up to 24 hours in advance, add me on Untappd: RedArmyNic.
Main photo by Nic Hendrickson, Lastword Inc., all rights reserved