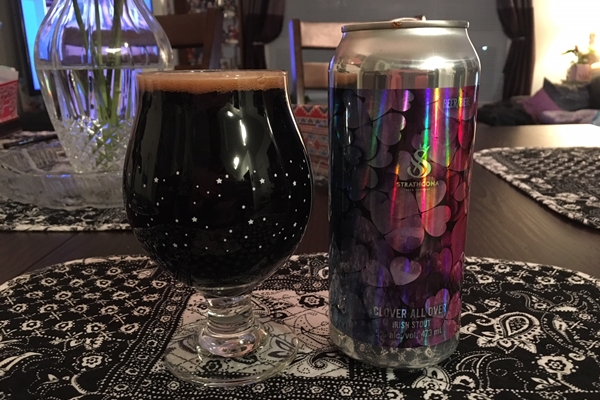 B.C. Beer Reviews is back with another entry from an East Vancouver brewery, Strathcona Beer Company. Strathcona has had an entry before in the form of their Rye ESB. That beer got a good review, let's take a look at a totally different style in Clover All Over, their Irish Stout.
B.C. Beer Reviews with Nic Hendrickson: Strathcona Beer Company – Clover All Over
As a member of Yeast Van Brewery District, Strathcona Beer Company finds itself among some distinguished members. Names like Storm Brewing, Strange Fellows Brewing, and nine others are among those included.
Let's see how this Irish Stout measures up.
Colour
This one pours a dark, deep jet black. It is the same when the glass is full, unsurprisingly. A nice dark tan head to this beer as well. This one is as dark as ink.
Nose/Aroma
Roasted notes are just a part of this tasty smelling beer. The malt/grain bill used is the predominant note in the nose/aroma of this beer. This is something that matches up with the style.
Along with the roasted notes, there are aromas of chocolate and slight hints of vanilla. The vanilla notes are certainly hard to catch, and they come out a bit more when the beer starts to warm up a bit. Very sweet notes in this nose/aroma, but certainly not the two most dominant. Just enough to add a nice layer of complexity to the nose/aroma.
Overall, this is a rather sweet nose/aroma and it suits the style fairly well overall. Nice level of complexity to it as well.
Tasting Notes
The roasted and chocolate notes truly shine through in the tasting notes of this beer. They are most definitely the dominant notes in this one. There is no doubt about it, this matches up perfectly with the style of the beer.
The finish is extremely dry, which is a common characteristic of the style. It is so dry that the otherwise strong notes at first drop right off your palate. To add to the dry beer, there is a subtly crisp bite to the finish as well. The dryness of this beer is undeniable.
The dryness could be mistaken for hop bitterness/biting notes, but it does not come off that way. It sticks with the style, but this is one note of this beer that could certainly do with being dialed back just a bit.
Other Notes
The branding/labeling on this one is beautiful, and arguably the best part of the beer. A shiny label is covered in four-leaf clovers that have heart-shaped leaves. As you turn the label you can see that the colours make up a rainbow. Truly a great label that will catch your eye on the shelf.
This beer pours a moderate head overall, being present but not categorized as significant in any way. There is very little head retention to this beer as well. Either way, it has little to no effect on this beer.
As stated above, and it cannot be understated, this beer finishes very dry and crisp. If that is something you like in your stouts, then this is the beer for you.
The body could not be categorized as thin, but it certainly is not the thickest stout ever made. This is also a common characteristic of an Irish Stout.
Final Grade
The labeling/branding is the best part of this beer. It pops out among other beers and will definitely catch your eye. The next best thing would be the nose/aroma, which is sweet and well done, matching the style perfectly.
The only downside to this beer is how it finishes. It is very dry, so if that is what you are looking for then this one comes with a solid recommendation. A bit much for my liking.
Grade: 7.6/10
Want to see a beer featured in B.C. Beer Reviews? Comment below with your suggestion.
You can also see all of the photos featured in B.C. Beer Reviews, and even some that do not make it into these articles, by following me on Instagram: nhendy5. And if you want to see much more concise versions of these reviews up to 24 hours in advance, add me on Untappd: RedArmyNic.
Main photo by Nic Hendrickson, Lastword Inc., all rights reserved