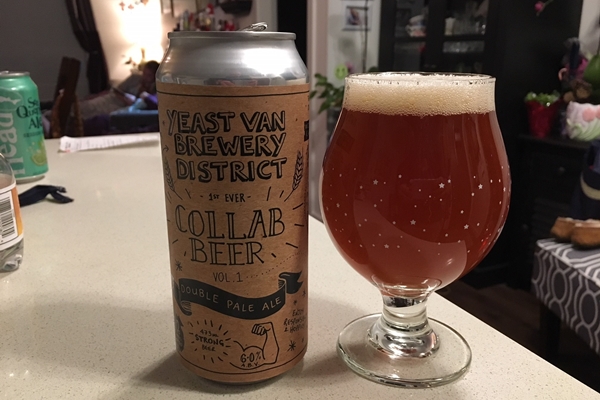 B.C. Beer Reviews is here to take a look at one of the most intriguing collaborations of this series. A location in East Vancouver affectionately referred to as Yeast Van has come together to make a double pale ale. Aside from being 15 different breweries collaborating, this is an interesting beer, to say the least.
B.C. Beer Reviews with Nic Hendrickson: Yeast Van Collab – Double Pale Ale
Yeast Van is a group of breweries that include the following: Coal Harbour Brewing, Andina Brewing, Bomber Brewing, Strathcona Beer Company, Callister Brewing, Doan's Craft Brewing, Luppolo Brewing, East Van Brewing, Odd Society Spirits, Off the Rail Brewing, Parallel 49 Brewing, Powell Brewery, Storm Brewing, Postmark Brewing and Strange Fellows Brewing.
This was brewed at Coal Harbour and everyone else had a say of their own in making. This included the use of nine hops during the boil and three other hops for dry hopping. This certainly made for a pungent double pale ale.
Let's take a look at this otherworldly collaboration.
Colour
This beer pours a bright golden colour with a slight amber hue to it. Much more of a deep amber colour when the glass is full. When they state that it is a double pale ale, the colour certainly represents that.
Nose/Aroma
There is a lot going on in the nose/aroma of this beer, and mainly in a good way. There are so many hop aromas floating around that it throws your head for a bit of a loop throughout drinking this one.
The one thing that can be noticed without fault is a dank and hoppy scent that is everpresent. You catch it when first cracking open the can, pouring the beer, and you really do not even need to stick your nose in the glass to confirm this being pungent in its hop aromas.
There is also a very noticeable aroma of grapefruit and citrus fruits. The 12 hops used in the brewing/dry hopping process make sure this is a strong nose/aroma, and the grapefruit is certainly one of the strong and more recognizable scents in this one.
Other notes of interest are indistinguishable tropical fruit and citrus fruit notes. There is a slight hint of pineapple, but as soon as you catch it, it is gone again.
Behind all of the fruity and citrus notes is a very present pine aroma. This could fall in line with the dank aroma as well, but it is certainly a pleasant roleplayer in this beer.
On top of all of the hop aromas is an aroma of apple that is a common characteristic of yeast coming out in the beer. This is fitting when taking into account that Yeast Van came together to make this beer.
Definitely one of the most complex nose/aromas I have ever experienced, especially in a pale ale.
Tasting Notes
That piney note/dankness that you get in the nose/aroma is the first thing you taste with this beer. It hits you in the face with a strong, almost resinous, characteristic in your first sip. It then disappears into a multitude of different flavours coming into play.
The best way to explain all of the fruity and citrusy notes is to call this one a fruit salad. You get all sorts of citrus and tropical fruit notes from the hops, and it does not come off as being too busy, surprisingly enough.
The yeasty notes of apple are still somewhat present, but not nearly as much in the taste as it was in the nose/aroma.
Other Notes
The labeling/branding is pretty bland at first sight. A modest tan label with some sketches on it doesn't pop out at you. However, when you read the label it tells you the story of the beer and the Yeast Van Brewery District. Very cool story and upgrades the label a bit as well.
This one pours a moderate head to it, typical of the style. The retention could also be categorized as moderate. Pretty run of the mill in this respect.
The body of this beer is surprisingly smooth, but not at all heavy. And despite being labeled as a double pale ale, there is no alcohol taste to it at all. Very good in both of these areas.
Surprisingly enough, there is not a significant amount of lacing with this one. With a beer that has 12 hops in it you would make the educated guess that the glass would be coated, but this is certainly not the case.
Final Grade
Certainly the most complex nose/aroma and one of the more complex tasting pale ales I have ever had. The nose/aroma is much better than the tasting notes. And despite this being from Yeast Van, the apple taste from the yeast is not all that great with the style or the beer itself.
Other than that one downside, this is a rather tasty beer overall.
Grade: 8.4/10
Want to see a beer featured in B.C. Beer Reviews? Comment below with your suggestion.
And you can also see all of the photos featured in B.C. Beer Reviews, plus some that do not make into these articles, by following me on Instagram: nhendy5. And if you want to see much more concise versions of these reviews up to 24 hours in advance, add me on Untappd: RedArmyNic.
Main photo by Nic Hendrickson, Lastword Inc., all rights reserved