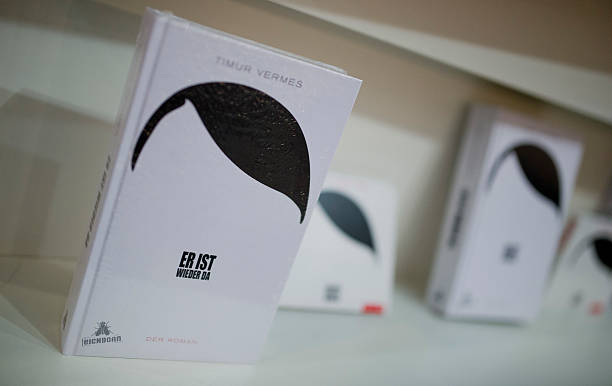 From the day of its original publication in Germany in 2013, Timur Vermes' 'Look Who's Back' (translated from the original title: 'Er ist wieder da') was going to ruffle some feathers. The novel combined to hitherto seldom-explored literary genres for German authors: political satire and Adolf Hitler. But far from being a mere light-hearted spoof of the world's most hated historical figure, the book is a relevant, telling examination of media platforms and themes that revolve in politics today.
'Look Who's Back?' – Timur Vermes' Apt 21st Century Political Commentary
The story may seem a bit cliché: Hitler awakens in Berlin, in 2011, having been unconscious (or dead), for the best part of 66 years, to become a stand-up comedy sensation and media personality via Youtube, television, and the internet. He wows critics, appears on famous German talk shows despite his radical views, and although few take what he says seriously, he gains huge popularity and becomes a prominent figure in the media. Although the aspect of reincarnation is somewhat unrealistic, it is easy to see how someone with Hitler's views and charisma can acquire significant influence in politics around the world.
'Look Who's Back' is funny and witty, but it also emphasizes the sobering reality of the extent that new avenues of information are questioning existing attitudes and social norms, presenting us with both a demand for change, and a fight for the status quo in response. The book tests the norms of social acceptability, and it allows readers to draw parallels in contemporary politics, especially regarding techniques that certain political personalities and movements use in order to gain votes.
The greatest criticism that was leveled at the book was that it treated Hitler too nicely. Vermes, critics said, toned down his character to offer a softer, more humane depiction of the man who killed over sixteen million people. But to judge the accuracy of Vermes' depiction of Hitler against what he is reported to have been like misses the main point of the book. After all, it is a political satire, so the characters are expectedly changed in order to express a point. Moreover, Vermes needed to make the characters relevant to the twenty-first century, in addition to the story itself. So it is understandable that he would take a more subtle view of the hated dictator.
Since its publication, 'Look Who's Back' has sold more than three million copies worldwide, with 1.4 million copies sold in Germany alone, as of March 2014. It has been translated to 41 different languages and has been adapted into a successful German movie. Vermes' gamble on a subject enshrined in taboo paid off. The style and tone of the book contributed, in no small part, to its success. Readers do not have to feel embarrassed to read this book in public. In fact, it is likely that if you do read it in public, then someone may ask you about it, or where you got it from in a nice way.
In terms of the writing style, Vermes is more of a John Mortimer (author of the famous 'Rumpole' series), than a George Orwell. The political statements that he makes are subtler and multi-layered than the likes of Owen Jones or Russell Brand. In fact, the style is so unique that it sets the book above the rest, in the genre of political satire. Vermes is not quite at the same level as Orwell, arguably the greatest political commentator ever, and if he is to be mentioned in the same breath as the man who gave us '1984', then he has to expand his range.
I would advise Vermes not to regurgitate the same style and story that served him so well in 'Look Who's Back', because that would detract from the original work, and it would be boring. The book's refusal to adhere to a specific literary genre gives Vermes plenty of flexibility when it comes to his next move, for the German author seems well-suited to the worlds of both fiction and serious political commentary.
Mick Jagger once famously said: 'First you shock 'em, then they put you in a museum.' While only the first part of this statement can apply to Vermes so far, it is easy to see why 'Look Who's Back' will live long in readers' memories around the world. It entertains a literature-savvy audience, as well as first-time readers, and it grips readers in a way that all classic twenty-first century novels do. It is both timeless, and extremely relevant. Funny, and serious at the same time. 'Look Who's Back' is an essential read for anyone seeking a greater understanding of how modern influences and trends are changing our world, or for anyone who likes a bit of a laugh.
Main Image: