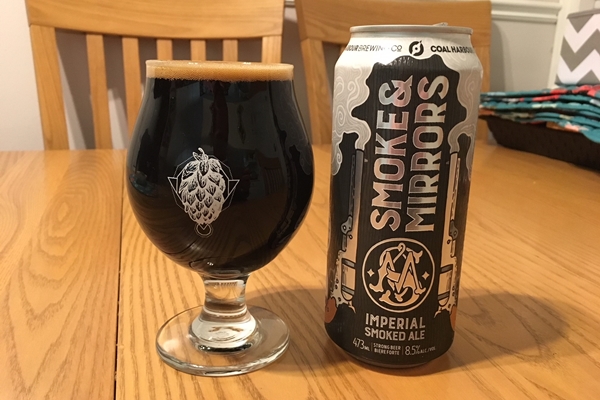 B.C. Beer Reviews is back after a couple-day hiatus due to unforeseen travel issues. To make up for taking a few days off we will be taking a look at a strong and unforgettable beer, the Smoke & Mirrors Imperial Smoked Ale from Coal Harbour Brewing.
B.C. Beer Reviews with Nic Hendrickson: Coal Harbour Brewing – Smoke & Mirrors
As you will quickly learn, this beer is not smoke and mirrors in the sense that it is fake. However, the smoke part of the name sticks true, and it definitely lives up to being donned an imperial ale. As it states on the label, this beer is certainly not for the faint of heart.
One thing this beer can boast, aside from strong smoke scents and tastes, is a massive trophy cabinet. This one has won first place, gold, best in class or judges choice on six different occasions. This includes the 2012 B.C. Beer Awards (1st Place, Special Category), judges choice and best in class at the 2015 Penticton Fest of Ale, and Gold back-to-back at the 2016 and 2017 Canadian Brewing Awards.
Let's take a look at this multi award-winning and strong ale.
Colour
Smoke & Mirrors pours a dark brown colour from the can. Much darker when the glass is full, but still not quite black. This one also has a nice, dark tan hue to its head that is reminiscent of aged leather.
Nose/Aroma
Unsurprisingly, the smoke is undeniably potent in this one. If you enjoy a smoked characteristic in your beer, this is certainly the perfect beer for you. Behind that strong smokey aroma is a sweet background from the malt/grain bill.
The sweetness comes from the malt/grain bill, but so does the smokiness. They both work well together to make a stereotypically powerful smokey scent to this beer. Even for someone who generally does not like smoked beers, this is a very well-done nose/aroma.
When judging this one solely off the nose/aroma, it is not at all surprising that its trophy cabinet is as big as it is.
Tasting Notes
Much like in the nose/aroma, and also unsurprisingly, is a very strong characteristic of smokiness in this beer. The German Rauch (smoked) malts play a huge role in the potency of this beer. What really sets this one apart is that you do not get the woody notes from beers using wood to impart their smokiness.
The tasting notes match up almost entirely with the nose/aroma. The other role player in the tasting note is certainly the residual sweetness that all malts/grains impart on beer. This compliments the smokiness of this beer very nicely, both in the nose/aroma and the tasting notes.
There is a very light bitterness at the back end of this beer. It likely would not be noticeable if the smokiness did not somewhat accentuate it. A nice finishing note.
As said before, this beer is not for the faint of heart, and certainly is not for those of you who do not like smoked beers. If you can appreciate those qualities in a beer, this is truly a very well-done beer that fits the style perfectly.
Other Notes
This beer pours a light head to it. Enough to be noticed, but not enough to make a difference in the beer. The nose/aroma is unaffected by this fact.
The branding/labeling is sharp with this one. A dark grey background that looks like wood has a lighter grey smoke along the top of it. In the centre of the can is two old-school revolver pistols. There is also texture to the labeling. Very sharp.
The mouthfeel of this beer is moderately smooth. Not at all heavy, but cannot be categorized as light either. This beer finds a nice medium in that respect.
The carbonation level is moderate. Enough to give a light crisp bite to finish off the smokiness present throughout this one.
Final Grade
Imperial smoked ale says it all. If you do not like smoke in your beer, this is not for you. It hits you strong in the nose/aroma, the tasting notes, and it lingers well after the beer is gone. Well done for what it is trying to do.
Grade: 8.8/10
Want to see a beer featured in B.C. Beer Reviews? Comment below with your suggestion.
You can also see all of the photos featured in B.C. Beer Reviews, and some that do not make these articles, by following me on Instagram: nhendy5. And if you want to see much more concise versions of these reviews up to 24 hours in advance, add me on Untappd: RedArmyNic.
Main photo by Nic Hendrickson, Lastword Inc., all rights reserved