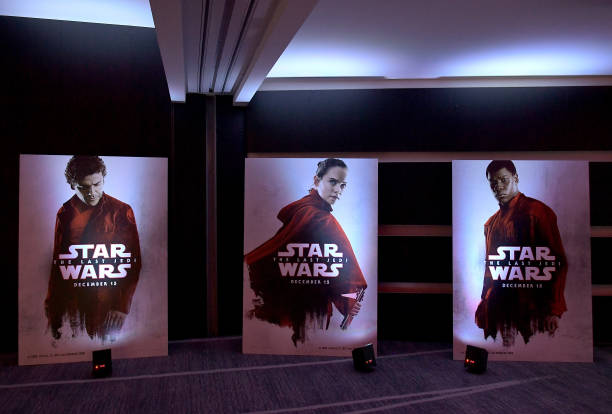 During its opening weekend Star Wars: The Last Jedi made over $220 million domestically, and its worldwide gross is over $1.3 billion. Both of those numbers are impressive, and the second one makes The Last Jedi the highest-grossing film of 2017, bar none. Despite this success, a Wall Street Journal article released earlier this week says that some analysts are considering the film a box office disappointment, which may be giving Disney executives some concern. Whether or not you agree—and it may be hard for most to look at those numbers and think "disappointing"—if Disney is looking at the movie as a failure, it could have lasting ramifications for the beloved franchise.
The Last Jedi Box Office and the Future of Star Wars
The Star Wars Box Office Lately
To be clear, no one ever realistically expected The Last Jedi to out-perform 2015's The Force Awakens at the box office. The latter was a juggernaut, released to a perfect storm of hype and anticipation. It was the first Star Wars movie in just over a decade and brought back beloved characters from the Original Trilogy like Harrison Ford's Han Solo and Carrie Fisher's Princess-turned-General Leia, whom we hadn't seen since 1983's Return of the Jedi. Early reviews were overwhelmingly positive, and audiences seemed to agree with the critics.
There were—and have continued to be—complaints about The Force Awakens' similarities to A New Hope, but there's a reason the first film in the franchise became a classic, so there are certainly more grievous sins J.J. Abrams could have committed when starting up the Sequel Trilogy. By the time it ended its domination of the box office, The Force Awakens was the highest-grossing movie in history domestically and the third highest-grossing globally, making over $900 million in the United States and over $1.1 billion overseas.
So to say that The Force Awakens was a tough act to follow is a bit of an understatement. Between it and The Last Jedi, Disney also released the first Star Wars Anthology film Rogue One in December 2016. It was also a financial success, raking in over $1 billion worldwide. However, the idea was that a proper Star Wars film in the Skywalker family saga should have dwarfed even that considerable sum by a great deal more than The Last Jedi has. To put it in simplest terms, Disney execs apparently expected themselves to be swimming Scrooge McDuck-style through a vault filled with ambiguously-sourced gold coins and instead they're only going to be able to scrape together enough money to buy themselves a yacht or a small mansion—so what happened?
What Caused the Above-Average, Below-Expectation Performance?
Audience Takes
The most obvious reason for this box office "stumble"—if you want to call it that—is the divisive fan reaction to the film. Critics have showered it with praise, but unlike The Force Awakens, audiences haven't been on quite the same page with The Last Jedi. Right now the Rotten Tomatoes divide between critics and general audiences looks more like what you would expect from a DCEU movie like Justice League rather than a new Star Wars flick, with a 91%/48% split as of this writing. Some of that low audience score can be attributed to disgruntled Internet trolls overloading it with negative reviews to get back at Disney for making three Cars movies or something ridiculous like that, but if you take a bird's-eye view of social media takes the reaction to the film is still more mixed than anyone would have expected a week before it was released.
People have criticized director Rian Johnson's creative choices for Luke Skywalker (Mark Hamill)'s arc in the film, as well as the type and prevalence of humor in the movie, the ways Johnson's script utilizes and expands on the capabilities of the Force, what many consider to be an anti-climactic use of characters and plot points set up during The Force Awakens, and more. If its predecessor relied too much on what came before, the consensus of those who haven't fallen in love with The Last Jedi is that it doesn't rely enough on the Original Trilogy. In a lot of ways, things that aren't working from The Last Jedi—Leia's already-infamous spacewalk, for example—can be interpreted as something that would happen in an episode of The Fairly Oddparents parodying a Star Wars film, which may have caused this lukewarm response.
Other Factors
In addition to all that, people just don't go to the movies like they used to. An article from The Hollywood Reporter from September reported that last summer represented a 25-year low in movie going. Some of that was caused by the underwhelming slate of summer movies (we're looking at you, Valerian and the City of a Thousand Planets and Transformers: The Last Knight), with only the occasional hit making it to the silver screen (think Baby Driver, Girls Trip, and Wonder Woman).
People would rather watch a movie at home thanks to the array of ever expanding video-on-demand options at their fingertips. It's easy to look at a cultural landmark like a Star Wars movie as being impervious to this trend, but that may not be the case—in spite of rising ticket prices, its lower-than-expected box office total may have been due in part to people preferring to wait a few months to watch The Last Jedi from the comfort of their own homes.
This is also the second film in a planned trilogy and that rarely bodes well for a film's gross. The Empire Strikes Back, widely regarded as the greatest Star Wars film of all time, had the lowest domestic box office of the entire Original Trilogy. It out-grossed Return of the Jedi worldwide, but people just may not have been in as much of a hurry to catch this trilogy's second act either. There's a very good chance that, regardless of the controversy and disappointment surrounding The Last Jedi, there will be an uptick in performance for its sequel—especially if Disney bills it as the final Star Wars film in the Skywalker family saga.
What Happens Now?
Marketing Changes
Depending on who you ask, The Last Jedi has underperformed by roughly $200 million. That's a hefty chunk of change, but it doesn't do much to diminish the fact that the movie has made over $1.3 billion. But what are the long-term ramifications for the film's perceived underperformance for the franchise?
In China it performed so poorly that it was pulled from theaters after only two weeks. It has been reported that because of this the next Star Wars Anthology film being released in China, titled Solo: A Star Wars Story in the U.S., will just be called Ranger Solo there. This is a change specific to a market where the Star Wars brand isn't quite the cultural touchstone it is in the United States and, if it works, it's something that may ultimately be used there to boost box office numbers for The Last Jedi's untitled sequel, currently due out in 2019.
Creative Changes
More interesting is what The Last Jedi's box office may mean for the franchise's creative future. No matter how you feel about the movie, it's impossible to deny that it took a lot of risks with a very well-established franchise. The Last Jedi subverted expectations at nearly every turn, which led to some of the coolest and most divisive moments in any Star Wars film to date. If Disney executives think that these storytelling risks are the reason the movie hasn't met or exceeded their financial expectations, they may not be willing to take similar risks with future installments.
This would be disappointing for a lot of reasons. First and foremost, whatever metrics you're using to see where The Last Jedi should have ended its box office run, it's still a major financial success and one of the 10 highest-grossing films of all time. Because of that, it should be noted that even if its out-of-the-box narrative choices haven't landed for everyone, reception has still been positive enough that the movie has been an above-average financial success. The mixed-to-positive spread of the reviews may have even spurred more people to go and see the movie just to determine for themselves if the creative team behind The Last Jedi dropped the ball or not.
Why The Last Jedi's Risks Matter
The revitalized Star Wars franchise has already become infamous for its behind-the-scenes drama with directors. Phil Lord and Chris Miller, who directed a significant portion of Solo, were fired over creative differences, as was Colin Trevorrow, who was originally tapped to helm the final film in the Sequel Trilogy. It was rumored that extensive reshoots were required for Rogue One because Disney was unhappy with director Gareth Edward's work—so much so that they reportedly had Tony Gilroy step in as writer and director for the reshoots to get the movie closer to their vision. With such a risk-averse track record, it's amazing that they let Johnson get away with everything he did in The Last Jedi. It would be a shame to think that the chances they took here are going to be a footnote in Star Wars canon instead of a sign of things to come.
With Disney reportedly planning to roll out a new Star Wars film every year for the foreseeable future it'll be easy to get sick of the same old, same old before too long. The baseline Star Wars film is like vanilla pudding—delicious and a treat—but The Last Jedi burst onto the scene with a wild vanilla/chocolate-swirl combination that was daring and new, even if it isn't for everyone. Just because some people aren't totally on board with the changes doesn't mean that Disney shouldn't take chances with these movies in the future. If they don't, there may come a day when another vanilla Star Wars movie isn't enough to draw a crowd either, and then they'll be begging for a daring filmmaker to step in and inject some flavor in their franchise.
Main Image: