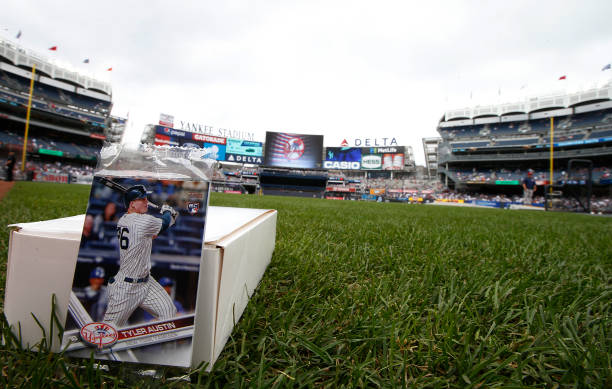 The end of January is probably one of the most underrated times in the sports world.  The NHL All Star Game and Skills competition occur, basketball is in full swing, the Super Bowl is one weekend away, and pitchers & catchers are two weeks away from reporting to Florida for spring training.  But for baseball card collectors this is arguably the most important time of the year.  Topps releases their first set of the season, 2018 Topps Series 1 and this release is the mark of collecting season for baseball. It's become a tradition among collectors and it's one of my favorite days aside from Opening Day for the MLB. After a quick trip to Target I was able to get my hands on some 2018 Topps Series 1 and here is my honest & unbiased review.  Full disclosure, that I was not compensated in anyway for this review by Topps, Target, Last Word on Sports or any of their affiliates.
2018 Topps Series 1: An Honest and Unbiased Review
Topps Series 1 is the flagship series of baseball card collecting.  If it weren't for Series 1, collecting as we know it would not exist (nor would this article).  2018 marks the 67th consecutive year since 1952 that Topps has produced the set. I think of Topps Series 1 as The Beatles.  I don't like them personally (well I don't mind them) but there are so many fans out there who do like them and there is no denying the cultural impact they had.  The Beatles arguably invented rock n roll music and Topps Series 1 invented a card worth collecting.
Topps Series 1 is a low end set which is nice if you are collecting on a budget.  Your retail options are individual packs for three to four dollars each, rack packs/hangers (three packs) for $10, blaster boxes (8 packs) for $20. Hobby boxes will run you $50-$60 depending where you go and jumbo hobby will cost you $90-$100.  Each hobby box guarantees the following:
1 Autograph or Relic Card
3 Rainbow Foil Parallels
9 1983 Topps Inserts
4 MLB Awards Inserts
4 Superstar Sensations Inserts
4 Topps Salute Inserts
Hobby jumbo boxes guarantee one autograph and two relic cards in addition to the listed above. Hobby boxes are supposed to come with one silver pack per box and two hobby jumbo silver packs.  Silver packs are packs of five cards all designed in the 1983 set, often with refractor (chrome) foil on them.  There are extremely rare autographs and short prints in these packs (most /5).  Silver packs are not supposed to be sold individually but a lot of people on eBay seemed to miss that memo.  There are no guarantees in retail except the Target/Wal-Mart/Toys R Us exclusive parallel cards and retail exclusive inserts.
Design:
2017 Topps Series 1 was one of my least favorite sets ever and probably the biggest disappointment Topps has made in a while.  The series was ugly and poorly designed.  The nameplate with team name was distracting and often intrusive partially blocking the player image.  Jersey relic cards from 2017 were sad and depressing. Relic cards had a grey base and these bizarre peach and blue wave twist design across the card often cutting through the image of the player. A jersey swatch about the size of a quarter was about two thirds of the way up on the left and then the player's image was on the right often not filling the whole card.  The player's name and team were in white text on the bottom. Topps set the bar really low in 2017. Luckily they rose above it in 2018.
2018's base cards have a modern feel to them. Base cards lack a border, which lets you appreciate the image more. The text is on the bottom of the card and the images look sharp and colorful. The nameplate on the bottom has a banner that starts to break off into pixels as you move to the right of the card. Although they are breaking off, it is not distracting. A player's team logo sits on the bottom left cupped by this colorful ribbon looking thing.  I think the ribbon should have been excluded as it feels out of place and crowds the player's first name on the nameplate. It looks like a piece of a Hot Wheels track on the card and comes in a distracting aqua/toothpaste color.
Relic Cards have color and a much better layout. The jersey piece is on the bottom right while the player takes up a majority of the left side of the card.  The grey base works well since the card has a two tone trim of the player's team's colors (i.e. Oakland Athletics players have a green and yellow trim, Washington Nationals have red, white, and blue) including a diagonal stripe  across the card that features the team name. Postseason relic cards have a disclaimer that the jersey swatch is not from the 2017 postseason. Which I have mixed feelings about. On one hand I appreciate Topps disclaiming this but I question why did they make postseason relics if they didn't intend to use postseason game worn jerseys.
2018 Series 1 relies heavily on Topps' 1983 design for its 35th anniversary.  A lot of the parallels and inserts feature a 1983 design or theme.  Most of the cards are of modern players but made in the original 1983 Topps design.  The design looks vintage and features two pictures on the front.  Still for the baseball card purists out there, they may not enjoy seeing a set they grew up with featuring modern players, stamps, or features (autographs in the 1983).
Collectability:
Everyone has different collecting goals and hopes. Topps Series 1 is your basic meat & potatoes set. It will always be there. It is pure, simplistic, and minimalistic. Yet it works well for Topps and Series 1. It doesn't try to be flashy or unique.  No gimmicks or experiments.  Good old fashioned baseball cards.  If you are a "high end collector" Topps Series 1 is not for you.  There are some cool chase cards and a lot of 1/1s to hunt for.  But this set is more for the casual collector, the set builders, and something a parent can buy for their kids.
Series 1 has 350 base cards to collect, with over 40 rookies. Leading the charge for the rookies are Boston's Rafael Devers and Clint Frazier of the New York Yankees. Other notable 2018 Topps Series 1 Rookie Cards include Amed Rosario, Dominic Smith, Ozzie Albies, Ryan McMahon, Rhys Hoskins, and Nick Williams.  
I am a big fan of short prints and super short print and Series 1 is often full of them.  These are printed exactly like base cards except they feature different images of the player on the front.  Sometimes they are candidate images, like the player celebrating after a win, or fielding while the base is the player batting.  However, I was disappointed that for Mike Trout Topps used the EXACT SAME IMAGE for his short print that they did in 2017 Series 1. They just played with the shading and hues to make it noticeably different. This isn't the first time Topps has recycled images for different sets.
Fans of rainbows are in luck as there are a lot of parallels this year to chase.  In addition to the base card you have the following parallels to collect: Rainbow Foil (1:10 packs), Gold (#/2,018), Vintage (#/99), Independence Day (#/76), Mother's Day Pink (#/50), Father's Day Blue (#/50), Memorial Day Camo (#/25), Platinum (1/1) and the one-of-one Printing Plates. There are also Black (#/67) and limited Negative parallels that are exclusive to Hobby and Hobby Jumbo formats. Only found in standard Hobby boxes, the Clear (#/10) parallels cover 100 subjects from the base set.  If you manage to complete a rainbow I'd love to see it!
Final Thoughts:
So how did I do in my blaster? Well I didn't pull any relic or autograph cards which isn't a surprise in these series.  However, I did pull an MLB Opening Day insert which are grid like cards that feature different images of players from opening day to make one image of the player named on the card.  You can see some vintage uniforms from back in the day as they were used to make the player. Sadly, I did not get what I was hoping for.  Target has an exclusive insert set dedicated to my favorite player, Derek Jeter. The set features 30 cards that highlight his career.
Topps Series 1 is an icon. It is not the best or most interesting set for baseball out there. It does not have a great ROI nor is it a complete waste of money. But Topps knows this and keeps Series 1 humble. Less is more. It is comfort food for collectors.  It's always there, it will always be made, and it will always be collected.  2018 Series 1 has some design flaws and puts too much emphasis on the 1983 set it tried paying homage to. But with a great crop of rookie cards and Topps fixed many of the design flaws from 2017 Series 1, it is a welcome kick off to the collecting season.  It is not my favorite set that they have made but it is one of the better Series 1 of recent memory.
Main Image: