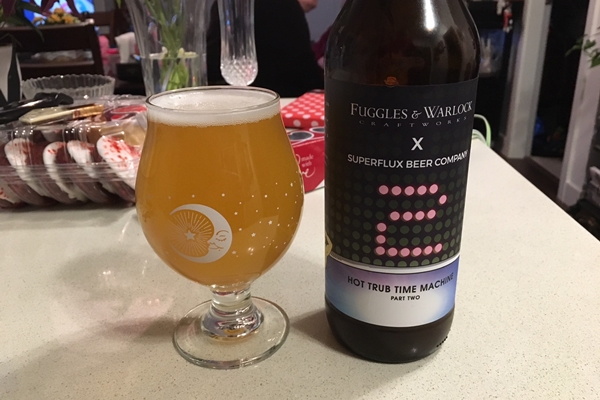 B.C. Beer Reviews is back again with another collaboration beer. Hot Trub Time Machine 2 is a dank and tropical hop bomb from Fuggles & Warlock and Superflux Beer Company. Calling this beer a hoppy beer would be understating it. Truly a beer for the most devoted of hopheads out there.
B.C. Beer Reviews with Nic Hendrickson: Fuggles & Warlock – Hot Trub Time Machine 2
This beer is exactly what you would expect from a New World IPA. Dank, citrusy and tropical, and resinous are just a few words that can explain this one. Super bitter and super tropical, this one is a great collaboration to take a deeper look at.
Let's check this hophead's dream come true out.
Colour
Pours a pale golden colour that has a nice clarity to it from the bottle. The clarity goes away when it is in the glass, but it is not quite enough to be called hazy. Becomes a deeper golden colour.
Nose/Aroma
That label states that it is a pineapple explosion of tropical hops, and that is exactly what it is. There is an extremely strong aroma of pineapple in this beer. Most definitely the strongest aroma of this beer.
There is also a dank characteristic to this beer that tells you exactly what to expect when taking your first sip. It has the typical bitter and hoppy notes you would expect from a rather pungently bitter beer.
There is also very little to no malt/grain presence in the nose/aroma of this one. The hops undoubtedly dominate this beer.
Tasting Notes
There is a powerful, dank, and resinous note right off the bat. The resinous and lingering bitterness is powerful but smooth. It coats your palate with dank hoppy goodness.
There are subtle notes of the pineapple and other tropical notes that are present in the nose/aroma. They are rather smooth, but noticeable in behind the strong and pungent bitterness present throughout.
The label stating that it is dank and juicy is pretty well spot on. The dankness certainly comes through in the tasting notes, but the juicy characteristics come through much more in the nose/aroma than they do in the tasting notes of this one.
Overall, a very pungent beer. If you do not like hoppy beers, this is not for you.
Other Notes
The branding/labeling is colourful and nice. A cartoon picture of the four main brewers involved in the making of this beer sits in a swirling hot tub reminiscent of a fairly new comedy movie. Above them is a digital two is almost hot pink below the names of the two breweries. Nice label, and certainly could be stated as eye-catching.
This beer pours a moderate head. Pretty well what you would expect from a typical American IPA. The retention of that head could also be categorized as moderate.
There is a significant amount of lacing in the glass from this beer, which is also not at all surprising. The glass is pretty well coated after finishing this one. When you take into account how strong the hop presence is, this is to be expected.
The finish could be said to be somewhat dry, which goes nicely with the super hoppy notes present throughout. It could not be categorized anywhere near thin or astringent, but certainly a dry finish.
Final Grade
As stated multiple times above, this is a pungent, dank, and tropical hop bomb of an IPA. It truly represents what many people are looking for in their New World American IPAs. Lots of pineapple in the nose, but only a subtle amount in the tasting notes. Very bitter overall, but a clean bittering charge.
All in all, a very nice and clean beer. Hits the nail on the head for the newer American IPAs.
Grade: 8.8/10
Want to see a beer featured in B.C. Beer Reviews? Comment below with your suggestion.
You can also see all of the photos featured in B.C. Beer Reviews, and even some that do not make it into these articles, by following me on Instagram: nhendy5. And if you want to see much more concise versions of these reviews up to 24 hours in advance, add me on Untappd: RedArmyNic.
Main photo by Nic Hendrickson, Lastword Inc., all rights reserved