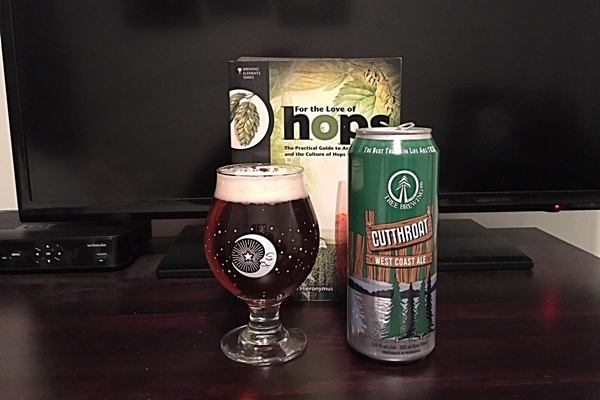 B.C. Beer Reviews comes to you today to take a look at the first entry in this series from Tree Brewing, their Cutthroat West Coast Ale. When you think of the West Coast style you think citrus hop presence and a decent malt/grain profile. It is well-known to have a good balance between the hops and malts/grains used.
B.C. Beer Reviews with Nic Hendrickson: Tree Brewing – Cutthroat West Coast Ale
This beer was a gold medalist at the 2007 Canadian Brewing Awards. With how long it has been around, and how long Tree Brewing has been honing their skills for, you would expect a solid beer.
Let's take a look at this award-winning West Coast Ale.
Colour
Pours a medium brown colour from the can that indicates a fairly strong presence from the malt/grain bill used in this beer. It is virtually the same colour as the pour when in the glass. The clarity is fantastic for such a deep brown coloured ale.
Nose/Aroma
The first thing you get when sniffing this beer is a light caramel or even honey aroma from the malts/grains used. This is obvious where it comes from, and it matches up nicely with the colour of the beer as well.
The caramel, honey, and malty/grainy aromas are most definitely at the forefront of this beer. They pretty well overpower everything else, but that is not necessarily a bad thing in this one.
There is very little to no hop presence in the nose/aroma for this one. You catch very light hints of floral and woody aromas, but they disappear as quickly as you notice them. For a beer that uses hops like Centennial, Cascade, and Golding, you would expect a bit more of a citrus character. You definitely get the notes of floral and woody from the Golding.
Tasting Notes
As is the case with what you would expect from the colour and the nose/aroma, the malt/grain bill dominates this beer. It is not unpleasantly sweet but has a caramel and honey-like sweetness that is indicative of a malt-forward beer.
There is a light hop presence on the back end of your palate. The bitter notes are subdued, and they most definitely play second fiddle to the malty notes of caramel and honey that are at the forefront of this beer.
Overall, this is a somewhat balanced beer. The slight hop presence in the back end keeps it from being overly malt-forward, but it certainly still tends to lean in that direction. Does not necessarily hit the new age West Coast notes as strongly as you might like it to.
Other Notes
The branding/labeling is just like every other beer that Tree Brewing puts out. There is some kind of wood picket fencing in the background. That is laid upon a forest green label on top and a scene of evergreen trees, water, and mountains on the bottom half. Truly represents the great province of British Columbia.
The head this beer pours is below average. The retention of that head could be categorized as average as well, not sticking around for very long after being poured from the can.
The carbonation level is moderate. There is a light crisp finish to the beer. This helps to combat the very malt-forward beer that you are sipping on.
Final Grade
This one does not exactly hit the notes of a new school West Coast beer. Normally you would expect a very balanced beer with strong notes of citrus and even tropical notes imparted from the hops used. This one is a more traditional take on bitter beer, which is not at all a bad thing.
Very malt-forward, subdued notes imparted by the hops, and a nice clean finish to this beer. Overall, a tasty beer.
Grade: 8.0/10
Want to see a photo featured in B.C. Beer Reviews? Comment below with your suggestion.
You can also see all of the photos featured in B.C. Beer Reviews, and even some that do not make it into these articles, by following me on Instagram: nhendy5. And if you want to see much more concise versions of these reviews up to 24 hours in advance, add me on Untappd: RedArmyNic.
Main photo by Nic Hendrickson, Lastword Inc., all rights reserved