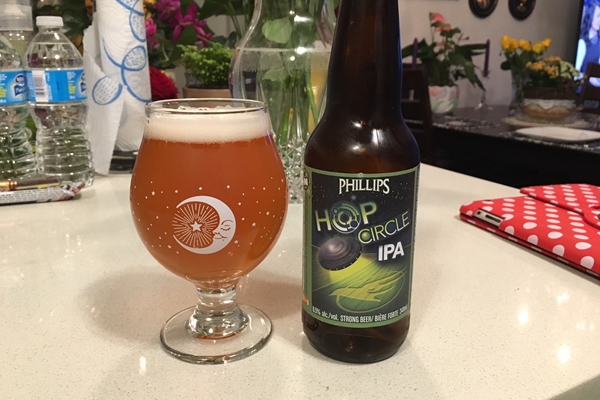 Long has extraterrestrial life been debated upon. What cannot be denied is how Phillips Brewing knows how to churn out a hoppy beer. Their Hop Circle IPA is a level of bitterness from another galaxy but claims it is a balanced beer as well. B.C. Beer Reviews is here to examine this unidentified fermented object.
B.C. Beer Reviews with Nic Hendrickson: Phillips Brewing – Hop Circle IPA
This beer with a strong bitter backbone from Phillips claims to be both bitter and balanced. An undeniably hop-forward beer is hard to turn down, so it will be interesting to see what this one has to offer outside of bitterness if anything.
Let's take a look at this bitter bomb.
Colour
Pours a moderately clear golden-amber colour from the bottle. The colour when in the glass is much closer to a deep amber hue. The clarity also diminishes significantly when the glass is full, but it certainly would not be considered a hazy or cloudy IPA.
Nose/Aroma
You get a very pungent hop aroma, even when pouring it from the bottle. In the glass, it is just as pungent as the first notes you get. The smells of a huge bitter bomb to come for your palate.
The hops used impart a slight citrus note in behind pungent and almost dank notes that dominate the nose/aroma of this beer. If you like your beers bitter, this one will smell absolutely delicious to you.
There is also a very present pine note in the nose/aroma. This comes in conjunction with the pungent and dank notes you get as soon as you crack open the lid and start pouring this beer.
The malt/grain bill imparts a slightly sweet note, albeit subdued in comparison to the hoppy aromas. It is very much a hop-forward nose/aroma.
Tasting Notes
Much as you would expect from the nose/aroma, there is a very potent bitterness to this beer. It could certainly fall into the pungent category, and it is very much a hop-forward beer in the tasting notes as well.
The citrus notes you get in the nose/aroma follow through slightly here. The pine note, however, comes through quite a bit stronger than what it does in the nose/aroma. It is almost like chewing on a small pinch of pine needles. It is not unpleasant, but if you do not like bitter beers then do not drink this one, it was not made for you.
There is also a fairly strong malt/grain bill presence in the tasting notes. It is still very much in the background but is very noticeable. Helps to somewhat balance out the hoppy notes this beer has throughout the nose/aroma and tasting notes.
For the hopheads out there, this is a tasty beer. Very much old school in how it presents itself on the hop flavours and aromas.
Other Notes
The branding/labeling goes hand-in-hand with the name of Hop Circle. There is a 'crop circle' in the shape of the Phillips Brewing logo in the centre of what looks to be a hop field. Above it is a UFO shining a light on it. Clever branding.
The head this beer pours is slightly above average. This beer does not retain the head for very long, but it is there long enough to notice it.
The carbonation level is slightly above average as well. Noticeably crisp, but nowhere near being considered as a 'bright' beer. Goes nicely with the strong hoppy notes throughout.
There is also a significant amount of lacing on the glass from this beer, a less than surprising observation. It is not thick layers of lacing, but there are large patches of it covering almost all of the glass.
Final Grade
Despite there being a noticeable malt/grain bill presence on the back end of the tasting notes, this is a pretty one-dimensional beer. The hops are pine with a touch of citrus, and super bitter overall. Very much an old-school American IPA. Appeals to the hopheads, but not much else.
Grade: 7.7/10
Want to see a beer featured in B.C. Beer Reviews? Comment below with your suggestion.
And if you want to see the photos featured in B.C. Beer Reviews, and even some that do not make it into these articles, you can follow me on Instagram: nhendy5. You can also see much more concise versions of these reviews up to 24 hours in advance by adding me on Untappd: RedArmyNic.
Main photo by Nic Hendrickson, Lastword Inc., all rights reserved