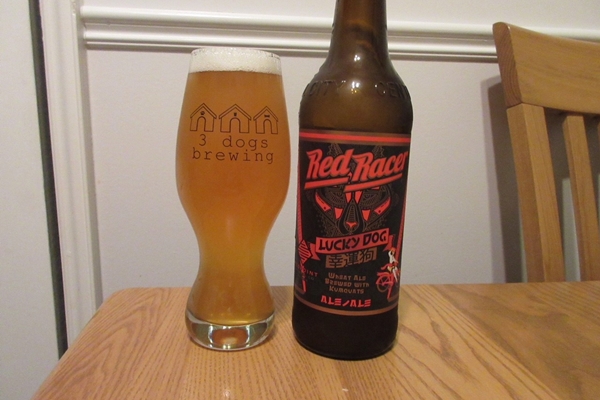 Central City Brewers has teamed up with Redpoint Brewing Company to create a beer to commemorate the Chinese New Year. With it being the year of the dog, they have made the Lucky Dog Wheat Ale. This Wheat Ale has a massive dosing of kumquats in it, making for a very tasty beer overall.
B.C. Beer Reviews with Nic Hendrickson: Central City Brewers – Lucky Dog
This beer is a fun collaboration between two breweries from opposite ends of the world. It commemorates the year of the dog with its design on the label and the name of the beer. On top of that, it does a good job with what they put in the bottle as well.
Let's take a look at the Lucky Dog Wheat Ale.
Colour
Pours a bright orange colour that is almost trending towards a golden yellow. When in the glass it has a very appealing orange hue to it. The base beer has clarity to it, but being brewed with what was very likely kumquat puree gives this beer a slight cloudiness that diminishes the clarity significantly.
Nose/Aroma
A huge note of kumquat on the nose here. It is undeniably the first note you catch, and it overpowers everything else in a good way. A very delicious citrus fruit aroma that is somewhat like an orange, but more complex.
You get notes of the base wheat beer, as you should. However, the kumquat comes through much stronger and dominates it.
Not the most complex nose/aroma ever, but it does not need to be. The potency of sweet citrus notes from the kumquat make this a very, very tasty smelling beer. This would be a fantastic beer to sip on during the summer months. Too bad it won't make it that long.
Tasting Notes
Much like in the nose/aroma, the tasting notes are dominated by the kumquat albeit not nearly as much. It is a nice sweet citrus fruit taste. As stated above, this is a perfect summertime beer.
Aside from the obvious citrus fruit notes, there is a noticeable presence from the wheat used in the brewing process. It has the sweet and full-bodied character you would expect from a wheat-based beer. This goes very well with fruit being added to the beer and goes fantastic with the powerful notes of the kumquat.
The most surprising note here is that there is a very slight bitterness to the finish of this beer. It is hard to tell if this is from the skin of the kumquat or if it is a slight lingering presence from any hops that may have been used in the boil. I would lean towards the former more than the latter. Regardless, it is nowhere near enough to scare away those of you who do not like bitter beers.
Other Notes
There is a nice Asian-infused design of a dog laid onto a matte black label in between reb boarders and the famous Red Racer atop the label. Below it says Lucky Dog and some characters that likely translate to that as well (a guess from someone who is ignorant of the language). Definitely holds up to it being the year of the dog. Very nice branding/labeling here.
The head this beer pours is above average. The retention of that head is also above average, dissipating very slowly after being poured.
This beer has a nice level of carbonation to it. Noticeably bright, but not biting. Finds the perfect medium to have a nice crisp finish to what is an otherwise sweet and citrus-forward beer.
Final Grade
As stated in both the section for the nose/aroma and the tasting notes, this is a fantastic showcasing of what kumquat can offer to a beer. The wheat ale base was a smart choice, adding a nice full body and smooth mouthfeel to this beer. And the bitter back end of the tasting notes, likely from the fruit skin/peel, was a very nice finishing note.
Grade: 8.4/10
Want to see a beer featured in B.C. Beer Reviews? Comment below with your suggestion.
You can also see all of the photos featured in B.C. Beer Reviews, and even some that do not make it into these articles, by following me on Instagram: nhendy5. And if you want to see much more concise versions of these reviews up to 24 hours in advance, add me on Untappd: RedArmyNic.