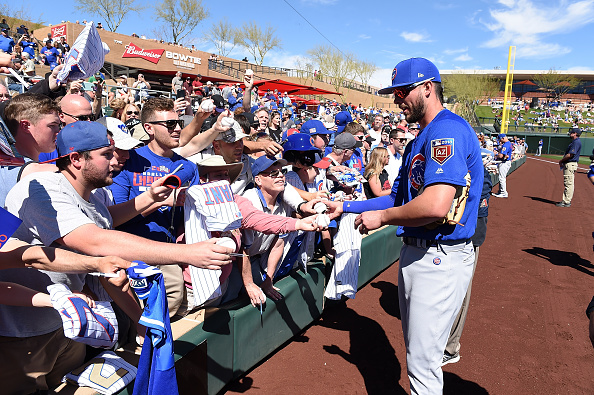 It's not everyday that one tweet saves you $850.00 in sports memorabilia.  But that's exactly what happened to Mike Kennedy, a fellow collector whom I have known for some time.  Back in 2014, when Chicago Cubs phenom Kris Bryant was in the minors and touted as a huge prospect, Mr. Kennedy was interested in purchasing a game used bat that Bryant had signed off eBay for $850.00. However, Kennedy had his concerns and tweeted at Bryant to confirm that the bat and signature were authentic. In a move that surprised everyone, Bryant tweeted back offering to mail Kennedy one for free.
Kennedy, who is 40 and lives in Las Vegas working as a lighting technician for concerts, offered Bryant some free concert tickets or some autographs from Kennedy's personal collection, including some of Mike Trout.  While it may seem odd to offer an All Star autographs of other players, at the time Bryant was just a prospect and had yet to reach the majors.  Bryant declined and appreciated Kennedy being a fan.  I had a chance to sit down with Kennedy and do a 1 on 1 interview to discuss collecting, Kris Bryant, and his takes on the hobby.  You can check out Kennedy's account here.
Main Photo

Gabe Weeden: Mike, thank you for agreeing to sit down with me and answer my questions. I really appreciate it and your time.    
Mike Kennedy:  No problem buddy happy to help.
G: What made you start collecting?
M: I started collecting Jim Abbott as a kid.  Then I started following prospects but quit after high school.  At the time there were no autographed cards, relic cards, and GU (game used) memorabilia wasn't in as high of demand at the time.  Most of collecting was set building or vintage cards which didn't appeal to me.  I didn't start collecting again until 2011 after hearing a lot locally about Harper (Bryce Harper) and Trout (Mike Trout).   I saw Trout play in 2011 and knew he was going to be good so I started buying his EEE (Elite Extra Edition) autos. Got the /495 (autographed card numbered out of 495) for $40 and the /149 for $60.  I thought that was a ton of money for cards at the time.  (the EEE auto /495 is now going for about $500-$750).
G: What are some of your favorite cards/items in your PC (personal collection)?
M: Of my whole collection my Bryant bat he gave me and my Abbott GU jersey from his rookie year are probably my favorite. The Bryant because it was a real personal piece. Plus then a few years later I got to meet his (Bryant's) family .They were at the Cubs big league game in Vegas. They honestly were the nicest people. His brother talked about him and Kris playing long toss throwing knuckleballs. His mom told this amazing story of his grandmother. She said that his grandmother was a big Boston Red Sox fan. So when she asked her who she wanted to draft Kris in the MLB draft. She was expecting her to say either the Astros (Houston, who had the # 1 pick that year)  #1 pick or the Red Sox. She didn't. She said she wanted the Cubs to draft him. When she asked, "why?" She said "I think the Cubs are gonna take care of Kris, and I think Kris is gonna take care of them." She would die not long after. How amazing that those words would ring so true. His dad learned a lot about hitting from the great Ted Williams. I was able to talk about Ted Williams with his dad. I told him how I thought it was amazing that he was able to pass down what Williams knew, a player who played in 1939, down to his son Kris. His dad signed an art print for me. He signed it with a hitting quote from Williams on it. It says "Hit it hard & hit it in the air." I had that print case up in a shadow box with the bat Bryant gave me. To me it just a great memory and cool story for that whole piece. Abbott I got to meet on Twitter and talk Michigan football,  "Go Blue!", and meet him at a book signing. Bryant I got to meet twice at the Vegas big league games. He is one of the nicest people you could meet, even calling you by your name. I got to thank him in person for the bat.
G:  You're a native of Las Vegas.  Do you like Bryce Harper or do you like Kris Bryant over Bryce Harper and if so why?
M: That's (the answer he gave above) probably why I have been more a Bryant fan than Harper. I love Joey Gallo too. He hits moon shots. It's just fun to watch him play. Those three are an amazing talented trio. It's such a cool story that they all knew each other as kids and now they are all in the bigs. I'm really hoping Harper goes to the Cubs. I'd love to see those two on the same team. I think it would be great for baseball.
G: What were your thoughts/reaction when Kris Bryant tweeted back at you that he would just send you a GU autographed bat?
M: When Bryant gave me the bat I was kinda in shock at first. He was really cool and would talk to fans when he was in college and in the minors on Twitter. So I had talked to him a couple of times in the past. So I was really hoping he would just say "yeah that's one of mine" and I'd have peace of mind about buying it. I'd know it was real. So I was really just blown away. I wasn't a kid, just a big fan. So was really just honored he would do that.
G: What/who do you currently collect and what's a dream card/item of yours?
M: At first I just wanted to buy some Trout and Harper autos. Then the market just kinda exploded. So card I bought a year before was selling 10 times what I paid. So I sold them and bought bigger Trout and Harper autos, then Gallo, and then kinda snowballed from There. Then I started buying GU items at Angels Stadium. Sold a bunch of my prospects and pc autos and bought a Trout GU bat. Dream wise, I'd love a  Michael Jordan GU anything but I need to make more money to buy one ha.
G: How has the hobby changed from when you were a kid to now?
M: It's weird collecting now. I think I enjoyed cards more before I could flip them to make money to pay for my PC stuff. Now it's more about doing the math on it. It's kinda gambling in a way. But it also might be that I kinda feel like my PC is complete. I got to meet all the guys I admired as a kid, and after the Bryant thing I don't know how you can top that.
G: What do you love about the hobby?
M: I think the hobby is more fun thanks to Twitter and other social media for me because living in Vegas I don't have any friends here who are big baseball fans. All my baseball friends live elsewhere or online friends.  It allows me to connect with collectors and players without having to travel.  I didn't have that ability growing up.
G: Mike, I appreciate your time and answering my questions.  Any questions you have for me?
M: Yeah, when are you going to trade me that Trout patch /9 of yours?
The card he wants is part of my PC and not for trade or sale.  Still it is nice to know I have something he wants even after he got an autographed GU bat from Kris Bryant directly mailed to him.
Main Photo