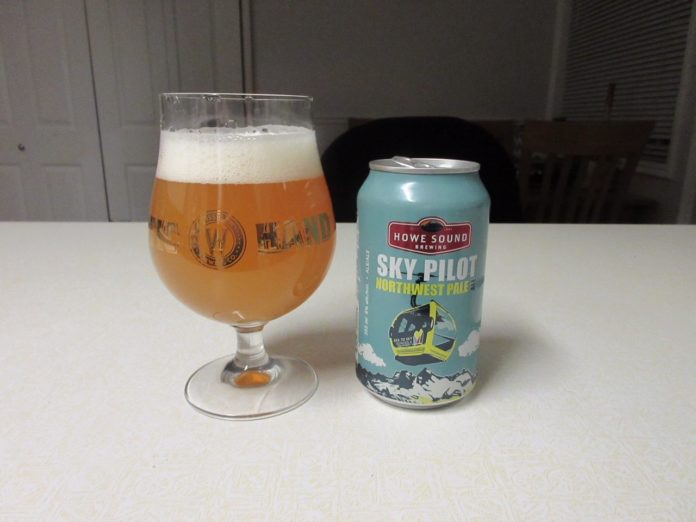 Coming from one of the more well-known breweries in all of B.C., Howe Sound Brewing, the Sky Pilot Northwest Pale Ale is a testament to the region. The style focuses primarily on citrus and pine hops with a nice light malt/grain bill to balance it out. It is certainly a style suited for the spring and early summer, so hopefully, that is a sign of things to come.
B.C. Beer Reviews with Nic Hendrickson: Howe Sound Brewing – Sky Pilot NW Pale Ale
The Northwest Pale Ale is a style that has gained traction in the Pacific Northwest. And when this popular style comes from a brewery of the calibre of Howe Sound Brewing, it is definitely worth paying attention to.
Let's crack this Northwest Pale Ale that won bronze at the 2017 B.C. Beer Awards for North American Pale Ale.
Colour
This beer pours a nice bright golden colour from the can. Much the same in the glass, nicely representing what you would expect from a Northwest Pale Ale. Slightly cloudy hue to this beer, with very little clarity to it.
Nose/Aroma
Much like the trend with Pale Ales and IPAs in the Pacific Northwest, there is tons of grapefruit and citrus notes present here. The strongest note present is the grapefruit not that is imparted by the hops used in the brewing process.
Aside from the distinct grapefruit, there are other citrus fruit notes. It comes off more as citrus peel, with a slight bitter hint to it rather than the sweet part of the fruit.
Very smooth nose/aroma overall. There is a light sweetness from the malt/grain bill, but the hops certainly dominate this one. Very sweet for the most part with slightly bitter citrus peel notes to balance it out. An overall solid representation of what the style has to offer.
Tasting Notes
This beer also hits the style nicely in the tasting notes. Overall, a hop-forward beer that presents more grapefruit and other citrus notes to your palate. There is also slight pine notes coming through here, but the citrus notes are much stronger. Makes for a very smooth and refreshing level of bitterness.
The level of bitterness in this beer is very approachable. Enough to please the hopheads, but not at all overpowering to those who prefer a more smooth and slight bittering charge. It finds the nice middle ground in this respect.
There is a smooth finish and mouthfeel to this beer that is likely imparted by the malt/grain bill. Very nice complimentary note to the bitter backbone this beer has.
Overall, a very nice beer with an approachable level of bitterness. Very tasty.
Other Notes
The can has a nice sky blue label with clouds and mountains in the background of the sea-to-sky gondola. Very nice labeling/branding here that pays homage to the area that Howe Sound Brewing calls home.
The carbonation level is above average, but not significant in any negative manner. It is enough to add a slightly crisp finish to this beer, but not much else.
This beer pours a moderate head from the can, even with a fairly vigorous pour. The retention is decent at best.
There is very little lacing on the glass from this one. It has some light patches here and there, but nothing that is worth writing home about (pun intended).
Final Grade
This is exactly what you would expect from the style. You get citrus fruit notes, a light and clean bittering charge, a subdued presence of the malt/grain bill, and a clean and crisp finish to this beer. This beer, going purely off the taste and mouthfeel, is a very sessionable beer that would make for a good spring/summertime porch beer, or even to take on a hike.
Grade: 8.0/10
Want to see a beer featured in B.C. Beer Reviews? Comment below with your suggestion.
And if you want to see all of the photos featured in B.C. Beer Reviews, and even some that do not make it into these articles, you can follow me on Instagram: nhendy5. You can also see much more concise versions of these reviews up to 24 hours in advance by adding me on Untappd: RedArmyNic.
Main photo by Nic Hendrickson, Lastword Inc., all rights reserved