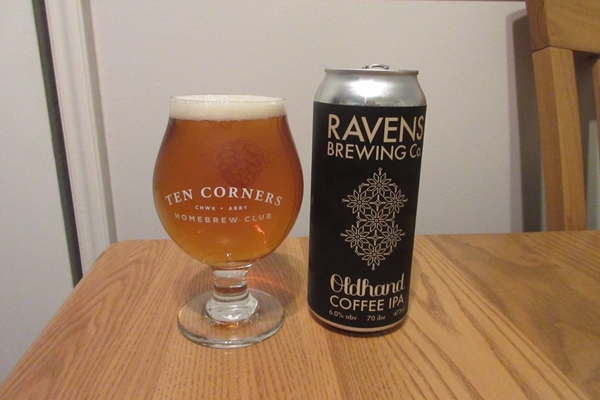 There are two times of the day: time for coffee and time for beer. The Oldhand Coffee IPA that Oldhand Coffee and Ravens Brewing made together brings these times together in a somewhat confusing harmony. Is this a beer you can drink in the morning or a coffee you can drink at night? With this, you get both.
B.C. Beer Reviews with Nic Hendrickson: Ravens Brewing – Oldhand Coffee IPA
Coffee and beer, two of the great things in life. Oldhand Coffee and Ravens Brewing have come together for the second year in a row to bring these two things into harmony. Both interesting and significantly bitter, this is a tasty take on IPAs.
Let's crack this one open and take a look.
Colour
This beer is a very light amber colour, both in the pour and when the glass is full. It pours clear and is much the same in the glass as well. You are able to see right through this one, sporting some fantastic clarity.
Nose/Aroma
The first note you get in this nose/aroma is a fresh coffee aroma. It is not like coffee beans, or even freshly ground coffee, but rather coffee that has just finished brewing. Oldhand Coffee's contribution to this beer is noticeable almost immediately in the nose/aroma.
The hop presence is also very noticeable in this one, albeit well behind the coffee notes. There is a fruity and citrusy aroma coming from the hops used in the brewing process. While this is pleasant, it does not necessarily match up as well with the coffee notes as well as other hop varieties could have. A more herbal and woody aroma from a noble hop would have made for a nice pairing with the coffee aroma.
Despite personal preferences on aromas from the hops, this is still a very nice nose/aroma. The coffee comes through fantastically, and the hop presence is noted immediately. Overall, a very appealing aroma from this one.
Tasting Notes
This is an undeniably bitter beer, both from the coffee and the hops. You start off with the smooth and somewhat crisp bitterness of the coffee and finish with the bitter notes you would expect to be imparted by the hops. Definitely, a beer made to appease the coffee lovers and the hopheads out there.
In behind the dominant coffee notes to this beer, there is the hop presence again. This time it comes off more as a piney and citrus taste. The pine that is in the tasting notes is an interesting role player, and it seems to be emphasized by the bitterness of the coffee.
There is little to no character imparted by the malt/grain bill used in the brewing process. In this case, that is a good thing. If there was an overly complex malt/grain bill, this beer would likely become too busy and it would take away from it.
In the end, you get a very bitter, yet very smooth drinking IPA that is perfect for the coffee lovers out there.
Other Notes
The branding/labeling is pretty straightforward and simple for this one. A matte black label with Ravens Brewing and the name of the beer on it. In between those two things is the crochet-like symbol of Oldhand Coffee.
There is a fairly significant amount of carbonation in this beer. Adds a refreshing crisp finish to this beer that plays well with the bitter aspects of the coffee and the hops used in making this beer.
The head this beer pours is moderate, but it does not have much in the way of retention. It is there one second and gone the next.
There is a significant amount of lacing from this beer. The patches of lacing are not thick, but it pretty well covers the entire glass.
Final Grade
Long story short, this beer brings coffee and fermented wort together in perfect harmony. It is like breakfast and beer put together. Appeases the coffee and hop lovers simultaneously.
Grade: 8.3/10
Want to see a beer featured in B.C. Beer Reviews? Comment below with your suggestion.
And if you want to see all of the photos featured in B.C. Beer Reviews, and even some that do not make it into these articles, follow me on Instagram: nhendy5. You can also see all of these reviews in more concise fashion up to 24 hours in advance by adding me on Untappd: RedArmyNic.
Main photo by Nic Hendrickson, Lastword Inc., all rights reserved