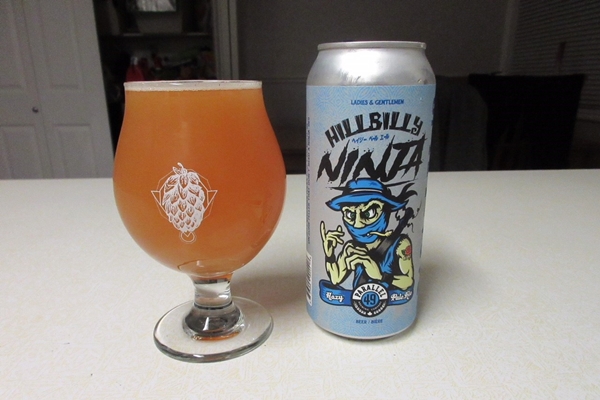 B.C. Beer Reviews is back this week to take a look at another interesting beer from Parallel 49 Brewing. As is always the case with Parallel 49, this one has an interesting name: Hillbilly Ninja. And just like the interesting name and label, the beer is labeled as a Hazy Pale Ale and could catch anyone's attention.
B.C. Beer Reviews with Nic Hendrickson: Parallel 49 Brewing – Hillbilly Ninja
Parallel 49 Brewing may first catch your attention with their interesting names and branding, but the beer follows suit more often than not. The Hillbilly Ninja is one of their beers that lives up to its name.
Let's crack this one open and have a taste.
Colour
This beer epitomizes the hazy craze that is storming the craft beer scene. It looks like you are pouring straight orange juice into your glass. Bright, orange, and juicy looking in the glass. Very appealing colour to this beer.
Nose/Aroma
As is the case with beers that are labeled as hazy, this one has juicy and fruity notes coming at you heavily. Heavy doses of grapefruit and orange coming at you. This beer smells like freshly squeezed juice from a citrus-based fruit.
There are very obvious hop notes coming from this beer. Aside from the grapefruit and citrus, there is a somewhat lightly vegetal note to this beer. It is hard to catch behind the juicy citrus notes, but it is definitely there.
Aside from those notes, there is not much else to the nose/aroma of this beer. Citrus and juicy notes, a very light vegetal note, and an overall very appealing combination of aromas this hits the style nicely.
Tasting Notes
Just like in the nose/aroma, this beer is all juicy notes, much like you would expect for anything that includes hazy in the style. It tastes like orange juice without the kick of the citric acid on the back end. Very smooth and very tasty.
Unlike the nose/aroma, the hop presence is much more noticeable outside of the citrus notes. There is a nice level of bitterness on the back end of your palate from this beer. This is not exactly what you would expect from the style, but it pairs nicely with the orange and grapefruit notes.
This beer matches up nicely with the juicy notes you would want from the style. Smooth drinking orange and almost grapefruit notes come through very nicely here. Makes for a very pleasant tasting and easy drinking beer.
Other Notes
As always, the branding/labeling from Parallel 49 Brewing is cartoonish and original. There is what looks to be a very low level ninja with a banjo and a stereotypical single strand of straw coming from his mouth to go with his mom heart tattoo on his shoulder. This is all laid out on a very pleasant sky blue label.
The carbonation level is noticeable, but not at all significant. It adds a somewhat crisp finish, but it helps to balance the smoothness of the finish out nicely. This beer has a bit more of a crisp finish than you would generally expect from a hazy pale ale, but it is not at all a knock against it.
Despite there being very strong hop notes in both the nose/arom and the tasting notes, there is literally no lacing on the glass from this one. The glass is pretty well sparkling clean after the beer is finished.
Final Grade
This beer is spot on with the style in the nose/aroma, presenting you with super juicy notes of orange and grapefruit. It matches up well in the tasting notes as well, but the nose/aroma is definitely the best part. The crisp finish is not a bad thing, but it does not necessarily match up with the style as well.
Grade: 8.0/10
Want to see a beer featured in B.C. Beer Reviews? Comment below with your suggestion.
And if you want to all of the photos featured in B.C. Beer Reviews, and even some that do not make it into these articles, you can do so by following me on Instagram: nhendy5. You can also see much more concise versions of these reviews up to 24 hours in advance by adding me on Untappd: RedArmyNic.
Main photo by Nic Hendrickson, Lastword Inc., all rights reserved