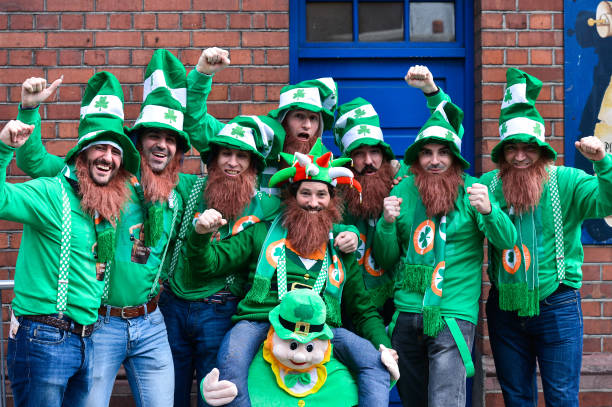 St. Patrick's Day is upon us. This year it falls on Saturday during the opening weekend of the NCAA basketball tournament. For one moment, St. Patrick's Day will make March Madness take a back seat as "everybody is Irish for the day."
Main Photo:
St. Patrick's Day
St. Patrick's Day History
The origins of St. Patrick's Day go back centuries with a rich history. For more on this, check out the complete guide to St. Patrick's Day at The Holiday Spot.
"Legend also has that, Saint Patrick had put the curse of God on venomous snakes in Ireland. And he drove all the snakes into the sea where they drowned.
"True, these are mostly legends. But, after some 1500 years, these legends have been inseparably combined with the facts."
"Patrick's mission in Ireland lasted for over 20 years. He died on March 17, AD 461. That day has been commemorated as St. Patrick's Day ever since."
Modern Day
St. Patrick's Day parties and celebrations are found everywhere. These festivities involve parades, Irish music and dancers, beer, Irish whiskey, and of course corned beef in some form. They can also involve multiple days and late nights celebrating the Patron Saint of Ireland.
If you're in the mood for a smaller scale celebration, it's time you tried your hand at making corned beef at home. While making traditional corned beef & cabbage by boiling in water is the accepted method, this is a good opportunity to learn a more relaxed way to get your corned beef on. It's time to break out and dust off that old crock pot.
There are multiple recipes available for making corned beef in the crock pot. I'm going to give you a couple of versions to check out. Whichever you choose, you can't go wrong.
Corned Beef & Cabbage
You'll need the basics for this one.
2-3 pound corned beef brisket
6-8 red potatoes
6-8 large carrots
head of cabbage
1 cup of water
Rinse the carrots, cabbage, and potatoes in water first. Then cut the potatoes in half, the cabbage into quarters, and the carrots into 3 inch long pieces. (You can also use baby carrots instead) Take all the cut up items and layer them in the crock pot with the potatoes and carrots on the bottom. Place the corned beef brisket on top fat side up and sprinkle in all the pickling spices from the packet you get along with the corned beef. Add in the water, cook on high for 3 hours, then low for 4 hours.
Allow the corned beef to rest for 10 minutes, slice against the grain, and then serve with the rest on a platter!
Corned Beef Stew
2-3 pound corned beef brisket
6-8 red potatoes
6-8 large carrots
1 large 

sweet

 onion
Lawry's seasoning salt
black pepper
3 tablespoons of olive oil
12 ounces of dark beer like Guinness
2 cups of unsalted beef stock
6 tablespoons all-purpose flour
Take your corned beef and trim all the fat, then cut it up into small cubes. Brown the corned beef cubes in the olive oil, making sure to get all the sides. Cut the carrots, onion, and potatoes into bite size pieces.  Place all the ingredients into your crock pot. Add in the beef stock and beer. Stir all the items to mix them together, and sprinkle in the Lawry's, pepper, and the pickling spice packet.
Cook on high for three hours, then low for five hours. Take 3/4 of the hot stew liquid from the crock pot and put it into a large bowl. Whisk in the flour until blended. Add the mixture back to the crock pot, making sure to gently stir all the ingredients so they're covered in the gravy. Cover the crock and cook on high 30-45 minutes until the gravy thickens. Serve with a fresh loaf of bread and enjoy!
For other options on what beer to use, check out our own Nic Hendricksen's beer reviews for some great ideas. 
Bonus!
If you're wondering what to do with the extra corned beef, please read Angela Dack's corned beef hash recipe for a delicious option. 
Happy St. Patrick's Day!
Main Photo: