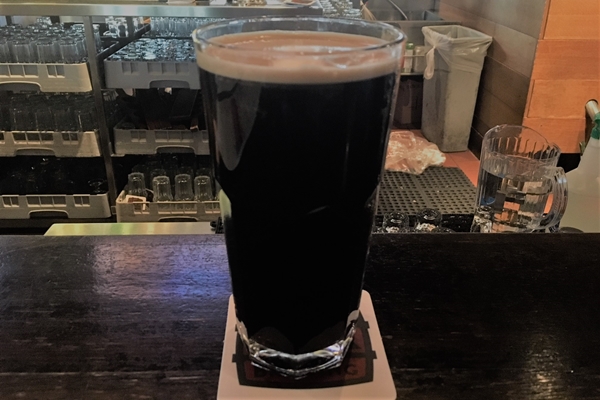 B.C. Beer Reviews is here today to take a look at another collaboration beer, this one from Big Ridge Brewing and Moody Ales. These two breweries have come together to create a vanilla bean porter. The fact that it is coming out of a nitro tap makes it all the more enticing for the dark beer lovers out there.
B.C. Beer Reviews: Big Ridge Brewing – Toll Bridge Vanilla Porter
Vanilla and porters are truly a match made in heaven. However, it is quite easy to overdo the vanilla as it is a rather strong flavour. This beer comes at you with vanilla and other notes that compliment it nicely.
Let's take a sip of this beautifully dark beer.
Colour
A very nice dark brown, almost bordering black in colour. This is certainly not the darkest beer ever. You are able to see through it slightly when held up to the light. It hits the style nicely. There is also a slightly tan hue to the head of the beer.
Nose/Aroma
Unsurprisingly, the strongest aroma in this beer is the vanilla bean. It comes through smoothly and is a sweet and inviting note to this beer. This is a very appealing note to start off with.
Behind the strong vanilla bean note is a light chocolate note. It is definitely second to the vanilla, but noticeable none the less. It adds to the sweet nose/aroma, making for a very tasty smelling beer.
Aside from the strong vanilla and light chocolate notes to this nose/aroma, there is not a ton to report here. They keep it simple here, and they hit the nail on the head with this one. Very appealing nose/aroma overall.
Tasting Notes
As is the case with the nose/aroma, the vanilla bean is the first note you taste in this beer. With how powerful vanilla can be in beer, this is really not all that surprising. It is, however, nicely balanced with the other notes at play here.
In behind the vanilla is the light chocolate note that you would expect from the malt/grain bill that is typically used in this style. The chocolate and vanilla notes compliment each other nicely. This makes for a very smooth-drinking beer.
Another note that you get in this one is a lightly bitter coffee note. This is likely imparted by the malt/grain bill, and it is just enough to be noticeable. A nice complimentary note that fits within the guidelines of the style.
There is also a very light bitter note on the back end. This tastes more like a product of the malt/grain bill rather than any sort of hop presence. A very nice finishing note to an otherwise sweet beer.
Other Notes
This beer was a pour from a nitro tap, so the head being significant and the retention matching it is unsurprising. Even when you start drinking this beer it sticks around. The retention is impressive, to say the least.
There is virtually zero lacing on the glass from this one. Thin lines of lacing are here and there on the glass, but it is hardly noticeable.
The carbonation level is rather low in this one. Hardly noticeable, but it allows the vanilla and other notes to take control of this rather tasty beer.
Final Grade
One thing can be said for certain, and that is that this beer presents the vanilla notes throughout. In the tasting notes you start to get notes of chocolate and coffee. There is a light bitterness on the back end of your palate, but it is more a byproduct of the malt/grain bill rather than the hops.
Grade: 7.9/10
Want to see a beer featured in B.C. Beer Reviews? Comment below with your suggestion.
You can also see all of the photos featured in B.C. Beer Reviews, and even some that do not make it into these articles, you can follow me on Instagram: nhendy5. And if you want to see much more concise versions of these reviews up to 24 hours in advance, add me on Untappd: RedArmyNic.
Main photo by Nic Hendrickson, Lastword Inc., all rights reserved