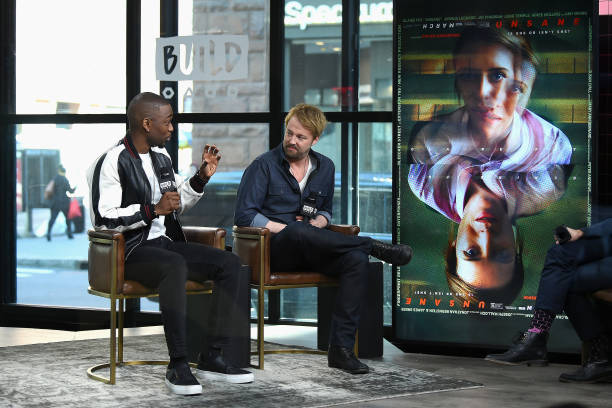 In 2013, while promoting his film Side Effects, Steven Soderbergh announced that he planned to retire from filmmaking. This retirement was short lived and, in 2016, he announced that he would be returning to direct a new film, Logan Lucky. Right around the time that film was set to be released, it was revealed that Soderbergh had also secretly directed another film which he shot entirely on iPhones. A little over half a year later, we have Unsane, the second film from post-retirement Steven Soderbergh which features the likes of Claire Foy, Jay Pharaoh, and Juno Temple.
Unsane
Screenplay
Claire Foy plays Sawyer Valentini, a woman who is committed to a mental institution against her will. While there, she notices a figure from her past. This is where the intrigue lies, as the film poses a question to the audience: Is this mysterious figure who Sawyer claims he is or is Sawyer actually insane? While the premise is an interesting one, the issue here is that the film answers the question way too early. As soon as that happens, the pacing begins to drag because the mystery is no longer there. What results is an uninteresting third act and a final scene that feels forced and makes no sense in the grand scheme of the film.
Despite the draining of any sense of mystery, the writing in the third act does represent a continuation of the strongest aspect of this script: the dialogue. The dialogue is engaging throughout and does its best to buoy the final portion of the film. It truly is the most redeeming quality of the screenplay, which is otherwise easily the weakest aspect of this film.
Performances
The performances were strong across the board, but the true standout was lead actress Claire Foy. She perfectly walked the tightrope between scared and insane which is crucial for this film to work. Jay Pharaoh also deserves to be mentioned, taking a welcome departure from his SNL days to give a more serious, balanced performance. Juno Temple was another highlight and continues to prove that she is one of the more underrated actresses in Hollywood. As a whole, the performances were one of the strongest aspects of this film and elevated the less-than-stellar script.
Direction
As mentioned earlier, Steven Soderbergh shot this entire film on an iPhone. However, don't make the mistake of thinking this is a found footage film because it isn't. Soderbergh went full-on Steadicam here, but with an iPhone. That being said, the shots he was able to capture were impressive when considering what would be normally be perceived as some technical limitations. The narrower lense of the iPhone camera combined with consistent use of close-ups really added a claustrophobic feel to the film. Soderbergh's technical work with the camera here is a high point for this film and makes it worth the price of admission, even if only at matinee prices.
Verdict
Unsane presents a compelling premise but shows its hand a little too early. What ends up being a subpar screenplay is elevated through strong performances and some technical brilliance on the part of Steven Soderbergh. However, once the final scene played, it brought all the issues I had with the script back to the forefront and left me with a feeling that this film had the potential to be so much more than it was.
Letterboxd score: 3/5 stars
Percentage score: 64%
This article was originally published on Letterboxd. Follow my Letterboxd page at letterboxd.com/fanreport for more movie related content including past reviews and various top 10 lists. As always, be sure to check back with LWOS for more movie articles and reviews coming your way.
Main image credit: