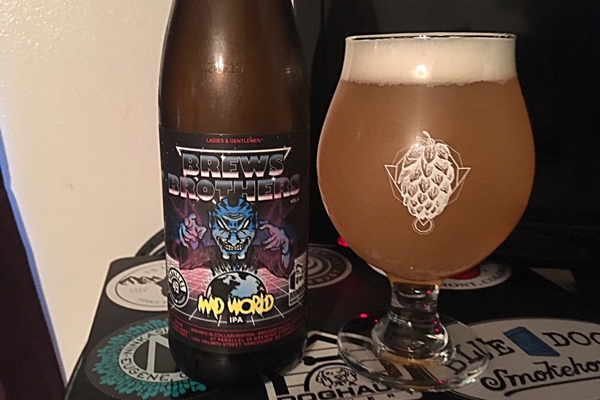 For the fourth time, Parallel 49 Brewing has put together their Brews Brothers collaboration package. They come together with multiple different breweries in B.C. to make many different styles. And to show the provinces appreciation for experimentation, this week of B.C. Beer Reviews is going to be dedicated entirely to this package. The first brew is a collaboration with Boombox Brewing.
B.C. Beer Reviews: Boombox Brewing – Mad World IPA
Despite the title of this review having Boombox Brewing on it, Parallel 49 deserves just as much, if not more, credit for this brew. They have come up with this awesome idea to bring B.C.-based breweries together to be more adventurous and to collaborate to bring this beautiful province great beer.
Let's crack open this brew and see what's inside.
Colour
This beer pours a fairly clear golden colour from the bottle. It could not be categorized as hazy, but still a very cloudy golden-yellow colour when in the glass. If you hold it up to the light you can start to see through it a bit.
Nose/Aroma
This is the definition of a hop-forward juice bomb. Citrus and tropical fruit notes dominate the nose, and that is undeniably a note imparted by the hops used in this brew. To be more specific, mango and possibly even a note of passion fruit are the fruits you get from this one.
It is hard to call a juice bomb like this one dank, but it is. There is a dank hoppy character to this beer that makes it a very appealing smelling beer for any hophead out there. For those out there that do not like this aroma, this could be categorized as being borderline on catty.
There are virtually no perceivable malt/grain bill notes to this beer. The hops dominate this beer, and it is a hopheads dream in the nose/aroma.
Tasting Notes
This beer does not throw you any curveballs. What you get in the nose/aroma is what you get on your palate. This is a juicy tropical citrus hop bomb that has a very presentable level of bitterness to it.
The mango notes follow through into the tasting notes, making this a very tasty IPA. The slight passion fruit notes, however, do not follow through like the mango ones do. This beer could very easily be considered a juicy IPA with the notes it presents here.
The bitterness, albeit somewhat potent, is not at all overpowering. It is certainly not a beer for an IPA beginner, but there are hundreds of thousands of beers out there with higher levels of bitterness to them.
There is also a sweet and smooth mouthfeel to this beer that is very likely imparted by the malt/grain bill. It plays a much larger role in the tasting notes than it did in the nose/aroma, which was pretty well nothing.
Other Notes
The branding/labeling is the very recognizable cartoon style of Parallel 49. A large blue devil-like character that looks up to no good is looking down at the world menacingly. This is set below the Brews Brothers name and in between the logos of both Parallel 49 and Boombox Brewing.
The head this beer pours is above average. The retention of that head is above average as well. It sticks around long enough to be noticed, but it begins to dissipate once you start drinking.
There is a significant amount of lacing on the glass from this beer. There is not thick patches, but the glass is still pretty well covered from top to bottom.
The carbonation level is quite low in this one. Much like the head this beer pours, there is enough to be noticed, but not enough to make a significant difference to this brew.
Final Grade
Both in the nose/aroma and in the tasting notes this is a tropical juice hop bomb. There are dank aromas that follow through on your palate ever so slightly. For those sensitive to the aroma, it could be categorized as catty, but more closely resembling dank. Smooth and sweet in its finish.
Grade: 8.4/10
Want to see a beer featured in B.C. Beer Reviews? Comment below with your suggestion.
And if you want to see the photos featured in B.C. Beer Reviews, and even some that do not make it into these articles, you can follow me on Instagram: nhendy5. You can also get much more concise versions of these reviews up to 24 hours in advance by adding me on Untappd: RedArmyNic.
Main photo by Nic Hendrickson, Lastword Inc., all rights reserved