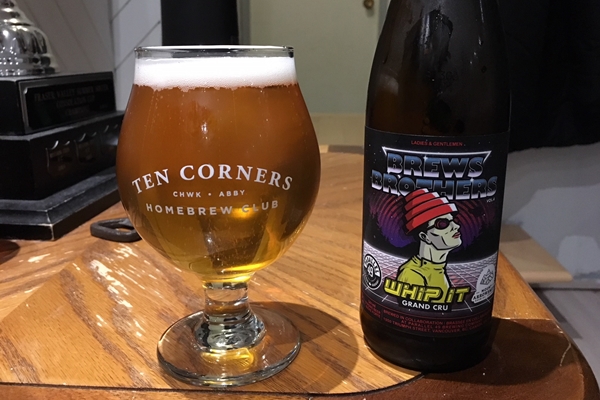 B.C. Beer Reviews is here with the second addition to the Brews Brothers week. Parallel 49 Brewing has teamed up with 2017 BC Beer Awards Rookie of the Year, Mount Arrowsmith Brewing, to take on a lesser known and higher ABV style. The Whip It Grand Cru is a traditional style, and clocking in at 8.3% ABV means there is a very noticeable boozy note to this brew.
B.C. Beer Reviews: Mount Arrowsmith Brewing – Grand Cru
If you thought that winning Rookie of the Year was something to put Mount Arrowsmith Brewing on the map was something, being involved in this is another. Mount Arrowsmith is being recognized as a legitimate up-and-comer in the B.C. craft beer scene. And even though they are still young they have a lot to offer to this province.
Let's take a look at the Whip It Grand Cru.
Colour
Both in the pour and when it is in the glass there is a fantastic level of clarity to this beer. The colour could be categorized as a deep golden-yellow colour. This brew looks almost like liquid gold.
Nose/Aroma
There is a noticeable yeast character to the nose/aroma of this beer. It is what you would come to expect of a Belgian yeast strain. There is a light banana note to the nose/aroma complimented by a slight touch of clove. This one hits being a Belgian brew right on the nose, pun intended.
Behind the dominant yeast character, there is a light sweetness imparted by the malt/grain bill. There is no perceivable presence of any hop notes in the nose/aroma.
Another note that is present throughout all of this is a light boozy aroma. When you take into account that this beer clocks in at 8.3% ABV this is not all that surprising.
Tasting Notes
Much like in the nose/aroma, the Belgian yeast notes are the dominant ones in the beer. The notes take a bit of a twist here though with the clove being much stronger on your palate than what it was in your nose. The banana note is still noticeable in the background, but it is certainly a side note to the clove. Exactly what you would expect from a Belgian-style brew.
There is a noticeable sweetness imparted by the malt/grain bill on the front end of each sip. On the back end is a warmness that is indicative of a beer clocking in as high as this one does in ABV. It is lightly warming, and not at all to the point of being too much in this respect.
Other Notes
The branding/labeling is much like the rest of the Brews Brothers series from Parallel 49, but with a different cartoon character. A cartoon version of Devo is on the front of the bottle below the Brews Brothers logo and in between that of Parallel 49 and Mount Arrowsmith Brewing.
When it comes to lacing, this beer has none. The glass is almost clean after finishing this one.
The head this beer pours is insignificant, to be as honest as possible. The retention of that head is equally as insignificant.
There is a noticeable level of carbonation to this beer. It is enough to be considered crisp in the finish and enough to keep this beer from being cloyingly sweet.
Final Grade
The Belgian yeast notes of clove and banana dominate both the nose/aroma and the tasting notes. Unsurprisingly, the boozy character is noticeable throughout, but not at all overpowering. This beer has zero hop presence and finishes clean and crisp due to the level of carbonation present.
Grade: 7.6/10
Want to see a beer featured in B.C. Beer Reviews? Comment below with your suggestion.
And if you want to see all of the photos featured in B.C. Beer Reviews, and even some that do not make it into these articles, you can follow me on Instagram: nhendy5. You can also get much more concise versions of these reviews up to 24 hours in advance by adding me on Untappd: RedArmyNic.
Main photo by Nic Hendrickson, Lastword Inc., all rights reserved