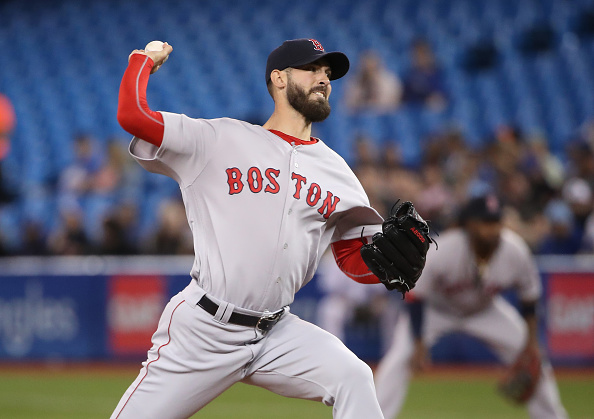 The Boston Red Sox are one of the hottest baseball teams in recent memory, going an unbelievable 17-3 in their first 20 games. I know this pace is unsustainable for a 162 game season, but even if they went .500 for the rest of the year, they'd end up with 90 wins. As a Yankees fan, it pains me to see them doing so well. As a baseball fan, it is quite impressive to watch and it feels like the sky's the limit.
However, the Red Sox seem to have a very bizarre problem: from a collecting standpoint, the Boston Red Sox have so many stars and breakout rookies that it is devaluing the cards and memorabilia of those players. Essentially the Red Sox are so good that it is hard from a collector's standpoint to pick and value one player as being worth more than another. They are being undervalued.
The Most Undervalued Team in Collecting
Mookie Betts
Mookie Betts is arguably the best outfielder in all of baseball; he's right up there with Mike Trout and Bryce Harper. Trout and Harper are two of the biggest names in baseball, breaking a new record every season. But if we look at the stats between Betts, Trout, and Harper, Betts is giving them a run for their money.
In 2016, Betts batted .318 while mashing 31 HRs, with a OPS of .897 and swiping 26 bags. Trout in 2016 batted .315 with 29 HRs, a .991 OPS, and 30 stolen bases. There are no large discrepancy here between the two except the OPS, but when you compare slugging Trout was at .550 while Betts at .534.  Trout's large OPS was in part thanks to his 116 MLB leading walks that season, of which only 12 were intentional. If you look at defensive runs saved (DRS) for 2016 Trout posted 6. Betts' DRS: 32. You can, of course, argue that Trout has a more difficult job in center field than Betts does as a right fielder at Fenway.
Of the following 16 categories: at bats, runs, hits, singles, doubles, triples, home runs, RBIs, stolen bases, caught stealing, walks, strikeouts, batting average, OBP, SLG, OPS Betts leads Bryce Harper in 10 of these categories, has less strikeouts, and ties Harper with 0 triples so far in the 2018 campaign. Now, Harper and Trout are both baseball legends in the making but Betts is going punch for punch with them so far.
On the Market
Often considered the most desirable card among collectors are 1st Bowman Chrome Autographs (BCAs) of players. They are the unofficial must-have rookie card. As of 9:30 P.M. EST on 4/22/2018 (time of this writing) the cheapest BCA of Betts is going for $399.99. Granted the card is graded 9.5/10 by Beckett (BGS) and is also a Buy It Now (BIN) and a raw (ungraded) card would fetch less.  As for a BCA of Trout that is graded 9.5/10 by BGS, the cheapest price is $9,700 OBO. It does come with free shipping, though. Harper's cheapest BCA comes in at $1,750. Clearly the market values Betts at over 1/4th that of Harper and almost 1/25th that of Trout.
Xander Bogaerts
Xander Bogaerts is the leading shortstop for Boston. Baseball fans have been blessed by his presence, which has contributed to a fierce debate about the hottest SS in the league, a debate we haven't seen since we discussed Nomar Garciaparra, Derek Jeter, Alex Rodriguez, and Miguel Tejada almost 20 years ago. Carlos Correa is a former #1 draft pick that the Houston Astros wisely chose to help rebuild their team. Francisco Lindor is part of the powerhouse offensive that are known as the Cleveland Indians. Additionally we could toss Corey Seager of the Los Angeles Dodgers into this debate.
Looking at career stats among this talented group of players, Bogaerts seems to be putting up the same numbers as the others. Comparing career batting averages, Bogaerts is at .284, Lindor .289, Correa at .290, and Seager at .301. However, for the season Bogaerts is at .368, Lindor .208, Correa .333, and Seager .234. Bogaerts has 292 career RBIs, while Lindor has 225, Correa .266, and Seager 173. For stolen bases Bogaerts has 41, Lindor 50, Correa 31 and Seager 9.
On the Market
Meanwhile, on eBay a Bogaerts BCA that is a refractor and numbered to only 500 copies is available for $139 BIN OBO (Or Best Offer). Seager's BCA is $275 OBO, Correa's BCA is $499 OBO, and Lindor's is $250 OBO.  It is worth mentioning that: 1.) All cards referenced are raw; and 2.) That Seager, Lindor, and Correa's prices are for base autos only, meaning they are not refractors or numbered out of 500 copies like Bogaerts. A base Bogaerts, if listed, would probably fetch cheaper than the $139 for the refractor /500 and conversely we could probably add an extra $50- $100 to the prices for Seager, Lindor, and Correa if they were the /500.
Closing Remarks
When you think of the Boston Red Sox, you could probably name a lot of players currently on the roster you wish your team had. Mike Trout and Bryce Harper do not have that same kind of starpower on their respective clubs. Nor do Corey Seager or Francisco Lindor. Carlos Correa's club, the Houston Astros, probably have the closest team you could compare to Boston in terms of the number of star players on it.
People go to an Angels game to see Mike Trout play. People go to a Boston Red Sox game to see the Boston Red Sox play. Yet despite such a talented club and the hottest start in April in recent memory, collectors are struggling to figure out just who is the most responsible for this early success. As such, the value of the team's cards and memorabilia is undervalued in my opinion. If Betts or Bogaerts were on a team that wasn't as good, they would be getting more coverage in the media for their stats. They'd be diamonds in the rough, but diamonds worth more on the market.
Main image credit: