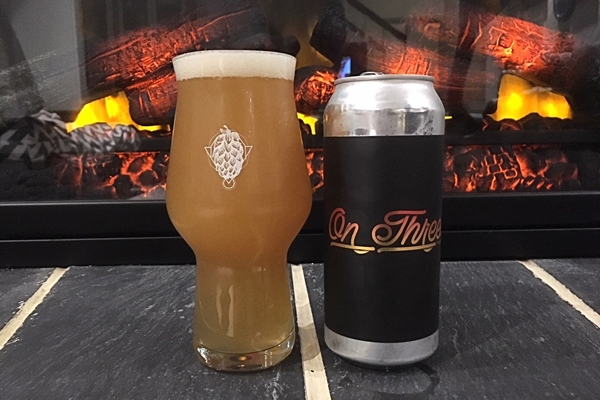 As is the case with almost every beer that Twin Sails Brewing releases, On Three… got a good deal of hype ahead of its release. Just like Twin Sails does, they made an unconventional and adventurous Triple IPA. They are one of the few breweries in B.C. venturing into this style as often as they do, and B.C. Beer Reviews is here to take a look at this one.
B.C. Beer Reviews: Twin Sails Brewing – On Three…
The triple IPA is a less than common style for multiple reasons. One is that it is hard to successfully pull off a beer with such a massive hop presence and such a high ABV without overdoing it. Another is that this style is not going to appease the masses, but Twin Sails Brewing does not worry about either of those things. They march to their own beat, and they consistently make fantastic beer.
Let's crack this can open and see what they have to offer this time around.
Colour
This one certainly pours a much clearer golden colour than what it is in the glass. There is a very slight level of clarity in the glass until you get the dregs at the bottom of the can. It is not crystal clear at first, but is certainly not after pouring the rest of the can in.
Nose/Aroma
As soon as you crack the can open you get that dank and resinous tropical aroma you would come to expect of Galaxy hops. It cannot be confirmed that Galaxy hops were used in this one, but this one certainly has the characteristics of a beer that has used them. That dank and resinous aroma is a hopheads dream.
Aside from the dank and resinous aroma, the hops offer a somewhat tropical touch to this beer. There is an aroma that is somewhat reminiscent of guava and mango in this one. It is a very nice complimentary note to the otherwise very pungent and dank hop aroma present in this one.
Other than these two notes, there is not much going on in the nose/aroma of this beer. Unsurprisingly for a triple IPA, this is a juicy, tropical and dank hop bomb of a brew.
Tasting Notes
The tasting notes of this beer follow suit with the nose/aroma. You get the tropical notes at first, with smooth and sweet tropical fruit tastes on your tongue from beginning until the end.
These tropical fruit notes and sweetness help to combat an otherwise potent and powerful dank and resinous taste. If you do not like these notes, this beer is not from you. It certainly does not shy away from the dankness that hops can offer, and this once again points to the strong possibility of Galaxy hops being used in this brew.
The malt/grain bill used imparts a fairly significant, yet smooth, sweetness to this beer. It also imparts a smooth and somewhat creamy body to this beer, which goes nicely with the juicy tropical fruit notes at play in this one.
Overall, this is not the most bitter beer ever made, but the hops are certainly at the forefront. Tropical fruits, dank and resinous notes and a sweet, smooth and creamy body sum this one up. It hides its 10.1% ABV quite nicely.
Other Notes
The branding/labeling on the can is rather simplistic, which is not all that surprising from Twin Sails Brewing. A matte black label with half orange, half red cursive writing of On Three… is all that this label offers up. Much more simplistic than the beer inside the can, that much is sure.
The head this beer pours is significant. It does not match up with anything like a Brett-based beer, but it is undeniably noticeable. The retention of that head is equally as impressive.
The lacing on the glass from this beer is also significant. This is not at all surprising when you take into account how strong the hop presence is in this one and how much of a presence the malt/grain bill has as well.
The carbonation level is moderate. It is enough to add a very slight crispness at the finish, but not much else.
Final Grade
This brew is exactly what you would expect from a strong and bitter brew form Twin Sails Brewing. The hops play the main character, imparting dank and resinous notes that are complimented nicely by tropical fruits and a smooth and creamy mouthfeel. Overall, this is a very tasty beer for the hop lovers out there.
Grade: 9.3/10
Want to see a beer featured in B.C. Beer Reviews? Comment below with your suggestion.
And if you want to see the photos featured in B.C. Beer Reviews, along with other awesome beer pictures, you can follow me on Instagram: nhendy5. You can also see much more concise versions of these reviews up to 24 hours in advance by adding me on Untappd: RedArmyNic.
Main photo by Nic Hendrickson, Lastword Inc., all rights reserved