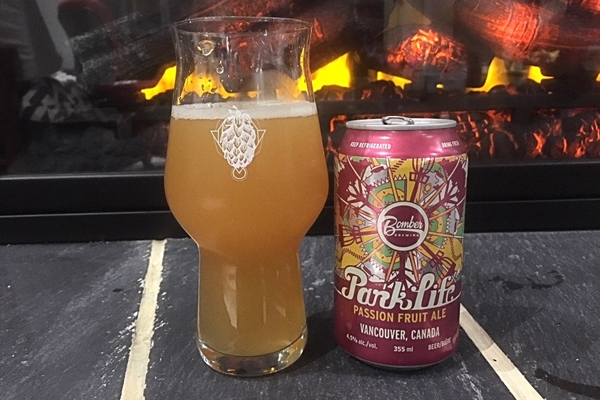 This is the time of year where sour beers and tart ales are abundant, and Bomber Brewing has one of their own in Park Life. B.C. Beer Reviews can't pass up the opportunity to sample a beer out of Yeast Van, and this passion fruit ale is certainly one worth grabbing for the warmer time of year.
B.C. Beer Reviews: Bomber Brewing – Park Life
Park Life is a good representation of the transition in weather that B.C. is currently going through. The seasons are changing and so is the beer. Summertime is the season for fruit in beer, and with that comes the tart and sour beers.
Let's crack this one open from Bomber Brewing and see what is inside.
Colour
This one pours a relatively clear and bright orange colour from the can. When in the glass it is not clear at all, and the orange hue is much deeper with it being reminiscent of a lightly shaded orange juice.
Nose/Aroma
This being a passion fruit ale comes out quite obviously here. The passion fruit aroma is intense in this one, and it makes for a very inviting summertime beverage. It has a light sweetness of the fleshy fruit with a slight tartness.
Behind the fruity aroma is a noticeable but not overpowering tartness in the nose. It is much like that of citric acid, and it is exactly what you would expect when eating fresh citrus fruit. Very pleasant overall.
Other than the passion fruit and tartness in this one, there is not much else to it. It is a bit of a one-trick pony, but that is perfectly okay for a refreshing and tart summertime beer.
Tasting Notes
Unsurprisingly, this one has an above average level of tartness to it. It is nowhere near enough to be face puckering, but it is the perfect level for a sour beer lover and a sour beer beginner to find their happy middle ground.
The passion fruit comes through quite nicely again on your palate. In behind the sour beginning is a sweet fruity note of the passion fruit that is very nice. It is smooth and lightly sweet with a bit of a sour bite on the back end.
Much like in the nose/aroma, these are the only notes of significance in this one. There really is not much else going on, and once again that is perfectly okay for this one. It makes for an easy drinking sour beer that is perfect for drinking in the sun.
Other Notes
The branding/labeling is almost like a brightly coloured sundial. In behind that is trees, benches, fish, baseball diamonds and other things you would expect from the Park Life. Very bright, vibrant and eye-catching, that is for sure.
The head this beer pours is slightly below average. The retention is even less significant with the head dissipating immediately after being poured. If you want a picture of it, act fast.
There is zero lacing on the glass from this brew. It is practically clean after finishing this one off.
The carbonation level, as is the case with many sour and tart beers, is fairly significant. It is a nice way to keep the beer from finishing far too sweet, giving it a refreshingly crisp bite on the finish.
Final Grade
As stated in both the nose/aroma and the tasting notes, the passion fruit and tartness are the two major notes. This is not at all surprising. The colour of the beer is, to be quite honest, beautiful. The crisp finish from the carbonation is a very nice way to end each drink.
Grade: 8.3/10
Want to see a beer featured in B.C. Beer Reviews? Comment below with your suggestion.
And if you want to see all of the photos featured in B.C. Beer Reviews, and other awesome beer pictures, you can follow me on Instagram: nhendy5. You can also see much more concise versions of these reviews up to 24 hours in advance by adding me on Untappd: RedArmyNic.
Main photo by Nic Hendrickson, Lastword Inc., all rights reserved