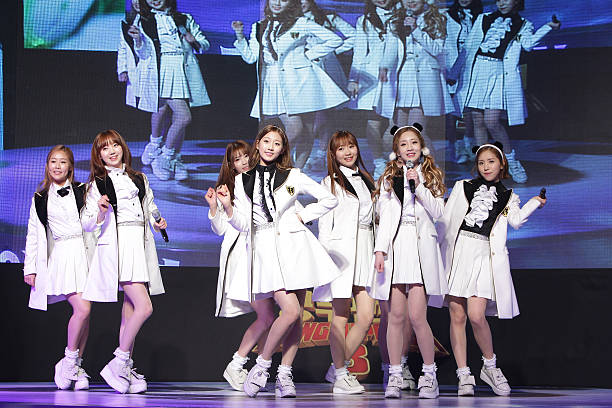 The end of April brought with it a slowdown in the release of K-Pop music. This week there are a ton of singles, but also a few solid mini-albums.
K-Pop Roundup 5/1/2018:
Albums
Lovelyz – Heal
After the release of "Fall In Lovelyz" back in November, Lovelyz are back once again with the mini-album "Heal." Now before we go any further with the review I need to state that I have a bias. This is easily my favorite group. The last mini-album release still occupies prime real estate on my main Spotify playlist. One thing that I find interesting about the group is how many different styles they cross over to in their smaller tracks. We saw that in "Fall In Lovelyz," and we also see that in their newest release.
The title track "That Day" keeps with the theme that most of their big tracks do as a somewhat cheesy, light-hearted song. It had its own distinct sound but kept to their usual lyrics. To me, this song wasn't fantastic on first listen, but then I found myself humming it throughout the day. After many more listens, it slowly became one of my favorite tracks of the week. I don't think that it can compare to "Twinkle", "Now, We" or even "WoW," but it was still a hit to me.
On a positive note, this song got more North American publicity than the group did last time. "Twinkle" got around 2 million views after 5 or so months, while in just under the first week That Day has already matched that number. As I mentioned before, Lovelyz have a way of being very dynamic on their lesser known tracks. They matched their R&B style from the track "FALLIN'" off their last release and made "Watercolor." I saw people draw comparisons to the last song on the album, "SHINING STAR," as "Twinkle" but way more amped up. It feels a little hectic, but I can still enjoy it.
In conclusion, this album to me wasn't my favourite, but was still very good. Out of everything, what should be celebrated the most is that Lovelyz has achieved mainstream success that wasn't seen around their last release.
SNUPER – Blossom
Longstanding Interpark signees SNUPER have returned with a full mini-album project named "Blossom." Keeping with the theme of flowers, the main song of the release is called "Tulips." The song appears to have been shot in some sort of construction area, but it's hard to be sure. The song is catchy, with a really impressive breakdown halfway through. The video had very smooth transitions from take to take, maintaining fluid choreography. To a certain extent, it felt like this song was trying to juggle too many concepts at once and it sort of got out of hand.
The three other vocal tracks on the album were okay. The only one that really stuck out to me was "VV (Very Very)." Everything else seemed very common practice. The title track was easily the highlight of the whole project for me, but the rest seemed somewhat of a let-down to me.
Hwang Chi Yeol – Be Myself
In a week that was mostly single releases, Hwang Chi Yeol released the final mini-album. The six-and-a-half minute music video for the main track, "The Only Star," takes place in a church. The very emotional video tells the story of a couple. I thought that the video was truly fantastic, and it's hard to not fall in love with it. It's wholesome, and can make you shed a tear, but in a good way.
The album was mostly ballads, with an upbeat, out of place track in "Flower" near the end of the tracklist. While I could criticize this track for being out of place on the album, I thought it was a nice change of pace for such a lengthy release. Overall, Be Myself was a solid release from Hwang Chi Yeol.
SINGLES
Young Jun PX Jungyup, BTOB – Sugarman2 Pt.13
Another two song covers from Sugarman have come out. The first one sees Young Jun and Jungyup covering "One Sided Love." Young Jun was discussed in last week's article, as he released a relaxing song similar to the one that he covers here. Boy group BTOB did a cover of "Cold." The two songs shared a theme and both were enjoyable.
June – Serenade
The very small Planetarium Records has quickly became my underdog favorite in K-Pop. Earlier this year the label released a project which was in collaboration with their talent. The whole album is quite the listen. The release was called "PLANETARIUM CASE #1." They released a second one later on, but I have not had the chance to listen to it yet. June, an artist signed to Planetarium, made my favorite song off that album, called "The Way You Feel Inside." This time around, June has a track called "Serenade." The song has a very coffee house sound to it. It changes tone at around two-and-a-half minutes in, which was a nice change late in the track. "The Way You Feel Inside" sounded extremely different from this song, and I do prefer that song, but I also enjoyed this track as well. The music video that came paired with it was nothing fantastic, but fit the aesthetic of the song very well.
HA:TFELT – Pluhmm
While HA:TFELT's name is a headache to type (you have to turn on Caps Lock, hold shift to type the colon, etc) this song was anything but that. This song had a chill sound to it, but with a bit of a kick. The music video was well shot too.
HIGHTEEN – Timing
Girl group HIGHTEEN released the mini-album "TEEN LOVE." As with many less popular groups, I could find one song online off the project. "Timing," their title track came with a music video. The song was okay, but the music video was pretty bad.
HYO (feat. Ummet Ozcan) – Sober
HYO from Girl's Generation teamed up with Dutch DJ to create the track "Sober." For starters, I'm a big fan of Ummet Ozcan. He was signed to Hardwell's label (Revealed Records) a long time ago, and back then I was a big fan of nearly everyone on that label. This was easily one of the biggest singles of the week. Of course HYO is under SMTOWN, so the music video has pretty high production value. Nothing but praise for this release.
Jo Hyun Ah – After You
A debut single by Jo Hyun Ah was put out this week. This ballad track came with a pretty emotional music video. I thought the song and the video were sad, but in a good way.
SOYA – Oasis
SOYA, who participated in contest The Uni+ late in 2017, has the single "Oasis" as her latest song. The song has a tropical theme. The visuals were very good, giving nature the spotlight.
UNIQ – Next Mistake
Boy group UNIQ put out a single online called "Next Mistake." It's a decent song, and audio only.
APink – Miracle
Celebrating their 7 year anniversary as a group, APink put out the track "Miracle." The music video showed clips from their past concerts, accompanied by what was a very mellow song. APink was a major gateway into K-Pop for a lot of people, so it felt right that they made a song celebrating their anniversary.
IN2IT – Snapshot
IN2IT has a new single called "Snapshot." The best way to describe it is "different," but in the most positive way possible. This music video and track feels so unique compared to everybody else. This song isn't huge in North America, which makes it one of the most underrated tracks of the week. I also enjoyed the choreography in the video. The album release also came with two other songs, which were okay.
Minseo – Growing Up
Solo artist Minseo put out a music video for "Growing Up" this week. The track, which mainly has a guitar background, is very calming.
BNF –  꽃잎이 되어
This ballad single from BNF is pretty unknown in North America. Of course, I can't speak for it's popularity in Korea, but on Youtube, it barely cracked 1 thousand views. The song and music video are better than most other ballad songs, so it's worth a listen.
MIND U (feat. Cheese) – Bored
MIND U collaborated with Cheese to make the single "Bored." The music video is shot in vertical mode, to portray that they are the ones shooting with the camera at times. The sad song is about a couple breaking up. The lyrics and the vocals are amazing. If you don't like music videos that have a bad ending you really shouldn't watch this.
Yoon Jong Shin – Do It Now
Yoon Jong Shin put out the song "Do It Now" as a monthly project for SMTOWN. The music video is basically just a lyric video. Yoon Jong Shin's voice is very distinct, with a certain roughness to it that you never really hear.
Yoonmirae – KawiBawiBo
This rap song by Yoonmirae absolutely blew me away. The music video's visuals and the song itself are both so different, and so amazing. The song changes tone near the end, but absolutely owns it. 18 years into her solo career, Yoonmirae is still relevant, which is a phrase that you can't utter about many other people in K-Pop.
EXO-CBX – Beautiful Gangsan
After their big release recently, EXO-CBX released a single that I assume was for some sort of promotion or show. I heard some people say that it was a remake of an '80s song, but I'm not going to report that as a fact. The song is groovy.
Jung Seunghwan, Sunwoo Jung A – Sugarman2 Pt.14
Here are two more songs from the Sugarman cover show. Jung Seunghwan performed "How Is It," and Sunwoo Jung A performed "Somehow." Both were decent performances.
Hwang Insun – Dead Clock (feat. Outsider)
It seems like every week there is one song that has a warehouse theme. This song was another one of those tracks. It was a good song, but had a visible and audible lack of quality. It's honestly unfortunate, because the song would stick out against all of the other releases if it had a higher budget. If you are willing to get past the low quality audio and video, then it's a good listen.
HYOLIN – Dally (feat. GRAVY)
https://www.youtube.com/watch?v=AoZFLCy-P-8
HYOLIN released the single "Dally," which is a chill Top 40 style of song, with a provocative music video. I thought that the choreography and the locations that this music video was shot at fit perfectly with the track. GRAVY has a good feature on the song as well.
LUNA – Night Reminiscin' (feat. Yang Da II)
LUNA teamed up with Yang Da II to make the song "Night Reminiscin'." The song lists Yang Da II as a feature, but it's more like a duet. The song is beautiful and slow.
Solar – Nada Sou Sou
This song caught me off guard because there was a whole five second pause during it, and I legitimately almost tabbed out because I thought the song was over. I was wrong, of course, but be warned. The song was okay, but a little too cookie cutter for me.
Jero – Save Me (feat. 박지민)
This audio only production by Jero is titled "Save Me." Like almost every other release this week, it was a slow song, but it had a spin to it that was unique.
TheEastLight. – Are You Okay
The final track of the week is "Are You Okay" by TheEastLight. For a pretty cool visual the band performs in the middle of a desert. The song is a good mix of singing and rap.
Main image credit: