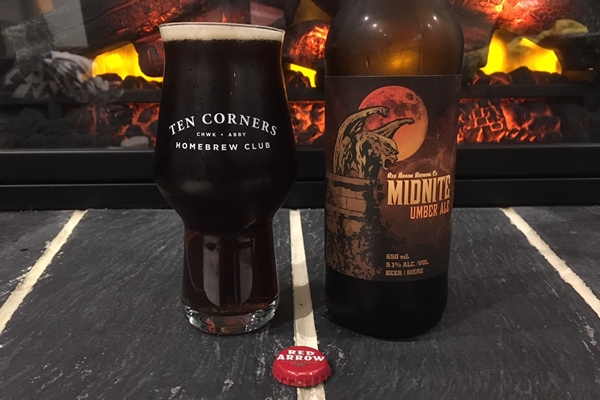 B.C. Beer Reviews is here today to give some much-needed love to lower Vancouver Island. Appearing in these reviews for the first time, Red Arrow Brewing has produced some award-winning beers at the Canadian Brewing Awards. This includes the Midnite Umber Ale, which won bronze in 2016 in the North American Amber-Lager category.
B.C. Beer Reviews: Red Arrow Brewing – Midnite Umber Ale
They may not have the most hype around them, but that does not mean their beer does not deserve it. Red Arrow Brewing is putting out solid beers, and this one falls into that statements path.
Let's crack this bottle open and see what's inside.
Colour
As stated on the label, the beer pours a relatively light and clear ruby-brown colour from the bottle. In the glass, it becomes a deeper brown colour, but it still has a very distinct ruby hue to it. The clarity is surprisingly good in this one.
Nose/Aroma
The first aroma that comes from this beer is a toffee note. This gives the impression that you would come to expect of an English bitter. Very sweet with a light note of salt that you would normally get from toffee. It is at a very pleasant level.
Aside from the toffee note, there is a very light caramel note that is very likely from the malt/grain bill. It is very much in behind the toffee, but it is still noticeable none the less.
There is a light fruity aroma as well. The label states that it is dragonfruit. Having never had dragonfruit, this could not be confirmed. Either way, there is a sweet fruit aroma in there as well.
Overall, this is a sweet and very malt forward beer. The nose/aroma is sweet but pleasant.
Tasting Notes
The toffee notes follow through into the tasting notes, albeit at a lighter level. It is noticeable, but it is light enough to allow the other notes in this beer to shine through.
Another note that the label states is present is brown sugar. You do not get this at all in the nose/aroma, but you certainly do in the tasting notes. It has the sweetness and common notes of brown sugar throughout. This is also at a very nice level.
The finish of this beer is surprisingly hop-driven. It certainly is not overly bitter for the style, but you get a crisp bite on the back end of your palate. It has a somewhat floral and ever so slight citrus note to it. It is a very nice note to balance out the malt notes that dominate this beer.
Other Notes
The branding/labeling matches up with the beer. There is a gargoyle underneath a ruby red moon, a colour that matches up with what you see when you start pouring this beer. This is rather nice labeling from Red Arrow Brewing.
The carbonation level is above average. There is a very noticeable crispness to the finish of this beer from the carbonation that helps to accentuate the light bitterness of the hops used as well. This also helps to keep this beer from being overly sweet.
There is a fairly significant amount of lacing on the glass from this beer. Thick layered patches and rings of lacing cover the glass.
Final Grade
This beer is a nice example of a North American version of a traditional English beer. The toffee and brown sugar notes are light and pleasant. The light bitterness on the back end of your palate is a nice touch to spice this one up as well.
Grade: 7.8/10
Want to see a beer featured in B.C. Beer Reviews? Comment below with your suggestion.
And if you want to see the photos featured in B.C. Beer Reviews, and other awesome beer pictures, you can follow me on Instagram: nhendy5. You can also see much more concise versions of these reviews by adding me on Untappd: RedArmyNic.
Main photo by Nic Hendrickson, Lastword Inc., all rights reserved