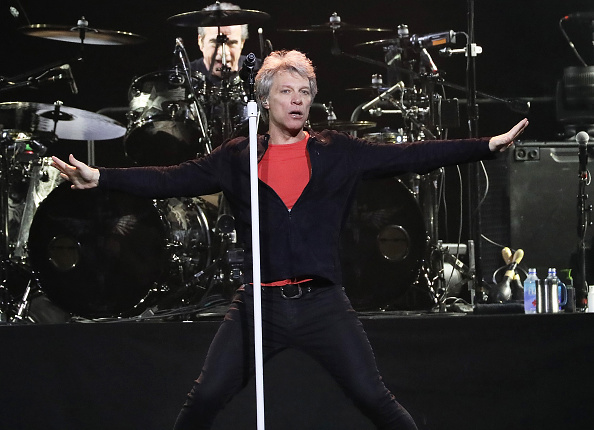 On Saturday, Jon Bon Jovi will be inducted into the Rock and Roll Hall of Fame for his outstanding contributions to the genre. The induction will be yet another laurel for Bon Jovi, born John Francis Bongiovi Jr., to rest upon. The 56-year-old arena rocker was inducted into the Songwriters Hall of Fame in 2009. Since then, he has collected a slew of honors, including being ranked number 50 on Billboard's ranking of "The Most Powerful and Influential People In The Music Business" and number 17 on VH1's "100 Sexiest Artists." As Bon Jovi readies himself for perhaps the greatest honor of his career, let's take a look at his greatest works of art.
Ranking Bon Jovi's Greatest Hits
10. Always
Bon Jovi, so famous for his powerful tune-belting and glam rock guitars, gives us a tender love song amidst the cacophony. He leans into the end of his verses, building the tension into a crescendo before dropping back into his effortless choruses. The song is at once mournful and defiant, pining after a lost love in the way any broken-hearted nostalgic will get misty-eyed over.
9. Runaway
The piano chords that open this song and beat incessantly as the song rolls along mimic the frantic, pounding feet of someone trying to outrun their past. It's a stroke of artistic genius. "Runaway" opens intensely and doesn't relent until the final chords echo through the speakers. This song saw a bit of a resurgence after it featured in episode seven of the second season of the wildly popular Netflix original Stranger Things and is every bit deserving of that resurgence.
8. Blaze of Glory
Everyone forgets about "Blaze of Glory" because it's not a Bon Jovi song; it's a Jon Bon Jovi song. This song was voted Most Likely to Headline a Borderlands Game Soundtrack by its high school class. Bon Jovi got famous with the soap opera provided in another song further down on this list, but the outlaw tale he presents for his audience here appeals to everyone's inner rebellious country-rocker.
7. Bad Medicine
"Bad Medicine" is the song that made old Bon Jovi fans okay with the band's shift in artistic direction. It is undeniably 80s, and The Simpsons made reference to it in the episode "Black Widower." I hear that's how you know you've made it.
6. Have A Nice Day
No list of Bon Jovi songs is going to be complete without "Have A Nice Day." This song is the "you can't tell me what to do" anthem of defiance for a generation. "Have A Nice Day" sneers in the face of whatever life wants to throw in your direction with the soaring vocals and power chords that made Bon Jovi iconic.
5. It's My Life
"It's My Life" and "Have A Nice Day" feature back-to-back on this list because they are, in essence, the same song. The edge goes to "It's My Life" takes  because it predates "Have A Nice Day" by four years. Where 'Have A Nice Day" aims toward sneering defiance, "It's My Life" is a song of empowerment, encouraging the audience to take back control of their lives.
4. You Give Love A Bad Name
If "Always" is the soundtrack to the breakup, "You Give Love A Bad Name" is the anthem for getting over him/her/them. Bon Jovi provided us with the get-back-on-the-horse rock single we never knew we needed. This song is catchy enough to keep it ringing in your head all day long and iconic enough that you will not mind.
3. Wanted Dead Or Alive
What?! Two outlaw anthems in this list?! Steve, come on. I will forever argue that this song is criminally underrated. The band said that this song was particularly easy for them to write because it's all based on their experiences as a band. Yeah. "I walk these streets, a loaded six-string on my back. I play for keeps 'cause I might not make it back" is a Wild West metaphor for the lives of the members of Bon Jovi. The 80s were a different time.
2. Bed Of Roses
This song features arguably Bon Jovi's best vocal performance ever. Lyrically, Bon Jovi put together a masterpiece with this one. Jon Bon Jovi also reportedly wrote this song while hungover in a hotel room. That just makes the line "a bottle of Vodka is still lodged in my head" the most empathetic line in Bon Jovi's discography.
1. Livin' On A Prayer
You knew this was going to be number one. I'm not a savage. There is not a single human being on the planet that can resist singing along to this song. Case in point:
Last Word on Bon Jovi
Love him or hate him, Jon Bon Jovi left an indelible mark on the music industry during his career. His music is uplifting and gutsy, empowering and ostentatious, mournful and thoughtful. With his induction into the Rock and Roll Hall of Fame, the industry finally recognizes the man that introduced us to Tommy and Gina and crafted lasting anthems for rock fans to shriek along to for generations.
Main Image Credit:
Embed from Getty Images