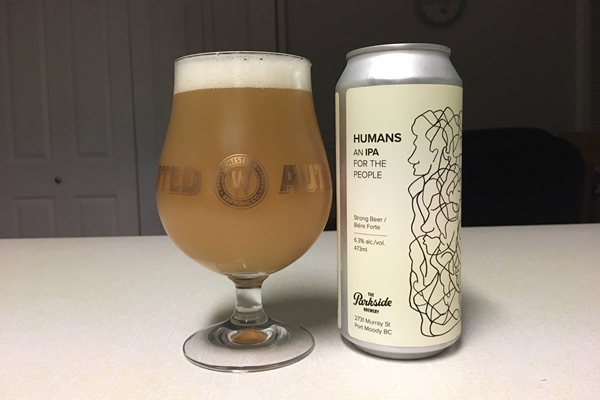 The Parkside Brewery has recently received an award on their Humans IPA, and B.C. Beer Reviews is here to see why. This beer won Best IPA in Show at the Okanagan Fest of Ales. With there being plenty of solid IPAs in attendance, this is a reason to take attention.
B.C. Beer Reviews: The Parkside Brewery – Humans IPA
The hazy and juicy IPA train does not look to be slowing down anytime soon, and this one follows suit. Humans IPA is said to be a hazy, juicy and tropical hop bomb. So if you are a hophead, stay tuned.
Colour
This beer pours a hazy orange-amber colour from the can. In the glass it is much of the same. This beer is the definition of hazy. The colour is a deep orange colour that is reminiscent of a lighter version of orange juice. If hazy beers are your thing, this one is certain to catch your attention with its colour.
Nose/Aroma
This beer is once again the definition of a juicy tropical bomb. Tropical fruit aromas come out immediately upon cracking the can. Pouring the beer only helps to accentuate how powerful they really are, which to clarify is very powerful. Fits the style perfectly.
The aromatics, to be more descriptive, are tropical citrus fruits. It is not quite pineapple, but more along the lines of passion fruit and guava. These are extremely tasty smelling aromas.
Other than that there is not much else to say about the nose/aroma of this beer. The tropical citrus fruit notes dominate the aromatics of this beer, fitting the style quite nicely.
Tasting Notes
Just as you would expect from the colour and the nose/aroma, this beer is a tropical fruit, juicy hop bomb. It comes at you without hesitation with strong notes of tropical fruit and citrus undertones.
The hops, while undeniably the main player in this beer, do not provide much bitterness. This indicates that most of them were added late in the boil or in the dry-hopping process. The taste and aromatics are what you get, and the bitterness is barely perceivable.
When it comes to the hazy and juicy IPA craze this one hits the nail on the head. A fantastic representation of why the B.C. craft beer scene can put out some fantastic beers.
Other Notes
The branding/labeling is a bland tan-white colour with black scribbles on it. Upon closer examination, these scribbles make out the faces of multiple different humans. Matches the name nicely.
The head of this beer is above average. It pours enough of a head to fit in with the other beers of this style. The retention is average.
The lacing is slightly above average as the style goes. You do not get thick patches, but there is certainly enough to be noticeable.
Final Grade
This beer is a fine representation of what the B.C. beer scene has to offer in the way of less bitter, more juicy IPAs. It has tropical fruit notes in both the nose/aroma and on your palate. This is just end-to-end a very tasty brew.
Grade: 8.8/10
Want to see a beer featured in B.C. Beer Reviews? Comment below with your suggestion.
And if you want to see all of the photos featured in these articles, and other awesome beer pictures, you can follow me on Instagram: nhendy5. You can also see much more concise versions of these reviews by adding me on Untappd: RedArmyNic.
Main photo by Nic Hendrickson, Lastword Inc., all rights reserved