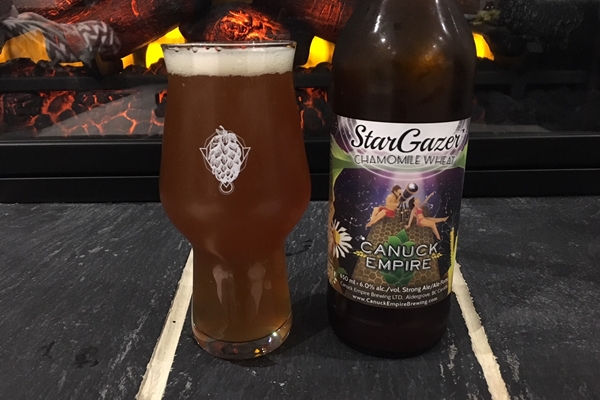 There are a few breweries in B.C. that fall into the category of gypsy, and Canuck Empire Brewing is one of them. Undoubtedly a budding brewery, these brews are being brewed out of the facilities of Dead Frog Brewing, or they were while they were in Aldergrove. The status of Canuck Empire is a bit of a mystery, just like the stars above.
B.C. Beer Reviews: Canuck Empire Brewing – StarGazer Chamomile Wheat
The stars above are something that has entranced mankind since the beginning of time. Let's see if Canuck Empire Brewing can entrance us with this wheat-based beer with the addition of chamomile.
Colour
This beer has a deep amber colour to it. The deep colour is reminiscent of honey, which makes sense considering raspberry blossom honey was used in the brewing process. This deep amber colour is totally opaque as well. You cannot see through this one, even when you hold it up to light.
Nose/Aroma
The chamomile is certainly at the forefront of the aromatics of this beer. It hits you right away with a floral and tea-like aroma. It is not the type of aroma to overpower you, so it is a nice subtle note to have it be the main player in the nose/aroma of this beer.
There is a very noticeable sweetness in behind the chamomile. This could either be from the malt/grain bill or the honey or very likely a combination of the two. It does not come off like this beer is going to be cloyingly sweet on your palate, but there is only so much you can tell from the aroma of a beer.
Tasting Notes
On your palate is where this beer begins to take an interesting twist. Although the raspberry blossom honey did not come off distinctively in the aroma, it certainly does here. You get a very distinct tartness that you would get from a raspberry complimented immediately by the sweet background of the honey. This is undeniably the strongest note here.
The chamomile very much becomes a background note here. You can still get subtle notes of it, but it is overshadowed by the raspberry blossom honey notes. This is a beer made for the warmer months of the year.
While this beer is quite sweet, the tartness of the type of honey helps it to stay away from being cloyingly sweet. Fairly well balanced overall.
Other Notes
The branding/labeling has two stargazers on what looks to be a dock made of a honeycomb. They are gazing into the stars above them. Not the flashiest of labeling out there, but still nice.
The carbonation level is significant in this one. There is a constant stream of cascading bubbles throughout this beer. It adds a nice crisp bite on the back end of your palate that helps to finish off what is an otherwise sweet and somewhat tart brew.
The head this beer pours is above average. The retention of this creamy looking head is nothing short of impressive. It sticks around for as long as you let it.
Final Grade
The chamomile really only shines through as the first note of the aromatics. Other than that, the raspberry blossom honey is the major player here. Sweet and somewhat tart notes on your palate make for a refreshing summer beverage.
Grade: 7.7/10
Want to see a beer featured in B.C. Beer Reviews? Comment below with your suggestion.
And if you want to see all of the photos featured in these articles, and other awesome beer pictures, you can follow me on Instagram: nhendy5. You can also see much more concise versions of these reviews by adding me on Untappd: RedArmyNic.
Main photo by Nic Hendrickson, Lastword Inc., all rights reserved