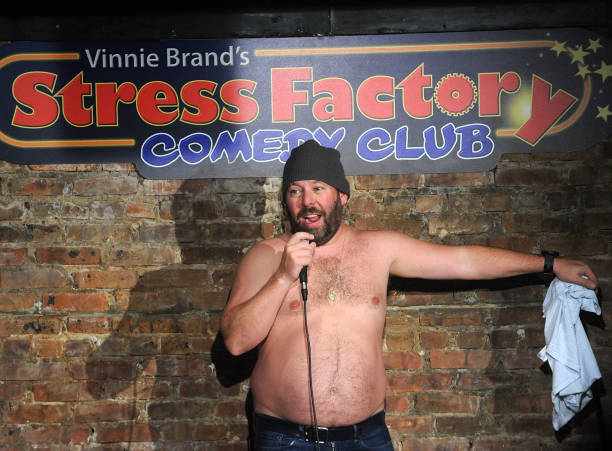 If Doug Benson is a Ferris wheel, Bert Kreischer is the Ring of Fire, momentarily pausing upside down for seconds at a time without fear and emptying the remnants of his audience's pockets. Also, people often throw up when they are in his vicinity. Bert is a multimedia mogul with Cheeto-coated fingers dripping in Fireball cologne with a Kid Rock song that follows him into every room; he should host The Oscars and become the Janet Jackson of The Academy when he takes his shirt off, as he is wont to do, much to the chagrin of the elderly voters. He is a fascinating character, an entertainer on the rise who is bound to find himself hosting a show related to haunted houses or cute puppies or perhaps a combination of the two. In many ways, he is the Golden Retriever of comedy, eagerly chasing the perpetual tennis ball that is the joke as his owner, the audience, watches proudly or laughing, in his case.
Bert Kreischer: Man, Myth, Machine
Bertcast
With 300 episodes, Bert's podcast is one of the most popular shows of its kind. Bertcast has an interview-based format in which guests, who are typically comedians or entertainers, come hang out in Bert's man cave, which happens to have been built by the DIY Network show Man Caves. "Hang out" is the key phrase here as Bert's show is more of a chill session than a professional interview and the listener is able to find out what it would be like to kick it with a few comedians after dark when they really let loose after talking about dead babies and 9/11 on stage.
Bertcast is less of a staged show than a peak into what it may be like to crack a few cold ones, eat snacks prepared by Bert's wife, LeAnn, and stare at a fish tank for a few hours with a couple professional comedians. The podcast also shows a special side of Bert, one that is unchecked as he goes gung-ho about certain topics that provide him with "soul points" (a Mark Duplass idea), such as comedy, his family, and current celebrity stories. An especially intimate session with Bert is given to his audience through his Open Tabs versions of Bertcast in which he talks by himself (occasionally with a producer) about the latest TMZ news which is fascinating even if you have not been keeping up with the Kardashians.
Something's Burning
Bert's brand new cooking show presented by All Things Comedy is a great sample size dish of the comedian for people who may not be familiar with his work. The show, which can be found on YouTube, is a hilarious peak into what it would be like to eat Thanksgiving dinner if it was prepared by Bert. If you have ever wondered what it might be like if Anthony Bourdain took laughing gas prior to going on camera, this is your chance. The Bobby Lee and Chris D'Elia episode is a good one to start with if you enjoy unbridled joy, esoteric silliness and Bert taking a hardcore clowning.
The Machine

"The Machine" is not only Bert's nickname, but also the name of his most famous story, which he is badgered to tell in every stand up show he has ever done. The synopsis of the legendary tale is that when Bert was 22 at Florida State University (which he attended for many years), he studied abroad in Russia. He was aboard a train with his class and somehow found himself recruited by the Russian mob to rob all the passengers on board, including his classmates and teacher.
When the police questioned the mobsters about the robbery and Bert's role in it they defended him and called him, "The Machine," also referring to his ability to drink vodka. This story is everything you need to know about Bert Kreischer, a man who will stop at nothing for the story. Whenever you play the game Germany or Florida, there is a 40 percent chance that the unidentified person who committed the insane crime is a blood relative of Bert. Bert is a human fanboat, fueled by cans of Bud Light, the admiration of his fans and his fear of being forgotten or unnoticed. Bert squeezes the most out of every moment like an alligator hunter or professional beach volleyball player.
TV
Bert has been the host of many reality TV shows, during which he has ridden roller coasters and leapt off bridges. These shows were called Bert the Conqueror and Bert Gives His Wife a Heart Attack. 
Social Media Tycoon
Bert has 280,000 followers on Twitter and even campaigned Speedo to let him be their spokesperson with a promotional video showing the diversity in his game. Bert proves he is better at wearing a Speedo than Michael Phelps is at doing comedy, a claim many wish they could make, as Phelps recently moved on from hosting his one man show, Big Fish.
Main image credit: