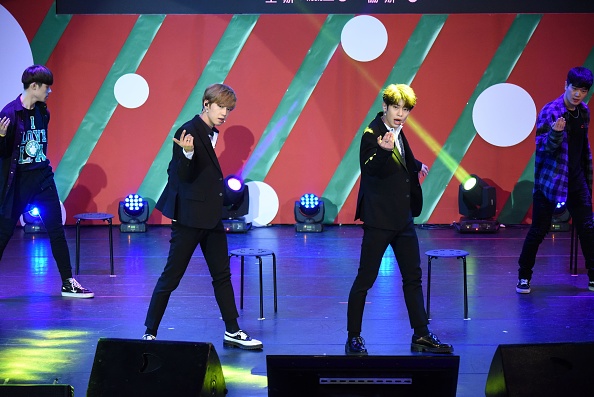 Tomorrow is the official premier of Produce 48, a take on the highly successful series Produce 101, but with a twist. Produce 101 was a highly successful K-Pop survival show which scouted out IOI and Wanna One, who were and are very popular groups. The show ran for two seasons, with each season having 101 contestants on it. The contestants fought through eliminations to be in the top 11 and make the group. Produce 48 is similar to that, with a big factor of the show being nationality.
Mnet Gets Set To Air PRODUCE 101 Spin-off
Behind The Idols
Unlike its predecessor, Produce 48 is roughly one half Korean, one half Japanese contestants. The 57 Korean contestants come from 28 different companies. Meanwhile the 39 contestants from Japan all come from AKB48 groups. AKB48 and their related idol groups are a staple in Japanese music. A part of the AKB48 business strategy is that each group gets their own respective theater to run concerts out of. This sort of way of running a group is how Produce 48 plans on running their group after the show wraps up. As expected with these types of shows, the idols have the ability to work with their own agencies while with the group.
Some of the notable entrants include Park Min-ji, who was also an entrant in season 1 of Produce 101. She was eliminated on Episode 5, and since then left the Magic Fresh Company and went to MND17. Kim Si-hyeon also returns after not making it through all of PD101, although she made it to episode 8. Another entrant worth noting is Ko Yoo-jin, who is representing Blockberry Creative. Blockberry is the music label which is behind the rising group LOONA. Other major labels like Woollim Entertainment and Pledis Entertainment also have some of their trainees entered in the show.
Success From The System
Most people who follow K-Pop but haven't watched the previous seasons of Produce 101 will still recognize their winners. The first season scouted out IOI, a girl group who released the very popular song "Very Very Very", along with other hits like Whatta Man and Dream Girls. The show itself also produced a hit that season, with the highly EDM influenced track "Pick Me." Leading up to this season of Produce 48, the contestants performed a newer iteration Pick Me.
The show switched it's focus to a boy group in their second season. Wanna One came from Produce 101, They are ended up being hugely successful to this day. The group has had many hit songs like Energetic and Beautiful, and plans to do a world tour spanning three continents, going from June to September this year.
Looking Ahead To The Season
The show is set to run for 150 minutes per episode. It's quite the change in retrospect to how long season one of Produce 101 was. Their running time varied from an hour and a half to two hours, with the finale being 160 minutes. Coincidentally, as this show is set to begin, the Chinese spin-off of Produce 101 is coming to a conclusion. There are currently 22 idols left of that show, with the number being narrowed down to 11 on the finale. The final episode airs next Saturday.
The group that comes out of Produce 48 will tour/work for 2 ½ years. The finalists will be voted on by Korean viewers only. The voting rules seem odd since the show is almost a Korea/Japan split in contestants. The show is set to run for 12 episodes, every Friday on Mnet. The production of what could be one of the next big K-Pop girl group is soon to start, and we will see it happen in front of our eyes.
Main Image Credit:
Embed from Getty Images