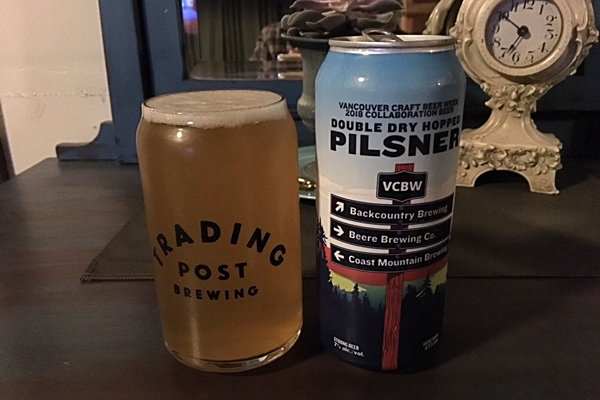 Vancouver Craft Beer Week may be long gone, but one thing remains. The double-hopped Pilsner for VCBW that came from Backcountry Brewing, Beere Brewing and Coast Mountain Brewing created a buzz, and rightly so. And while B.C. Beer Reviews may be almost two weeks behind on this one, it is still a beer that is well worth taking a look at.
B.C. Beer Reviews: VCBW – Double Dry Hopped Pilsner
Colour
As is the case with all Pilsners, this beer pours a pale golden straw colour. It has a nice clarity to it when pouring from the can, and this does not change when the glass is full. When the dregs of the can are poured in it becomes ever so slightly cloudy, but not to the point of being hazy.
Nose/Aroma
The common note of sweetness from the Pilsner malt is a note you certainly get from this brew. Despite the fact that this is double dry-hopped, the base of the aromatics is that of a nice and clean Pilsner. Sweet like the malt base, and another dimension from the hops used in the brew.
Aside from the somewhat one-dimensional notes from the malt/grain bill, you get some very nice, and very light, citrus notes from this beer. It is hard to put a finger on what kind of citrus this is, rather it is coming off as an indistinguishable citrus fruit aroma that helps to balance out the sweetness of the malt/grain bill that is used.
There are also noticeable notes of tropical fruit and grapefruit to this beer. They are not powerful but are certainly very present throughout.
Tasting Notes
As expected, this beer has a very present sweetness from the malt/grain bill used. You get light tastes of cracker and sweet bread from the base of this beer.
This is complimented by a very light taste of sweet citrus fruit. You do not get the tartness fruit from the fruits, but rather a sweet juicy characteristic to this beer. This is light enough to be balanced with the malts and grains used in this one.
Other Notes
The branding/labeling shows that the distance between these breweries is not enough to impede a good brew being made. Despite VCBW being held in Vancouver, not the home of either of these three breweries, this beer and its labeling turned out quite nicely. There is a nice clear sky above a green background. This is added to by pine trees with an old-school direction sign with the three names of the breweries included in making this beer.
The carbonation level is perfect for the style. The retention of the head is also quite impressive, sticking for long after you pour this beer.
There is a light patch of lacing on the top of the glass, but it disappears almost immediately thereafter. After that one patch, the glass is pretty well clean.
Final Grade
This beer is a clean and crisp Pilsner with an interesting twist in the aromatics. You get citrus and tropical fruit notes that are light and pleasant. Aside from that, you get a clean and crisp, no-nonsense beer.
Grade: 8.1/10
Want to see a beer featured in B.C. Beer Reviews? Comment below with your suggestion.
And if you want to see all of the photos featured in these articles, and other awesome beer pictures, you can follow me on Instagram: nhendy5. You can also see much more concise versions of these reviews by adding me on Untappd: RedArmyNic.
Main photo by Nic Hendrickson, Lastword Inc., all rights reserved