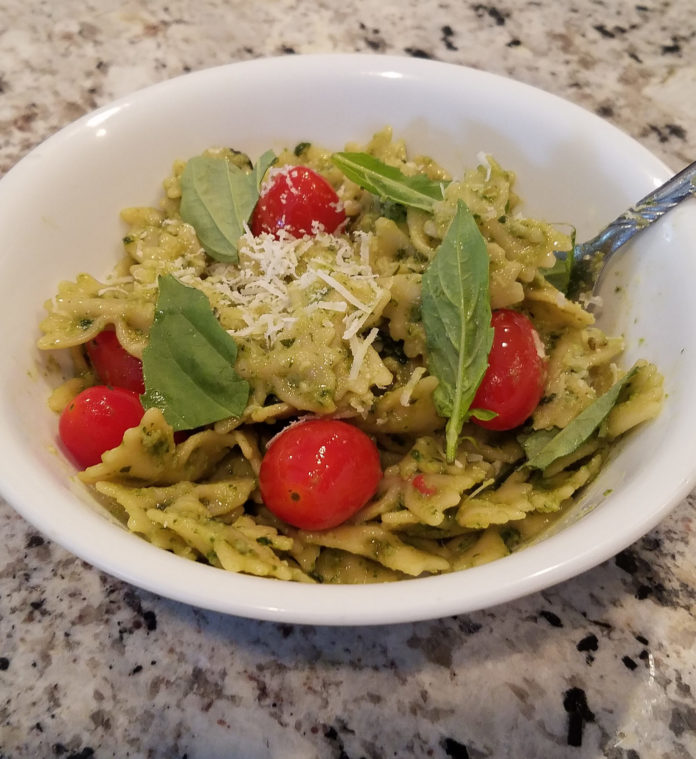 Pesto pasta is a simple yet delicate dish that is centered around one thing: basil. That's because this little green leaf is the king of Mediterranean flavors. Its name is derived from the ancient Greek word for "royal plant", which thankfully became more popular than its nauseating alias "Saint-Joseph's-wort."
Spoon-Fed Facts: Pesto Pasta
This herb is known for its aromatic, leafy flavor and is often used to compliment spice mixes with a mellow tone, or to bring a nice balance to the acidity of tomato-based dishes. However, it is also perfectly competent as a standalone taste and pairs well with lamb and poultry as seasoning or as the base ingredient like in pesto. If you want to effectively use this little plant in your cooking there are a couple conditions to keep in mind.
First, basil is much more versatile when its leaves are fresh than when dried; dried basil quickly loses its iconic flavor and takes on a much duller profile. To ensure your basil stays fresh and tasty, it's a good idea to grow your own. You can keep it in a spice garden, as a houseplant, or blanch a few samples and store them in ice trays for future use.
Second, despite being such a culinary staple, basil doesn't do well when cooked. Heat can quickly destroy the flavor of the leaves, so it's best to hold off adding them until the last few moments a dish is on the stovetop.
So long as you follow those two little rules when cooking with basil, your recipes should produce sumptuous tastes with relatively little effort. Let's go ahead and try our hands at making that first dish I mentioned: Pesto Pasta.
Ingredient List:
3 cups of fresh basil
2 large cloves of garlic
3/4 cup of extra virgin olive oil
2 tablespoons of pine nuts, walnuts, almonds, or cashews
½ cup of grated parmesan cheese
1 cup Cherry tomatoes
Pasta (Penne, Farfalle, or Linguini)
Salt to taste
Pepper to taste
Serving Size:
Serves up to four
Recommendations:
Toasting Your Nuts­
Traditionally, pesto is made with pine nuts, but if you don't care for their buttery-with-hints-of-pine flavor (or they're not readily available), feel free to substitute a nut with a milder taste. Walnuts would be the most natural substitute, but almonds and cashews are also viable options. Regardless of which type you choose, make sure you toast them beforehand.
Prepping for Pasta
Some people say salting water makes it boil faster or prevents noodles from sticking together, but these people are wrong and deserve to be ridiculed. Okay, maybe not ridiculed, but you should let them know that we actually need to salt water, especially water intended for pasta, for the dish's seasoning. Be sure to stir in any salt added until it is fully dissolved, or it may just stick to the bottom of your pan. Typically, an amount of two or three tablespoons is a good amount to use for cooking noodles.
Garnishing the Dish
Good garnishes for this recipe are torn basil leaves, grated Parmesan, and olive oil.
Instructions:
Step 1)
Toast the nuts in a pan over medium-high heat for one to two minutes or in a 350⁰F oven for five to eight minutes. They should be golden-brown and fragrant. Watch them carefully to avoid burning. Once toasted, remove them from heat and let them rest on a plate until you're ready to use them.
Step 2)
Prepare a pot to boil your pasta in, taking care to salt the water. Cook pasta al dente. Reserve one cup of pasta water when finished cooking.
Step 3)
Meanwhile, add the nuts, basil, garlic, and parmesan cheese to a blender or food processor. Blend the ingredients together briefly before beginning to slowly incorporate the olive oil by drizzling it into the running machine.
Step 4)
Oil a pan and add the cherry tomatoes, softening them at medium-high heat before adding the boiled pasta and pasta water. After about 30 seconds, add a tablespoon of pesto sauce to the pan at a time until the pasta is completely coated and the sauce is cohesive. Reduce heat to medium and cook for a final minute, then remove from heat and serve.
Last Word on Pesto Pasta
I enjoy this recipe for its simplicity and its distinctiveness. If you're looking for a nice change-of-pace meal that doesn't break the bank or your kitchen supplies, this is the dish for you. Best of all, it's a delicious way to get to know the flavor of the regal herb, basil. Hail to the king.