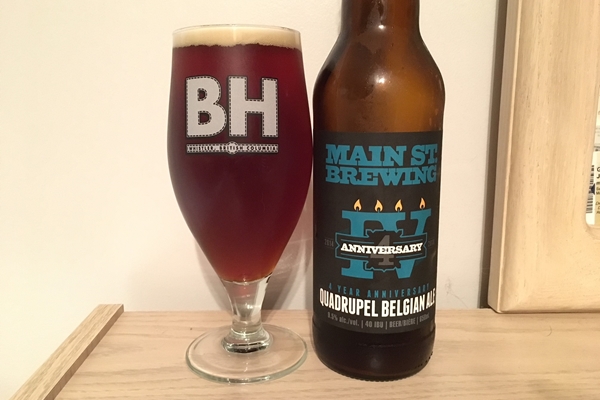 While it may be well after the fact, Main Street Brewing recently celebrated their fourth birthday. Congratulations are in order and with that birthday came a very big way of celebrating this awesome occasion, a birthday Belgian Quad. This Belgian-style brew comes in at 9.5% ABV, certainly a beer worthy of such a special day.
B.C. Beer Reviews: Main Street Brewing – Four Year Anniversary Belgian Quad
Colour
This brew pours a very clear and deep brown colour. When in the glass you start to notice a subtle ruby hue to it. It matches up stylistically with a Belgian Quad and is a very inviting clear beer.
Nose/Aroma
You get the very powerful notes you would expect from such a heavy Belgian beer. The strongest ones are certainly the spicy notes and a moderately high level of the clove aromatics that you get from the yeast strains. While it is powerful there are other notes that help to balance this one at as much as it can.
Another note, albeit much more subtle than the clove and spicy yeast notes, is a light bubblegum aroma. It is light and pleasant and reminiscent to Bazooka Joe gum (for those of you who have had the pleasure of having that gum). This is a nice balancing note and something that you rarely found in Belgian beers made outside of Belgium.
The malt/grain bill stands its ground as well, though very much in the background. There is a sweet bready aromatic that comes through behind the yeast notes. There is also a very present boozy aroma that helps to balance out the sweetness you would expect from a beer clocking in at 9.5% ABV.
Tasting Notes
The first notes you get from the aromatics are the most present here. You get the spicy and clove notes immediately upon taking a drink of this one. It is the most powerful note, but categorizing it as overbearing would be well outside of the reality of this brew. It is a very nice level of spices and clove.
The bubblegum aromatic does not come through as strongly on your palate. It is still noticeable, but very much hidden in the background of the other Belgian yeast characteristics that you immediately get.
Aside from that, there is an ever-present note of booze. For a beer that comes in as high as this one, this is not at all surprising. Surprisingly, however, this is a rather smooth boozy character. It finishes off this otherwise sweet and spicy beer quite nicely.
Other Notes
The branding/labeling is straightforward and simple. A black logo with deep aqua lettering has Main Street Brewing above a Roman numeral number four with four little candles on top of it. It is not flashy at all, but with what is inside it does not need to be.
This beer pours a moderately big head from the bottle. Arguably the most impressive thing about this beer, and this is saying something, is the retention of that head. There is a lightly tan pillow-like head that sticks around long after you take your first drink.
Final Grade
This is exactly what you would want from a 9.5% Belgian Quad. If you were to say this brew came out of Belgium, more than one person would believe you. It is a well-balanced and smooth-drinking brew that lives up to the expectations that come with the fourth anniversary.
Grade: 8.8/10
Want to see a beer featured in B.C. Beer Reviews? Comment below with your suggestion.
And if you want to see all of the photos featured in these articles, and other awesome beer pictures, you can see them by following me on Instagram: nhendy5. You can also see much more concise versions of these reviews by adding me on Untappd: RedArmyNic.
Main photo by Nic Hendrickson, Lastword Inc., all rights reserved