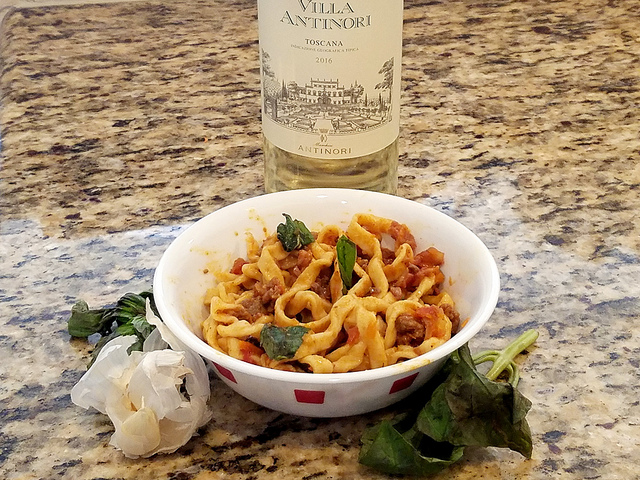 Spoon-Fed Facts is a weekly series that aims to share a few cooking tips alongside an enjoyable recipe to hone your cooking skills. It reviews the flavors, techniques, and equipment used in the culinary arts.  
Spoon-Fed Facts: Bolognese Sauce
A Bolognese sauce is a great way to branch out from simple tomato or meat sauces for your pasta and lasagnas, so long as you've got a little patience. It's also a great opportunity to practice some of the tips about basil and pasta discussed in last week's edition of Spoon-Fed Facts. Of course, this recipe isn't centered around just one ingredient, but we can still look at a foundational part: oregano.
Oregano, or "wild marjoram," is a strong, peppery, and somewhat bitter tasting herb that is commonly seen in Italian cuisine. It's probably most famous for its role in creating a distinctive pizza sauce, but it also pairs well with tomato dishes in general. Because of this, it frequently appears alongside basil, but despite their complementary tastes, the two herbs could not be further apart.
Unlike basil, oregano is not something you usually use fresh. Drying its leaves actually improves the power and profile of the flavor. What's more, oregano has a much higher heat-tolerance, so you don't need to be as cautious when adding it into a dish.
However, if you want to use this hearty plant, be sure to clarify the recipe calls for oregano and not marjoram. Marjoram is frequently mistaken for oregano, and vice-versa, but the two are not interchangeable terms for the same herb. The former boasts a sweeter and more mellow taste than its robust counterpart. Admittedly though, these two plants are closely related and share similar culinary abilities, so replacing one with the other won't absolutely destroy a dish. With these differences in mind, let's go ahead and try our hands at making this smooth, meaty sauce.
Ingredient List:
3 tablespoons of extra-virgin olive oil
½ lb extra-lean ground beef
½ lb ground pork
4 oz prosciutto, finely minced
1 small onion, minced
1 celery stalk, thinly diced
2 carrots, shredded
1 teaspoon dried oregano
2 stems of fresh thyme
½ cup of fresh basil
1 dash of nutmeg
6 oz tomato sauce
½ cup dry white wine
A pinch of kosher salt
Salt and pepper to taste
A 15 oz can of diced Italian plum tomatoes
Serving Size:
Serves up to six
Recommendations:
Selecting your sausiche
Honestly, I wouldn't recommend just any ground pork for this dish unless you know for a fact that it is good quality; most of the sauce's flavor is dependent on the meat that kicks it off. If you're unsure about what to use, a simple starting point would be a package of your preferred Italian sausage brand. All you need to do is cut off the casing and you've got ground pork that will fit the flavor profile of the Bolognese sauce.
Mincing the ingredients
When prepping your ingredients, be sure to cut them up in especially small, uniform pieces. This allows the mix to cook more consistently and to create a smoother texture over the course of the three to four hours. Alternatively, if this is too labor-intensive, you can also process the celery, onion, carrot, and prosciutto in a food processor to establish a cohesive mixture.
Garnishing the dish
Whole samples of herbs that appear in a dish are usually solid garnish options. In this case, fresh basil, oregano, or thyme are all legitimate options and add a complimentary hint of green to this red sauce. Also, if there are any sausages left over from preparing the mince, you could cook them separately and serve them atop the final product. Of course, this may be stretching the definition of the term 'garnish' but who's going to stop you? Your mother?
Instructions:
Step 1)
Combine the onion, celery, carrot, and prosciutto in a large bowl and mix. Set aside.
Step 2)
Heat oil in a pan on medium-high until fragrant, then brown the pork and beef mince while continuing to break up the pieces of meat. Once the meat is browned, add the wine and continue to cook until it evaporates.
Step 3)
After the wine has been cooked off, add the vegetable-prosciutto mix to the pan and sauté in the remaining oil and fats until the mix is soft and golden.
Step 4)
Next, drain the pan of any excess fat, then stir in the diced tomatoes, tomato sauce, oregano, thyme, nutmeg, and salt. Set heat to low and cook at a bare simmer for three to four hours, uncovered. Incorporate the fresh basil in the final 30 minutes of the cook time.
Last Word on Bolognese Sauce
Once the sauce is done, it is traditionally paired with tagliatelle noodles, but fettuccine, linguini, penne, and even spaghetti pasta are all valid alternatives. Additionally, you could use the Bolognese in place of meat sauce for a lasagna. If you ever wanted to tackle making an entire lasagna from scratch, the long cook time of this sauce pairs well with the marathon that is that culinary experience.
Main Image Credit: