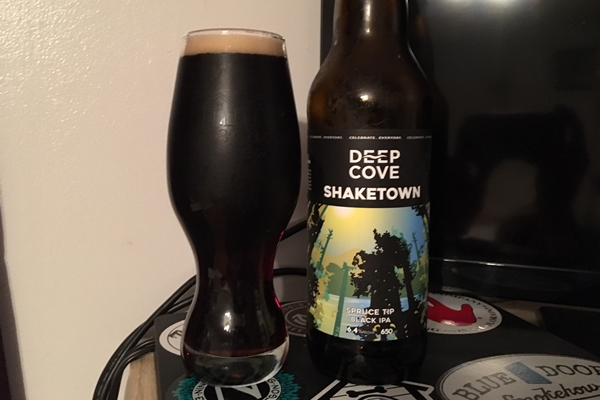 The debate on Black IPA and Cascadian Dark Ale rages on and Deep Cove Brewing is not shying away. B.C. Beer Reviews is here today to take a look at the Shaketown Black IPA from the North Vancouver brewery. A style that is both malty and bitter, and something that is sure to keep the fire going on the Black IPA vs CDA argument.
B.C. Beer Reviews: Deep Cove Brewing – Shaketown Black IPA
Not only is Deep Cove Brewing coming at you with an interesting style, but they are also giving it an interesting twist. They have added spruce tips to Shaketown, an addition that is sure to spice things up.
Colour
This beer pours a deep earthy brown colour from the bottle. When in the glass it is a much deeper colour, bordering on being black. When held to the light you can see a bit of light shine through and it is closer to a deep ruby brown.
Nose/Aroma
Unsurprisingly there is a roasty aromatic to this beer. This is light and approachable yet still packs a bit of a punch. The character this beer has is almost certainly one that is imparted by the use of roasted barley.
Other malty notes come through quite nicely in this one as well. There is a light chocolate note complimented by a smooth coffee aromatic as well. These two notes help to balance out the roasted notes this beer starts off with.
There is a very light and subtle citrus hop aromatic on the back end of this beer. As stated, it is very much in the background of the character. They are certainly a side note to the malt notes.
Tasting Notes
The tasting notes are fairly similar to the aromatics of this beer. The coffee note really shines through here. Chocolate notes also come through nicely, but are playing second fiddle to the coffee. These two notes are quite smooth and pleasant.
The roasted notes come through on the back end of your palate. They add a bitter touch that goes hand in hand with the hops used and counteracts the sweetness that this beer starts off with.
This is a rather well-balanced beer that does this contentious style justice. It is smooth, malty and finishes off with a nice bitter backbone.
Other Notes
The branding/labeling is simple and clean. A black label has white lettering of Deep Cove Brewing and the name of the beer. This is above a green and black background showing off the silhouettes of spruce trees.
The mouthfeel of this beer is fantastic. It is smooth and significant. It is not quite to the level of being creamy, but it is smooth and adds another dimension to this beer that is very nice.
There is a significant amount of lacing from this beer on the glass. There are light patches of lacing here and there from top to bottom.
This beer pours an above average head. The head of the pour is a light tan-brown colour. The retention of the head is average. It does not stick around long enough to be anything of note.
Final Grade
This is a smooth drinking and malt-forward brew. There is a nice clean bitterness at the back end of the taste, but it comes off much more malt leaning than hops.
Grade: 7.7/10
Want to see a beer featured in B.C. Beer Reviews? Comment below with your suggestion.
And if you want to see all of the photos featured in these articles, and other awesome beer pictures, you can follow me on Instagram: nhendy5. You can also see much more concise versions of these reviews by adding me on Untappd: RedArmyNic.
Main photo by Nic Hendrickson, Lastword Inc., all rights reserved