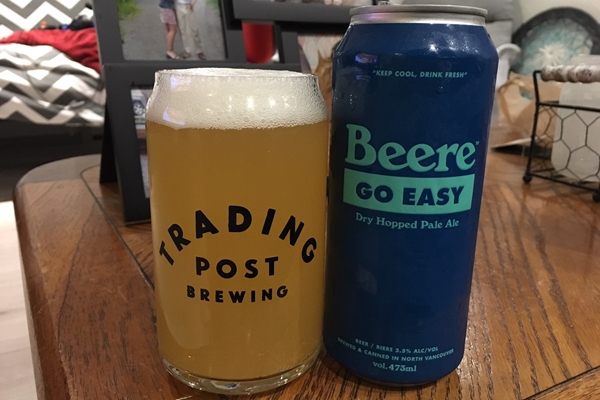 The newest, or one of the newest, breweries in B.C. making noise with their use of hops is that of Beere Brewing. The North Vancouver-based brewery made waves with their Mental Floss and have been impressing ever since. This brewery may just be the next Backcountry Brewing in this regard and seems to be another strong addition to the Sea to Sky region, something Malcolm Yates is sure to be more than happy about.
B.C. Beer Reviews: Beere Brewing – Go Easy Dry Hopped Pale Ale
Dry hopping is the new craze. But just because it is easy to do in theory does not mean it is easy to have in a finished product. Dry hopping can easily result in a vegetal aroma or taste. It can also result in an unpleasantly drying finish on your palate. Let's see how Beere Brewing did with this one.
Colour
This beer is best categorized as a cloudy yellow-orange colour. It is bright in colour, tending to lean more in the direction of being a yellow colour. The colour is reminiscent of the fleshy part of a mango in hue. When held to the light you can start to slightly see through it, meaning this one is more cloudy than hazy.
Nose/Aroma
Much like what was stated above in the colour, this beer has strong mango aromatics. The tropical fruit aroma is all the craze with hazy and cloudy beers, and this beer falls in line with that quite nicely.
Along with the tropical trend, there is a light aromatic of pineapple to this one. There is a very light citric acid aromatic that lends itself to pineapple being one of the more noticeable notes from the hops.
The one thing that can be a problem with Dry Hopped beers is a vegetative aroma and flavour. There is no noticeable note of that in the aroma of this brew. Another off note is one of cloudy and hazy beers, and that is imparted by the yeast. Once again, that is not noticeable here.
Overall there are no flaws in the aromatics of this beer. The mango and light pineapple aromas make this a delicious smelling beer.
Tasting Notes
Right off the bat, you get the tropical fruit tastes, just like in the aromatics. Once again, mango is at the forefront. It has the sweetness of mango that is very pleasant to start off each drink.
The pineapple comes through again, but much lighter here than in the aromatics. There is almost no perceivable taste of the citric acid aroma that you got and that is common with pineapple.
The yeasts commonly used in these types of beers can commonly leave a dry feeling on your palate. This is not the case with this beer. While you can detect the typical yeast notes on your palate, it is nowhere near being considered on off note or at all unpleasant.
Other Notes
Beere Brewing keeps their labeling/branding simple. This beer has a deep blue label with robins egg blue lettering spelling out the name of the beer and the style of the brew.
The head this beer pours is moderate at best. The retention is, however, below average. It dissipates rather quickly.
The carbonation level is average at best. While this style does not lend itself to being highly carbonated, it would help to improve the head retention.
There is a light bit of lacing on the glass from this beer. Spots here and there from top to bottom.
Final Grade
There are strong notes of mango in both the aromatics and the tasting notes. This is complimented by a light citric acid and pineapple note in the aromatics and a sweeter pineapple note in the taste. There is very little bitterness to this beer. It is the textbook definition of being juicy.
Grade: 8.1/10
Want to see a beer featured in B.C. Beer Reviews? Comment below with your suggestion.
And if you want to see all of the photos featured in B.C. Beer Reviews, and other awesome beer pictures, you can follow me on Instagram: nhendy5. You can also see much more concise versions of these reviews by adding me on Untappd: RedArmyNic.
Main photo by Nic Hendrickson, Lastword Inc., all rights reserved