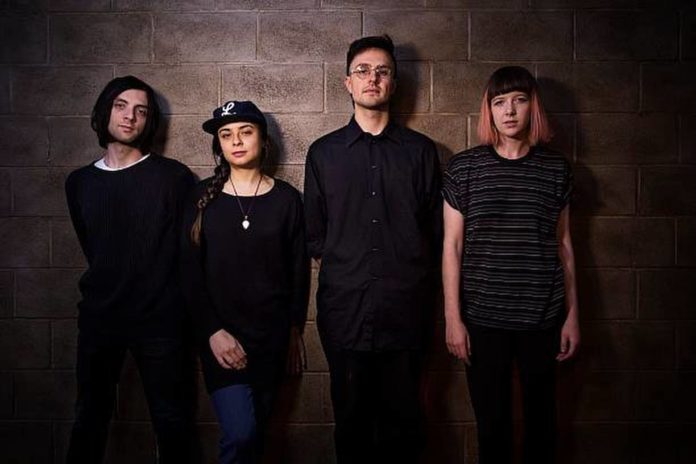 It was uncertain what the future held for Dilly Dally. In touchingly candid interviews with Noisey and The Fader, guitarist, lead vocalist, and Dilly Dally co-founder, Katie Monks, admitted the emotional and mental toil that came with the band's newfound success in 2015 — which almost led to the band's demise.
However, with a new perspective and emotional regroup, the Toronto grunge outfit are back with a fresh yet familiar sound. On their emotionally-charged, atmospheric new single, "I Feel Free," from their highly anticipated sophomore album Heaven (out September 14 via Dine Alone/Partisan), Dilly Dally channels the anxiety and uncertainty that nearly ended not only the band, but their respective friendships as well, and craft an entirely new sound for themselves, retaining the core Dilly Dally identity fans fell in love with from day one.
Dilly Dally's Return
Breakdown and Hiatus
During the album cycle for their excellent 2015 debut, Sore, Dilly Dally began to feel the toil of newfound success, culminating in Monks having an onstage breakdown in the middle of a set. It was moments like this that forced Monks to retreat and break away from Dilly Dally, as the growing attention from fans and music press was causing emotional instability and strife within the band, leaving their future uncertain.
It was during this time that Monks isolated herself from the band in order to find a new sound and inspiration that didn't box her into any particular genre. Monks says in the interview with Noisey, "What pained us the most about Sore was that people pigeonholed us as this 90s Courtney Love situation." It was this pigeonholing that drove Monks to expand her sound and identity, and the result was Heaven, which, if "I Feel Free" is any indication, will serve as Dilly Dally's turn from straightforward grunge to a more atmospheric, noise-driven rock sound.
Finally Free
"We'll start again / in a moment of silence," begins the excellent new single, signaling the resurrection and new phase of the band. The video, directed by Monks, finds the lead singer digging up the graves of her deceased band mates, doing all she can to conjure them from the dead. Throughout the video, we see quick flashes of the band performing together — dressed in white — juxtaposing the grim, lifeless scene at the graveyard. There is no subtlety in this narrative: The old Dilly Dally is dead, and their leader, with a new lease on life, is back to revive the closest friends she left behind.
While Dilly Dally has evolved their more raucous, bare bones approach — adding more ethereal guitars, spacey vocals, and booming production — this is still a Dilly Dally track: the energy is aggressive, Monks' vocals are as piercing as ever, and the emotion is raw. Retaining the essence of what makes them great, Dilly Dally are redefining themselves and have finally found the freedom that's eluded them thus far.
Last Word on Dilly Dally
When Monks and Dilly Dally co-founder Liz Ball moved to Toronto, the only goal they had was to make this idea, Dilly Dally, a reality — it was the only thing they had. And when that dream somehow turned into a nightmare, the very thing that drove them became the thing that drove them mad and almost cost them their friendship.
As the video draws to a close, we see one final close-up on Ball, her body lifeless. Monks has conceded and seems to accept that her best friend is never coming back. Then, in the final moments, as the camera zooms in on her face, Ball's eyes pop open. Dilly Dally is back, and they are back on their own terms.
Main image credit: