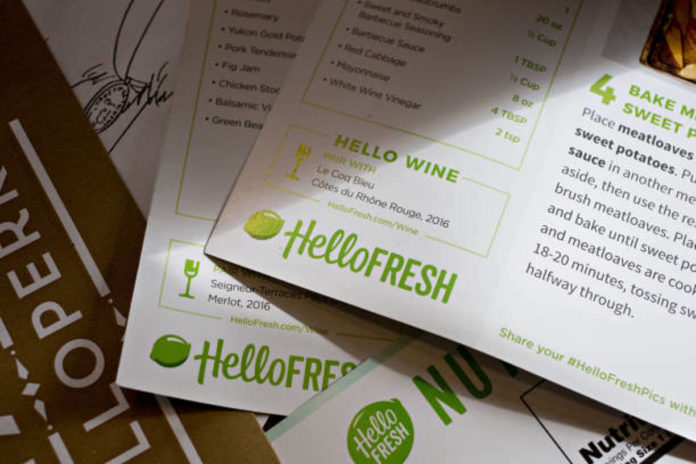 Last week, I had the privilege of cooking my way through a week's worth of Blue Apron ready-to-cook meals. Through yet another twist of fate (read: favors from top-tier friends), a week's worth of HelloFresh, Blue Apron's up-and-coming competitor, wound up in my kitchen as well.
Cooking My Way Through HelloFresh
Upon Arrival
In the interest of comparison, I once again selected the two-person, three-meal plan. One of these meals included a Korean bibimbap, intentionally selected to serve as a direct comparison to Blue Apron's Korean-style beef.
It seems unfair to HelloFresh (and any future meal services should I continue to get lucky) to make continuous comparisons to Blue Apron, but it's my reference point and I never said I was fair.
The food arrived packaged with four ice packs–two large, two small–instead of the two massive ones Blue Apron expected me to stick in my freezer and keep. This kept the food noticeably colder by the time I opened the box. Instead of sending every ingredient individually-wrapped in a jumble of clear plastic bags, HelloFresh did us the favor of containing an entire meal's worth of ingredients in three individual paper bags. Points to HelloFresh.
The ingredients also came separated out. In my review of Blue Apron, I whined about my clumsy fingers dumping out too much rice vinegar, leaving our carrots under-"marinated." HelloFresh anticipated my big, dumb mitts and sent separate packets of individual ingredients when said ingredients were needed for two different parts of the meal. 25 points to HuffleFruff.
HelloFresh also blatantly appealed to my most basic millennial instincts by making the vast majority of their packaging either recyclable or compostable. Really, a smug sense of environmental do-goodery is all I could ever ask for.
Korean Bibimbap with Zucchini, Mushrooms, & Carrots
Since the Korean-style beef was the tastiest of the Blue Apron meals, the bibimbap was the easy first choice. Here's a tip: when you get frustrated with your cooking partner for trying to slice mushrooms using the recipe card as a cutting board, try and say "bibimbap" in the angriest voice you can muster. 10/10 would wear that joke out inside a half hour.
The Losers
This recipe featured ground beef, browned to a crisp in ginger and garlic, instead of thinly-sliced chunks of beef. This introduced an interesting texture to the meal and made the dish as a whole easier to mix. However, the sauce for this meal paled in comparison to Blue Apron's Korean beef. HelloFresh went heavy on the soy and replaced the gochujang and red pepper flakes with sriracha, which seemed like a step down. The jasmine rice was of almost-imperceptibly lower quality. These criticisms aren't meant to cast off these components of the meal as a whole. The quality of these items compared to the Blue Apron ingredients was only a shade lower.
The Winners
Instead of "marinating" the carrots, this recipe called for us to "pickle" white shallots for the dish. Was it a better word choice? It's debatable. Was it a better option? Undeniably. This time around, the carrots were much better off shaved and cooked lightly in olive oil, the same fate that befell the mushrooms and zucchini. By all measures, mushrooms and zucchini were better suited to the dish than bok choy.
Although the main features of this meal, the beef and rice, didn't quite hold their own against Blue Apron's take on bibimbap, the combination of these items held up overall.
Final Rating: 8/10
Patatas Bravas and Crispy Artichokes with a Garlicky Aioli
Against every fiber of my culinary being, I chose a potato dish that featured absolutely no meat at all. Before you come at me for disrespecting my own stomach like that, this recipe looked heavenly on the site. Fried potatoes. Crispy artichokes. Creamy, garlicky, chipotle-y(?) aioli. Tomatoes, sliced olives, and feta cheese. I couldn't resist.
Plus, all those consecutive "A"s in patatas bravas are a blast to pronounce. I'm beginning to suspect that I picked these meals based on how fun they were to say and not how delicious the recipes sounded.
The Winners
Almost everything in this dish stood in the Winner's Circle after the plates were cleared. An outer crispiness gave way to the tangy, tender centers of the actually properly marinated artichoke hearts. The potatoes provided a markedly different crunch, and the way they burst open into sweet, starchy fluffy morsels provided a perfect yin to the artichokes' yang. We stacked these items on fresh arugula and smothered them in feta cheese that softened every so slightly over the heat of the potatoes.
The aioli cemented this as the best ready-to-cook meal I'd prepared so far. The white wine vinegar brought out the best in the artichokes, and no potato dish should ever be put to plate without garlic in some form or another (with few, arguable exceptions).
The Losers
There weren't many losers in this dish, but if I had to choose, the losers would be the toppings. I have few qualms with tomatoes, especially raw ones, but they seemed out of place on the plate. The instructions called for the grape tomatoes to be halved, but they would have seemed more at home in this meal had they been sliced. Half a grape tomato is too much acid for a mouthful of artichokes, olives, and aioli.
HelloFresh also supplied sliced almonds to complete this meal. This meal had all the snap it needed from the potatoes and artichokes without adding almonds into the mix. These just served to stick into the molars like glue and prevented this meal from being enjoyed properly.
The aioli from this dish gets a seat at the table of Sauces I'd Eat With A Spoon, and this dish takes top honors this week. In the future, I would strongly consider adding cubed chicken spiced with chipotle and garlic powder to round out this meal.
Final Rating: 9/10
Pork and Thai Basil Stir-Fry with Bok Choy & Basmati Rice
Admittedly, I procrastinated making this recipe because it seemed the least appetizing of the bunch. Also admittedly, while it doesn't have the same verbal pizzazz as bibimbap or patatas bravas, "basmati" is worth a few quiet, deep-voiced mumbles during preparation.
The Winner
I went into this meal with a bit of a bad attitude about the ground pork. My uneducated culinary mind turned up its nose at the idea of using ground meat over sliced meat in a stir-fry. Fortunately, HelloFresh didn't give a damn about my mind's imaginary nose and decided to give me another lesson on why my presumptions are nonsense.
Browning the pork in the shallots and garlic and finishing with soy sauce imparted a wonderful flavor to the pork, and these tender morsels exceeded expectations as the headliner of this dish.
The Losers
This meal took considerably less time to prepare than all the rest of the meals I have tried as a result of this grand experiment, a fact that HelloFresh emphasized during the recipe selection process. The quick cook time can be attributed to the ground pork and the microwaveable rice packet HelloFresh sent us. While I can appreciate HelloFresh being considerable of my time, I'd like to remind the jury that this HelloFresh meal plan works out to about $10 per meal. In very few instances would I be okay with paying $10 for microwaveable rice if I could avoid it.
I expected this meal to affirm my beliefs in bok choy's versatility and deliciousness, but there just wasn't enough in this meal to counteract its bitterness.
Overall, this meal turned out to be rather mediocre. To borrow a pretentious phrase I heard Anne Burrell use once on Worst Cooks in America, the "flavor profiles" of this dish didn't wow me. It wasn't a bad meal, to be certain, but it didn't dazzle me the way the other dishes did.
Final Rating: 5/10
Last Word on HelloFresh
In the apocalyptic battle between Blue Apron and HelloFresh for dominance in the meal kit subscription universe, HelloFresh ought to be the last one standing. HelloFresh demonstrated a better understanding of how cooking ought to work by including more of each ingredient than necessary to encourage tinkering to taste. The meals themselves held up much better under the intense scrutiny of my tastebuds and did not leave as much room in my stomach when the plates had cleared.
It is worth noting that HelloFresh does prize simplicity and convenience over authenticity, as demonstrated by the inclusion of sriracha and ground meats. The defense here is that this prioritization does not necessarily come at the cost of taste.
Although $10 per serving still seems a bit steep for something I have to cook myself, HelloFresh seemed much more deserving of my money and time than its high-profile counterparts.
Main image credit: