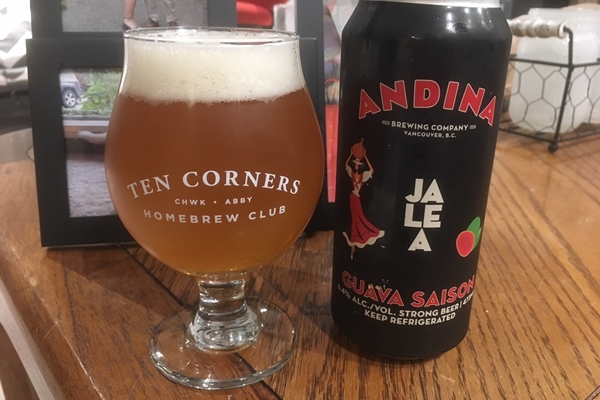 If you are a fan of good beer, South American culture and culinary experiences or even both then Andina Brewing are putting out what you are looking for. This edition of B.C. Beer Reviews is taking a look at a very summer-friendly beer in their Jalea Guava Saison. Let's see if Andina hit the mark in bringing the delicious characteristics of guava into the beer.
B.C. Beer Reviews: Andina Brewing – Jalea Guava Saison
Colour
This saison pours a moderately clear orange-copper colour from the can. When in the class there is only a slight hint of clarity to it. If you were to juice a guava this is the colour, or thereabouts, that you would expect to see in your glass.
Nose/Aroma
There is a very pleasant and powerful aroma of guava in this beer. It needs to be said that there are hundreds upon thousands of beers that brand themselves in a certain way or claim to have certain notes and do not, and this is not one of them. The guava is immediately noticeable and is a delicious aromatic to start off with.
Along with the sweet and slightly citric note of guava, there is a lightly sweet aroma. It is hard to put a finger on, but a light hint of white bread and even a bit of honey sits quietly in the background behind the guava aromatic.
Tasting Notes
Once again the guava is immediately noticeable and ever-present. You get the sweet notes of the guava throughout and a lightly tart hint on the back end of each sip. This makes for a very delicious summer brew, and it certainly hides its 6.4% ABV quite effectively.
There is a sweet note from the malt/grain bill once again behind the sweet guava notes. The white bread and almost honey-like notes follow through from the aromatics. The fact that this beer is finished off with a touch of tartness makes it extremely easy to drink.
Other Notes
This beer has a plain black label on its can with the South American woman you see on most beers from Andina Brewing on one side of the beers name and the guava fruits on the other side. Simple and to the point.
The head this beer pours is well above average. The retention, however, is equally as below average as the original pour is above.
There is an almost effervescent level of carbonation to this beer. This is a fantastic note to bring everything together.
Final Grade
There is no denying that this beer has strong aromatics and flavours of guava. Along with that, it is balanced by aromatics and tastes from the malt/grain bill and a nice tart finish on your palate with a pleasantly crisp finish from the carbonation level.
Grade: 8.4/10
Want to see a beer featured in B.C. Beer Reviews? Comment below with your suggestion.
And if you want to see all of the photos featured in these articles, and other awesome beer pictures, you can do so by following me on Instagram: nhendy5. You can also see much more concise versions of these reviews by adding me on Untappd: RedArmyNic.
Main photo by Nic Hendrickson, Lastword Inc., all rights reserved