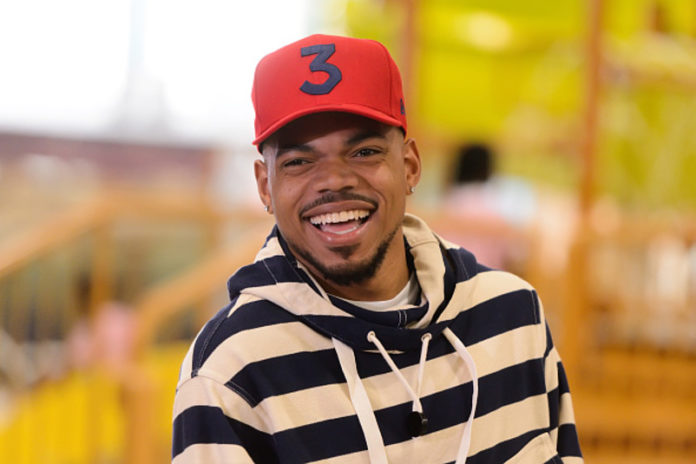 A little more than a week after Childish Gambino dropped two tracks in the surprise Summer Pack EP, Chance the Rapper, born Chancelor Bennett, dropped four surprise tracks Thursday to add infectious positivity and earnest messages to your summer soundtrack.
4 new songs at https://t.co/m5rYnxzNGY pic.twitter.com/yLWFHnRTy8

— Chance The Rapper (@chancetherapper) July 19, 2018
Chance the Rapper Releases Four New Singles
"I Might Need Security"
The first song in Chance's new drop, "I Might Need Security," opens with a repetitive refrain including an expletive sampled from a 2002 Jamie Foxx stand-up special, setting the pointed tone for what will be his most political song of the drop.
Since the release of Coloring Book, Chance has been idolized as a hero for Chicago, a position well-supported by his philanthropic deeds. This song acknowledges this movement, and he refers to himself as "the protagonist" and "young chosen one, golden boy, De La Hoya," a reference to the legendary boxer's nickname. This puts him at odds with those he perceives as antagonists of both him and his city.
He takes a shot at Rahm Emanuel, the mayor of Chicago, for his mismanagement of the city. In November 2017, Chance made an address to the Chicago City Council in support of improving Chicago's public school system, but Emanuel refused to listen and instead left the chamber. He calls for Emanuel's retirement, saying "And Rahm you done, I'm expectin' resignation" before calling attention to Emanuel's leniency on police officers accused of killing members of the community: "An open investigation on all of these paid vacations for murderers."
His second verse is aimed at his adversaries in the media and online that leaked his home address to the public and ignored his philanthropic acts in favor of tabloid-style accusations. The shocker from the second verse is the announcement that Chance has purchased The Chicagoist, a shuttered website that dealt in Chicago-based news and media, to chip away at racism in public news media. This marks Chance's first foray into news media, a huge step in his crusade to save the city.
"Work Out"
The second song in Chance's drop turns away from his love for his city and back to his love life in true Chance fashion. In early July, he proposed to long-time girlfriend, Kirsten Corley, with whom he has a 2-year-old daughter.
The song reflects their relationship, which took a brief hiatus in 2016 when Corley filed for a declaration of Chance's paternity of their daughter. The first verse follows this part of their relationship, describing the rocky nature of their interactions during that period. The two reconciled in 2017, and the song takes a turn for the positive in the second verse, renouncing and apologizing for much that was said in the first verse.
The song ends hopefully with a look at the future for him and his family, signing off the final verse with the idea that this is his destiny: "I'm ready to assume, the position is filled// I was read' since the womb// I was not made for this, this was made for me."
"Work Out" relies heavily on gentle stand-up bass, windchimes, and what sounds suspiciously like a chopped-up PBS sample to provide a backdrop for Chance's vocals.
"Wala Cam"
Chance loves Chicago's Juke Music scene, a sentiment he has expressed in songs on past albums. "Wala Cam," the second career collaboration with Chicago artist Supa Bwe, is no innovator in the newest chapter of Chance's production, but offers listeners a casual reprieve from the heaviness of "I Might Need Security" and the playful sweetness of "Work Out."
The third song in the drop offers little in terms of meaningful lyrics; instead, the song plays with rhyme scheme, favoring short, rapid lines over Chance's soulful croonings.
The title and the song's repetitive chorus make reference to WalaCamTV, a Chicago-based company "dedicated to providing a media platform for the urban dance and performing arts community to showcase their talent." Even in oblique reference, Bennett makes sure that his listeners know he supports every endeavor to make Chicago a new haven for artists.
"65th and Ingleside"
The final song in the drop brings attention back to Chance's relationship with Corley. The title makes reference to the Chicago intersection where the couple used to live. The song details Chance's rise to fame and stardom, crediting Donald Glover for breaking him into the big-time: "Not a lot of jobs with pensions// All my raps was 'bout suspension// Then one day Donald took me on tour// Young broke Chano ain't broke no more."
"65th and Ingleside" is the most heartfelt of the new tracks, calling attention to how he and Corley struggled alongside one another and how far the couple has come, both in their financial situation and their relationship. The track finally features the church organs that contributed heavily to Coloring Book's soulfulness and thrust Chance once-and-for-all into the industry spotlight.
Last Word on Chance the Rapper's Summer Drop
These four tracks encapsulate the image that Chance the Rapper has built for himself since the release of Coloring Book. Using gospel organs, plucky bass riffs, catchy beats, and repetitive earworm hooks,Chance reminds his city, his girlfriend, and his fans how much he appreciates them. He takes his time to comment on both his blessings and his curses but still makes time to include a palate cleanser that intentionally favors sound over sentiment, to incredible effect. Chance's vocal prowess, either as a rapper or a singer, is on full, creaky, slightly-pitchy display in each of these summery, smooth tracks from Chicago's favorite son.
Main Image Credit: