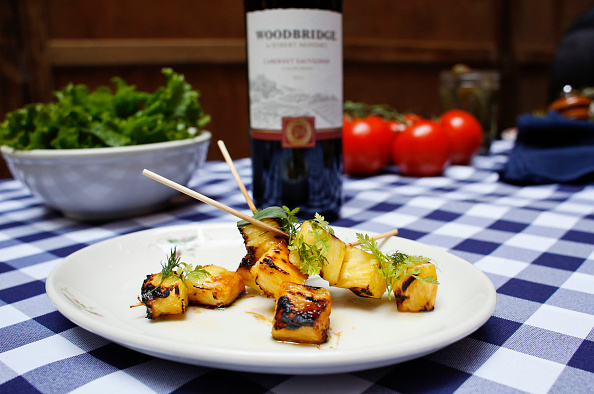 Summertime is grilling season. We've got three fantastic grilled apps that will please your guests. All of them are delicious and easy to make.
Incredible Grilled Apps
Cajun Mushrooms
For those who love mushrooms, grilling Cajun Mushrooms turns them up several notches in the flavor department.
Ingredients
White Mushrooms or Baby Portobello Mushrooms
Olive Oil
Salt & Pepper
Lawry's Seasoning Salt
Cajun Spice
Cayenne Pepper (optional)
Chili Powder (optional)
Cumin (optional)
Take the mushrooms and give them a good rinse under cold water, then snip off the end of the stems. Air dry or paper towel dry the mushrooms. For easy cleanup, place the dried mushrooms in a gallon size Ziploc bag. Drizzle in enough olive oil to coat the mushrooms thoroughly, Then sprinkle in the desired seasonings, and close the baggie. Shake the mushrooms until they are all coated in the seasonings. Remove the mushrooms and grill them direct on your charcoal or gas grill. Be sure to grill them on all sides and remove them after they get a good grilled crust on the outside. Be sure not to overcook them! Serve them with ranch or blue cheese dipping sauce or enjoy them plain. 
Grilled Pineapple
For those who have grilled pineapple before, you know how delicious it is. What we're doing is taking grilled pineapple to another level.
Ingredients
1 Large Pineapple
8 Ounces Of Your Favorite Tequila
Cut the top and bottom off of the pineapple. Trim the exterior of the pineapple away until only the pineapple flesh remains. Take your knife and slice top to bottom of the pineapple carving out large slices away from the core. Take the large slices and place them into a gallon size Ziploc bag. Add in your favorite tequila and marinade the slices for several hours. Remove the pineapple and then grill it direct on your charcoal or gas grill. It should only take 3-5 minutes a side to get them finished.
Once finished, allow to cool for 3-5 minutes then cut into bite size pieces and serve. Your guests will not believe how yummy the grilled pineapple is when they take a bite. As for the remaining tequila in the baggie, use that as an add-in for your margarita or as a straight shot for your guests to enjoy. They will thank you for it!
Bacon Wrapped Shrimp
Grilled shrimp is amazing as it is, but wrapping your shrimp with bacon raises the flavor above and beyond the norm.
Ingredients
2 Pounds 9/12 or 16/20 Size Uncooked Shrimp
1 Pound of Bacon

Teriyaki

 Marinade (optional)

Salt & Pepper (optional) 

Cajun Spice (optional)
Wooden Skewers
It's best to buy your uncooked shrimp already "peeled and deveined" which will save you time prepping. First, take your thawed uncooked shrimp out of the package and rinse in cold water. Using paper towels, dry off the shrimp. If you are using a marinade, place the shrimp in a gallon size Ziploc bag and add the marinade 1-2 hours before grilling. 
Next, cut your bacon into half slices. Take one half slice of bacon and wrap it around a shrimp, adding seasonings if you choose. Gently slide the wrapped shrimp onto a skewer so the bacon and shrimp are securely attached. Be sure to skewer both ends of the shrimp so they do not "spin" while grilling. Continue to add wrapped shrimp until the skewer is full. Do this until all the shrimp are bacon wrapped.
Grill the skewers indirect on your charcoal or gas grill. The bacon drippings will cause flare-ups so be careful if using gas. Flip the skewers every 3-5 minutes until the bacon is completely cooked on all sides. The shrimp will be done when the bacon is finished. Remove the skewers and serve to your guests on a large platter. They will be in awe of your bacon wrapped shrimp and the incredible flavor!
Delicious Apps
The three grilled apps we have here are all winners that your guests will enjoy completely. Add one or all of them at your next BBQ menu and you will be a legend. Now get grilling!
Main Image Credit:
Embed from Getty Images