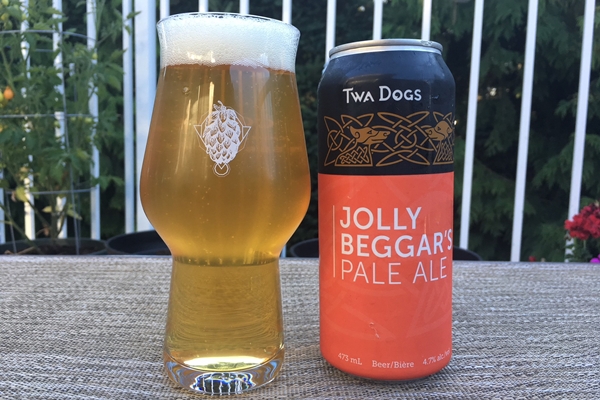 Coming from Vancouver Island, Twa Dogs Brewery brings you an American Pale Ale by the name of Jolly Beggar's. This is an American Pale Ale bringing you a strong malt/grain bill and a subdued hop presence. B.C. Beer Reviews is here to take a deeper look at this Island-based brew.
B.C. Beer Reviews: Twa Dogs Brewery – Jolly Beggar's Pale Ale
Colour
The colour of this beer is a fantastically clear golden amber. It is a very nice colour for the style of beer. The clarity to this beer is fantastic. You can see clear details right through the glass.
Nose/Aroma
While this is certainly a malt forward Pale Ale in its aromatics, that does not mean there is no hop presence to be found. There is a sweet note from the malt/grain bill that is of light caramel notes. The other note you get is that of bread crust. It is very mild and pleasant in its aroma.
This beer is certainly forward in its malt aromatics, but the hops do play a part here. There is a very light citrus note and an almost floral aromatic as well. This is very much in line with the style notes of an American Pale Ale.
Tasting Notes
On your palate, this is once again a very malt forward beer. The notes that you got in the aroma of bread crust and caramel follow through nicely onto your palate. The caramel note, however, is much more subtle here than it was in the aroma.
Once again, the hop notes play second fiddle to the malt/grain bill. You get a citrus zest taste, but that is pretty well all you get from the hops.
This is certainly a very easy drinking and approachable take on a Pale Ale that will satisfy old school Pale Ale fans and new beer drinkers exploring the style alike.
Other Notes
Much like the rest of their branding/labeling, this can has a black top half with Gaelic designs forming the shape of two dogs, or rather Twa Dogs. The bottom half is an orange-red colour with the name of the beer in white writing. Simple but nice.
The carbonation level is above average. There is a noticeable crispness to the finish of this beer on your palate that helps to accentuate the hops a bit more than they are able to assert themselves.
The finish, while having a crispness from the carbonation, does have a noticeable sweetness. This and the carbonation level balance each other out nicely.
There is a noticeable head to this beer upon pouring it. The retention of that head is above average.
There are small patches of lacing on the glass here and there, but nothing worth really taking attention to.
Final Grade
This beer is very much malt-leaning. The hops contribute a slight floral note and citrus aroma and a citrus zest taste. There is a nicely balanced sweet yet crisp finish. This is an extremely approachable and somewhat balanced beer and a good representation to the style.
Grade: 7.0/10
Want to see a beer featured in B.C. Beer Reviews? Comment below with your suggestion.
And if you want to see all of the photos featured in B.C. Beer Reviews, and other awesome beer pictures, you can do so by following me on Instagram: nhendy5. You can also see much more concise versions of these reviews by adding me on Untappd: RedArmyNic.
Main photo by Nic Hendrickson, Lastword Inc., all rights reserved