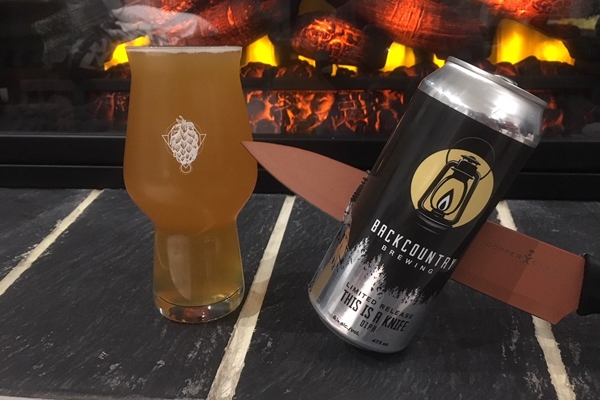 If there is one thing that can be said about hazy, juicy beers in the B.C. beer scene these days, it is that everyone seems to be in love with them. One of the breweries at the forefront of this craze is a relatively new one in Backcountry Brewing. Their beer by the name of This Is A Knife, a Double IPA, is the epitome of the haze craze in British Columbia. B.C. Beer Reviews is here to crack open a can and see what all the hype is about.
B.C. Beer Reviews: Backcountry Brewing – This Is A Knife Double IPA
Colour
This one from Backcountry Brewing pours a rather cloudy orange-yellow colour from the can. When the glass is full there is virtually zero clarity to this beer, with the only slight clarity coming when you hold it up to the light at the right angle. The colour becomes a much deeper orange colour.
Nose/Aroma
There is a very noticeable and powerful dankness to the aromatics of this beer. When you take into account that this is a hazy Double IPA, this aromatic becomes less surprising. It is a powerful level of dankness that is associated with some seriously bitter brews.
Aside from the dank aromatic is a noticeable citrus juicy quality. Grapefruit or underripe mango is the best descriptors for this one. It is undeniably a citric acid character that you would get from one of the aforementioned two fruits.
Outside of the dank and tart citric acid aromatics, there is not much of note here. There is not noticeable off aromas of any kind either, and this includes yeast-driven off notes, which is a good thing for a hazy beer.
Tasting Notes
Much as you would expect from the aromatics, this beer packs a fairly strong bitter punch. You get that dank and somewhat resinous lingering bitterness that you would hope to have in a Double IPA. While powerful, it is not at all offputting or to the level of giving the drying aspect to the back of your palate or throat.
The citrus fruit taste comes through again here. Once again, the slightly underripe mango note is fairly strong. While the grapefruit characteristic can be tasted, it is far less present than what it was in the aromatics of this one.
There is a noticeable sweetness to this beer as well. It helps to give a bit of balance to what could otherwise be categorized as a hop-forward juice bomb.
Other Notes
This beer has the same branding as all the other cans you will find from Backcountry Brewing, with only the colour of the circle around the lantern changing. They have done a good job of sticking to their branding, and it is now quite well-known due to that.
There is a moderate head to this beer. The retention of that head is about as average as it comes from the can.
As you should expect from this style of beer, there is a ton of lacing on the glass. There is lacing on almost every inch of the glass from top to bottom.
Final Grade
This beer could best be characterized by its dankness in both the aromatics and on your palate. The dank note is followed up by underripe mango and grapefruit with a nice sweetness on your palate as well. This is certainly the type of brew that is all the craze in the B.C. beer scene currently, one could not be faulted for falling in love with this one.
Grade: 8.4/10
Want to see a beer featured in B.C. Beer Reviews? Comment below with your suggestion.
And if you want to see all of the photos featured in these articles, and other awesome beer pictures, you can do so by following me on Instagram: nhendy5. You can also see much more concise versions of these reviews by adding me on Untappd: RedArmyNic.
Main photo by Nic Hendrickson, Lastword Inc., all rights reserved