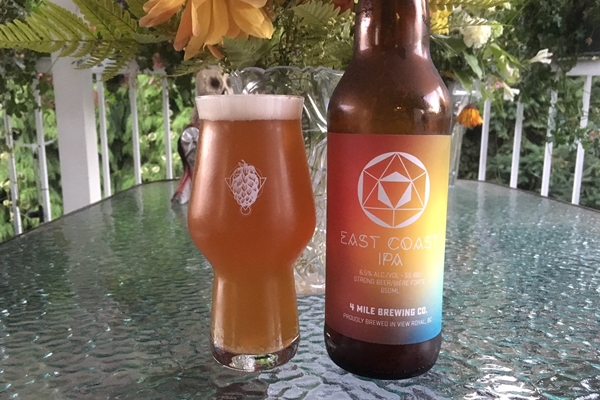 There is a growing (and already established) beer scene outside of Vancouver and the Fraser Valley, and you can find that in Victoria. One of the breweries that have established that as a consistent part of that scene is 4 Mile Brewing. The beer that B.C. Beer Reviews is looking at today is their take on an East Coast IPA/New England IPA. Let's see how they fared with this ever-popular style.
B.C. Beer Reviews: 4 Mile Brewing – East Coast IPA
Colour
This beer pours an opaque and dark orange colour. In the glass it is the definition of haze, hence being aptly labeled as an East Coast IPA. The colour is a deep orange that is reminiscent of overripe oranges.
Nose/Aroma
There is an undeniable note of orange to this beer. It smells distinctly of Valencia oranges, if you have ever had the pleasure of having them. Along with smelling like a Valencia orange, it also smells like a slightly overripe one, matching up nicely with the colour of the beer.
Aside from the orange aroma, there is a distinct aromatic from the yeast that was used which is not at all uncommon for this style of beer due to the fact that the yeast has a very low level of flocculation. This is not necessarily a negative thing, so long as it does not carry over onto your palate to give a drying effect to the finish of the beer.
This brew is spot on with the style. Overripe Valencia oranges in the aromatics does give it a note of distinction from your everyday hazy beer.
Tasting Notes
The orange note follows through, but not nearly as strongly as it comes through in the aromatics. There is, however, a strong note of grapefruit right off the bat here. It is more of the slightly bitter pith part of the fruit with a touch of the fleshy fruits sweet characteristic.
This note is accompanied by a malt/grain bill presence that is smooth and very nice overall. It is a light note closely resembling white bread without the crust or unsalted crackers. It is a very nice note to balance out this hazy beer, and it is something that many beers of this style lack, outside of the typical strong notes of oats or wheat in the body that have become commonplace for the style.
There is virtually no bitterness outside of the grapefruit pith character that quickly diminishes. This beer finishes slightly sweet and smooth on your palate with a very subdued bite from the hops. It is a very refreshing finish overall.
Other Notes
The branding/labeling, while simple, is quite nice. There is a geometric symbol on the shape of a hexagon with an upside down triangle in the middle. The label fades in and out of colours ranging from violet all the way to light green that creates a rainbow.
This beer pours an above average head, a common note for the style. The head sticks around for as long as you let it before you start drinking the beer.
In a very unsurprising note, there is a solid amount of lacing on the glass from this beer. It is certainly not coated, but there is a fair amount.
There is a very low level of carbonation that is noticeable on your palate. This allows the beer to have a smooth and full body and a smooth and almost creamy finish to it.
Final Grade
The Valencia orange note in the aromatics and the grapefruit note on your palate makes this a very intriguing beer. There is no noticeable off flavours or aromas from the yeast, and this includes the drying effect on your palate. The finish is smooth and somewhat creamy with a very subdued bite from the hops used.
Grade: 8.2/10
Want to see a beer featured in B.C. Beer Reviews? Comment below with your suggestion.
And if you want to see all of the photos featured in these articles, and other awesome beer pictures, you can do so by following me on Instagram: nhendy5. You can also see much more concise versions of these reviews by adding me on Untappd: RedArmyNic.
Main photo by Nic Hendrickson, Lastword Inc., all rights reserved