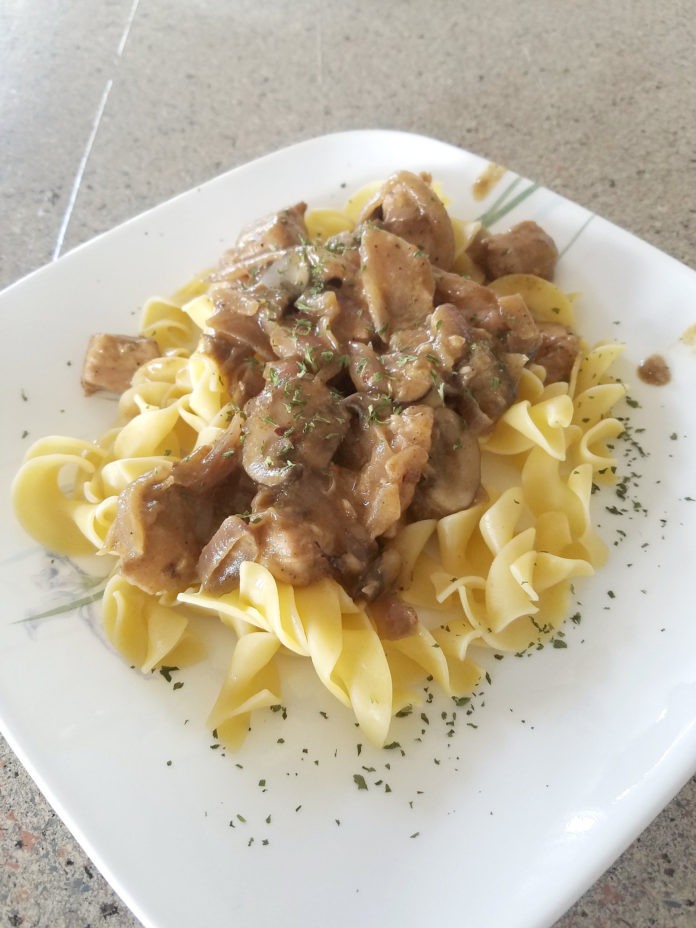 Spoon-Fed Facts is a weekly series that aims to share a few cooking tips alongside an enjoyable recipe to hone your cooking skills. It reviews the flavors, techniques, and equipment used in the culinary arts.
Spoon-Fed Facts: Paprika Pork
Paprika Pork is an unusual but simple recipe that is centric around seasoned pork that's been braised in cream. There are a lot of optional trappings with this meal, like sautéed onions or roasted mushrooms, but we'll be primarily focused on the pork tenderloin, cream, and paprika that gives the dish its signature taste. If you've been following along with this series, you probably caught on that paprika is the herb being profiled in this week's Spoon-Fed Facts. However, if you'd like to read more recipes and cooking tips using particular herbs and spices, check out the previous edition of Spoon-Fed Facts on Rosemary.
Historically, the crimson spice originated in the Americas and is the result of mixing dried pepper shavings that come from the bell, chili, cayenne, and tomato peppers. It's frequently paired with meats but can also add a little tang to vegetarian dishes. If a meal has particularly savory components, then chances are paprika will be a nice fit into the mix of flavors.
Tragically, paprika is underused in a lot of culinary genres. A simple search of related recipes yields little more than Chicken or Beef Paprikash, which is delicious in its own right, but limiting to the potential of the spice. There are many different varieties of paprika, ranging from the subtly sweet to bitingly spicy, and each is perfect for enhancing the flavor profile of a dish in its own way. Just be sure to sample the spice before you add it in; otherwise, you might find a curry to be a bit milder or a deviled egg to be a little too demonic.
Let's go ahead and try our hands at making this creamy, zesty dish.
Ingredient List:
1 pork tenderloin (About 1 ½ lbs), cut to 1-inch cubes
2 medium onions, sliced
1 cup cremini mushrooms, thinly sliced
2 cups of dried short egg noodles
2 cloves of garlic, crushed
¾ cup heavy whipping cream
1 cup chicken stock
¼ cup all-purpose flour
4 tsp paprika
¾ tsp salt
½ tsp pepper
4 tbs extra virgin olive oil
Salt and pepper to taste
Serving Size:
Serves four
Recommendations:
Selecting the spice
Paprika comes in many forms: smoked, Spanish, Hungarian, plain, sweet, and spicy. What's more, there are even more sub-varieties of each of these. Test your paprika's flavor before using it when cooking to match the tastes. For this recipe, I prefer Spanish smoked paprika, but many other options exist. The only version I would advise against using is the plain style found in most generic store brands, as this is intended for garnishes and mild flavors. Using it could result in a fate worse than death: bland food.
Cooking the cream
When cooking at high heats with dairy, you've got to be careful about curdling the liquid. Adding cold milk to a hot base is one surefire way to ruin the recipe. To avoid this, you either want to minimize the temperature difference between the ingredients or use a dairy product with high-fat content. The heavy whipping cream this recipe calls for should be safe from curdling, but if you substitute it with any lighter alternatives then be wary.
Garnishing the dish
When completed, the Paprika Pork should be a deep red color, but depending on the paprika and stock used, its shade could range all the way to a dark brown. Either way, you'll want to pair it with paler colors, like the white of some prepared cauliflower or maybe Parmesan or Pecorino cheese shreds. Also, consider the plating of the dish. You could simply mix rice or noodles with the pork once it's finished, or you could opt to serve it sitting atop the grains, layering it and distinctly separating the shades of the dish.
Instructions:
Step 1)
Season the pork pieces with the salt and pepper, then dredge them in the flour.
Step 2)
Heat two tablespoons of oil in a stainless steel or cast-iron pan on medium-high until hot, then lightly brown the pork pieces for about four minutes. Remove the pork and set aside.
Step 3)
In another pan, heat the remaining two tablespoons of oil over medium heat, then add the crushed garlic. Cook for about 30 seconds before sautéing the onions until golden.
Step 4)
Using the same pan as the pork, add the cremini mushrooms to sauté for about seven minutes, adding a tablespoon of butter if necessary. Then, add the pork back to the pan with the paprika and stir to combine. Cook briefly, no more than two minutes.
Step 5)
Deglaze the pan with chicken stock, and let it cook off. Afterwards, add the onion to the pork and mushroom mixture. Next, incorporate the heavy cream, cooking uncovered and stirring constantly until the sauce thickens to your desired consistency. Salt and pepper to taste.
Step 6)
Meanwhile, boil a pot of lightly salted water for the noodles. Cook them when ready, and serve the pork over noodles.
Last Word on Paprika Pork
This dish is a welcome change of taste. The warmth of the paprika is uncommon, but agreeable, and provides a layer of depth to the sauce coating the pork. And with the vast array of simple alterations available for this meal, it is sure to be a pleasant respite from the more typical flavors of your everyday diet. Try mixing and matching different spices, grains, vegetables, and bases with Paprika Pork to practice your skills in the kitchen while treating your pallet with an unexpected surprise.