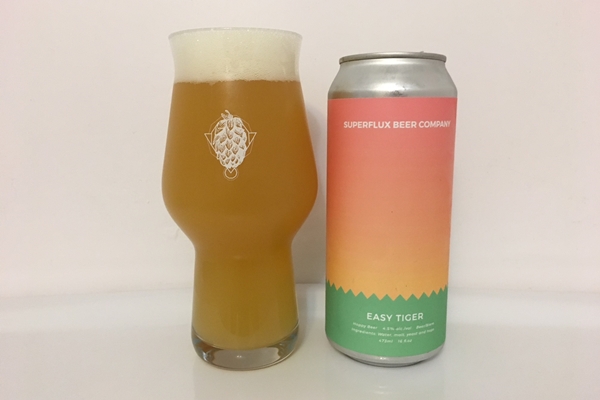 If there is one area of the craft beer industry that has become increasingly popular and financially viable, that would be gipsy brewing. This is where a brewery does not have a facility of their own, but rather they choose to contract brew at another brewery. Superflux Beer Company is one of these breweries and this has not stopped from them being as popular as some mainstays in British Columbia.
B.C. Beer Reviews: Superflux Beer Company – Easy Tiger
Colour
This beer pours an opaque golden-orange colour from the can. In the glass it is a hazy brew that you cannot see through whatsoever. It looks like the juicy brews that many of the breweries in B.C. are producing currently.
Nose/Aroma
There is a dank aromatic that showcases the amount of resinous hops used in this beer. It avoids the level that can reach being categorized as catty, something that is in favour of this beer.
Aside from the dank hop aromatics, this beer could be best described as smelling sweet and having citrus and melon aromatics. It is hard to put a finger on what kind of melon, but there are sweet citrus notes to compliment that. These two notes in conjunction make it a bit busy and make it somewhat difficult to get less than general descriptors.
This beer smells like most hazy beers today, citrusy with a touch of tropical melon and dank. This is a hop bomb in its aromatics, to say the least.
Tasting Notes
There is a lightly sweet taste that is at the forefront of this beer. It is sweet and smooth and transitions into light notes of citrus fruits. This beer has the sweet notes of Guava without the citric acid note to compliment it.
Aside from the everpresent hop notes, there is a creamy sweetness to this beer. The body to a beer this low in ABV points to the use of wheat and oats to give it a level of body that is not a common characteristic for a beer clocking in at 4.5% ABV.
Other Notes
The can is split into thirds with its colour with the top third being a pinkish-orange hue fading into orange and then having a zig-zagged edge that abruptly cuts to a mint green. It suits the time of year fantastically and Superflux Beer Company did a great job in this aspect.
This beer pours an initially impressive head. The retention of that head is about as average as it comes. It slowly dissipates without being touched.
There is enough carbonation to this beer to accentuate the aromatics, but not enough to be considered crisp on the palate.
Final Grade
This beer is, for lack of a better description, a sessionable hazy IPA. It showcases the hazy and juicy appearance with dank and melon aromatics. This is followed up by a moderately creamy body with melon and citrus notes to boot.
Grade: 7.4/10
Want to see a beer featured in B.C. Beer Reviews? Comment below with your suggestion. And if you want to support B.C. Beer Reviews, you can do so at Patreon.
And if you want to see all of the photos featured in these articles, and other awesome beer pictures, you can do so by following me on Instagram: nhendy5. You can also see much more concise versions of these reviews by adding me on Untappd: RedArmyNic.
Main photo by Nic Hendrickson, Lastword Inc., all rights reserved