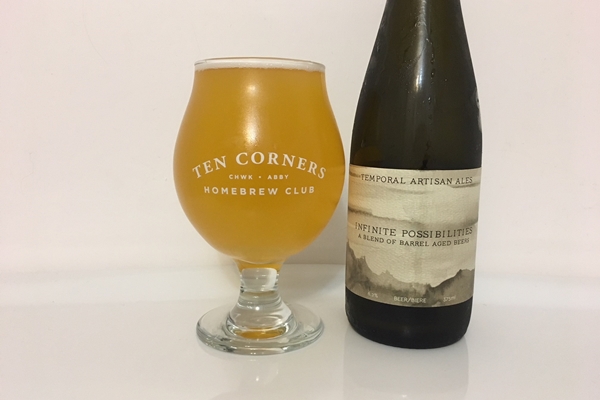 Temporal Artisan Ales is a relative newcomer to the B.C. beer scene, and one that you may not have heard of yet. They are currently sharing space with Luppolo Brewing of East Van. And despite the difficulties of sharing brewing space, they have come to the market with barrel-aged blended beers. This is a tall task, but one that can result in complex and delicious brews. Let's see if this beer has infinite possibilities of taste to it.
B.C. Beer Reviews: Temporal Artisan Ales – Infinite Possibilities
Colour
This beer pours a pale and semi-clear straw colour from the bottle. In the glass, it is much the same, but slightly cloudy. It could be categorized as a golden straw colour in hue.
Nose/Aroma
One of the notes that you get immediately is the funky and tropical notes you can get from a particular strain of Brettanomyces. The tropical notes are light and nuanced while the funk is dominant and powerful. This makes for a very interesting first sniff of this beer.
One of the barrels used is purported to impart notes of Saison character and another stone fruit. You can certainly get these notes when prompted, but they would be hard to catch otherwise.
The predominant aromatic of this beer is the barnyard funk that is common with a farmhouse ale/Saison. This becomes exponentially more noticeable upon letting the beer warm up in the glass.
Tasting Notes
The stone fruit becomes immediately apparent on your palate, with strong notes of peach coming forward. There is a quick following of tartness that comes at you just as quickly as it dissipates.
There is certainly a very tart and acidic note that is close to being an acetic acid characteristic. This falls off your palate with the clean finish, but you can catch a bit of that note still lingering in the back of your throat long after each sip is gone.
Other Notes
The branding/labeling is simple but nice. What looks to be a water painting of either clouds or mountains is the backdrop of a label with simple text writing of Temporal Artisan Ales and the name of the brew.
This beer pours a moderate head. As is expected with a beer with a noticeable sour character to it, the retention is virtually nonexistent.
Final Grade
There is a lot going on in this beer. The funky notes are dominant both in the aromatics and on your palate. There are notes of tropical fruit in the aromatics and stone fruit, peach primarily, on your palate. A noticeable tartness and a clean finish on your palate.
Grade: 8.3/10
Want to see a beer featured in B.C. Beer Reviews? Comment below with your suggestion. And you can also support B.C. Beer Reviews on Patreon to see more consistent reviews of the great beer that this province has to offer.
And if you want to see all of the photos featured in these articles, and other awesome beer pictures, you can do so by following me on Instagram: nhendy5. You can also see much more concise versions of these reviews by adding me on Untappd: RedArmyNic.
Main photo by Nic Hendrickson, Lastword Inc., all rights reserved